Dreamforce Streaming: How to Experience Front Row Seats from Home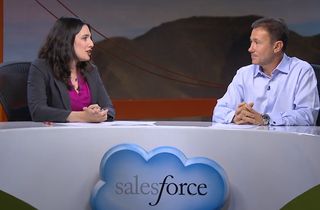 Even if you aren't able to join us at Dreamforce in person this year, you don't have to miss out on the energy and excitement of Cloud Computing's biggest user conference because we'll be live streaming much of Dreamforce.
Salesforce LIVE on Tuesday, November 19 and Wednesday, November 20 will give you a front row seat to two days of transformational keynotes, thought leadership, stories of customer success and best practice advice from the industry's foremost experts in sales, service, marketing, software development and business innovation.
November 19th Broadcast
8:30 AM Pacific: Tuesday morning kicks-off with a pre-keynote show hosted by Peter Coffee, Head of Platform Research, salesforce.com.
9:00 AM Pacific: We live stream the Customer Company keynote with Marc Benioff, Chairman and CEO, salesforce.com, and special guests.
Rest of the day:
Get exclusive news, analysis and updates along with a special series of interviews and thought leadership hosted by salesforce.com's Peter Schwartz, SVP, Global Government Relations and Strategic Planning.
Steve Gillmor and the Gillmor Gang will also stop by Tuesday afternoon to offer their take on the day's announcements and events.
5PM Pacific: Marissa Mayer, Chief Executive Officer, President & Director, Yahoo.com, joins Marc Beinoff for a special fireside conversation.
November 20th Broadcast
9 AM Pacific: We air product keynotes for Sales Cloud, Service Cloud, Exact Target Marketing Cloud and Salesforce Platform.
Rest of the day: We feature interviews with LinkedIn, Accenture and more.
5 PM Pacific: We're airing a second big fireside conversation featuring Marc Benioff and Sheryl Sandberg, COO, Facebook.  
Where to watch the broadcast
This year, the live broadcast will be hosted on the Dreamforce website. To access the live stream:
Log into http://dreamforce.com or http://salesforce.com/live
You will be able to watch from any device, including your computer, tablet or smartphone
The live stream is also below:
Watch Marc Benioff's keynote here:
Check out the full broadcast schedule here:
Bookmark this page, and check it regularly for updates on the live broadcast.