Breakthroughs and Surprises to Inspire the Dreamforce Community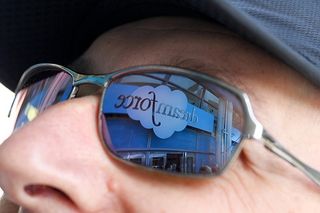 It's almost here! The 11th annual Dreamforce -- the world's largest vendor-led technology gathering -- is set to break records with more than 120,000 registrants from 65 countries expected. And we're excited to show how your company can connect with customers, employees, partners and products in entirely new ways with mobile, social and cloud technologies. Are you ready?
With more than 1,250 sessions, two Cloud Expos, and tons more demos, training, workshops and networking happening in Moscone Center and across San Francisco, there is a lot to navigate. Let's take a quick look at some of the highlights happening at Dreamforce this year.
See visionary keynotes up close and personal: Marc Benioff will host a series of inspiring keynotes for attendees and will be joined by special guests including industry visionaries Marissa Mayer, president and CEO Yahoo!, and Sheryl Sandberg, COO Facebook. In addition, we have a special session on humanitarian relief featuring Laurent Lamothe, Prime Minister of Haiti, and Sean Penn, founder, CEO and chairman of the board of J/P Haitian Relief Organization. Check out the full Dreamforce agenda. And if you want to watch in your PJ's, remember the keynotes are live streamed at www.dreamforce.com

Get inspired with Deepak Chopra, Wayne Dyer & Friends: Deepak Chopra will lead a special event on Thursday, November 21 that will take attendees on a personal transformation journey to learn about the future of well-being. Dr. Chopra will be joined by Dr. Wayne Dyer, an international best-selling author of more than 30 books; Dr. David Agus, a pioneering biomedical researcher; and Dr. Susan Desmond-Hellmann, a renowned oncologist and the Chancellor of UC San Francisco (UCSF).

Support children's health and join the Dreamforce Gala and Benefit Concert: Green Day and Blondie will crank up Dreamforce at AT&T Park on Nov 19! All proceeds from the concert go to support children's health at the UCSF Benioff Children's Hospital and Children's Hospital Oakland. Please visit http://www.theconcertforkids.com/ to buy tickets.

Build a killer app and take home $1 million: Join the Salesforce $1 Million Hackathon for the largest single hackathon prize ever. Developers will have a chance to win $1 million by building the next killer mobile app on the Salesforce Platform, the world's number one cloud platform. The FREE Hacker Pass gives developers access to the Developer Zone and the main keynote at Dreamforce.

Get in on the action at Dreamforce Plaza: Once again our friends in City Hall have let us shut down a whole city block on Howard Street to build out this year's Dreamforce Plaza --- bigger and better than ever! You won't want to miss a park made of 1.5 football fields of turf, the country's largest inflatable structure, and of course this year's Dreamforce Music Festival which will feature 10 bands including surprise guest appearances. It's a constant party in the Plaza and great place to meet old and new friends!

Check out what the world is saying - #df13: The Dreamforce 2013 Online Command Center provides an up to-the-minute snapshot of the top social conversations and trends at Dreamforce, highlighting total conversation volume, top hash-tags, top conversation topics, a conversation trend timeline, and more. We will also host a social media command center on site at Moscone North.
What would Dreamforce be without some fun facts to put things in perspective? Here are some numeric highlights to give you a sense of the massive size of Dreamforce 2013:
120,000 registered to attend
1,250+ breakout sessions and 350+ partners in the Cloud Expo ecosystem
27 DJs and bands performing during Dreamforce week
5,000 gallons of coffee served – enough to fill an oil tanker truck or 10 fire engines
25 miles of network cables used – talk about being connected!
2,700 volunteer-built kits for homeless children packed with books, blankets and stuffed animals
Registration by marketers is up 40% from last year
Dreamforce will feature the largest inflatable structure ever built in the U.S.
We are looking forward to the biggest, best Dreamforce ever! I hope you will join us November 18-21.
Register now for Dreamforce, including the free keynote and expo pass at the button below.