The State of Marketing 2014 (As Told by 2,500 Marketers)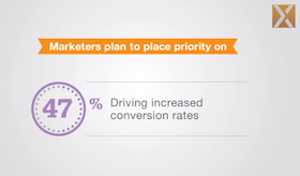 Digital marketing budgets will stay the same or increase for 98% of marketers, according to ExactTarget's new survey of over 2,500 marketing professionals, entitled, 2014 State of Marketing. This report analyzes marketers' responses to a variety of questions about their future strategies and how they're gauging their success.
Take a look at a snapshot of the results.
Top Three Success Metrics
Conversion rate is the top metric that marketers use to gauge their campaigns' performance.
Mobile Email
Mobile email opens will increase alongside mobile device saturation. Below, a depiction of the current state of mobile email.
Planning for Social Growth
45% of survey respondents said their social media team size was one person, compared with 40% whose team size was 2-3 people. 6% had a social team with 4-5 people, and just 8% had a team of 5 or more. On smaller social teams and bigger teams alike, efficiency is crucial. Here's where marketers are investing their time in 2014.
Mobile Campaigns
80% of marketers who use mobile marketing (like SMS and push) say they believe mobile efforts do or will produce ROI, and 35% have a dedicated mobile team. Marketers new to mobile channels like SMS may need inspiration on differentiate campaigns from social or email. These are the most popular lifecycle campaigns for mobile channels.
Watch this video for a recap of the report:
This is just the tip of the iceberg of the charts and data in 2014 State of Marketing. For a thorough glimpse into the marketing trends that will define your year, get your free-to-download copy of this all-encompassing research, and let us know what you think.