15 Awesome Photos from Salesforce.com's 15th Birthday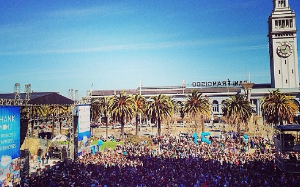 Time flies when you're having fun! 
It's been 15 years since salesforce.com was founded in 1999, and we definitely weren't going to let this milestone go by without a celebration. Employees in 30+ cities from San Francisco to Sydney, Toronto to Tokyo came together last week for an epic day of giving back and having fun, Salesforce-style. Check out some of our favorite photos from our worldwide volunteering extravaganza, then grab some cake and champagne...and cheers to the next 15 years!
---
View of Justin Herman Plaza in San Francisco. Photo by Sarah Caporusso
---
Employees in Australia and New Zealand racked up 700+ volunteer hours in one day. Photo by Davinder Mann.
---
Leis on display in Tokyo. Photo by Satoko Ehara.

---
Celebrating under the Eiffel Tower in Paris.
---
Employees in Herndon, VA took to the ice to support the Cool Cats Special Hockey Team. Photo by Dwayne Wilson.
---
Janelle Monae hit the stage in San Francisco. Photo by May Wong.
---
Employees in New York bagged 19,000+ lbs of sweet potatoes at City Harvest. Photo by Barb Smeltzer.
---
Volunteers were hands-on at the Munich Food Bank. Photo by Stefan Karnoll.
---
SaaSy jumps for joy in San Francisco. Photo by @salesforcejobs.
---
Lunch, balloons, and smiles in Singapore. Photo by Alvin Liew.
---
Decadent desserts in Dublin.

---
Atlanta employees sorted books for Africa. Photo by Sarah DeMar.

---
Employees in San Francisco donated 20,000+ lbs of food to the San Francisco Food Bank.
---
Inspecting food for safety at the Food Bank in Austin. Photo by Susie Turk.
---
Painting classrooms and working with children in India. Photo by Annu Mehta.
---
Swimming in Salesforce pride in Sydney. Photo by @salesforceANZ.
See more birthday photos here. 
Ready to find your #dreamjob at salesforce.com? Visit salesforce.com/careers or click the button below.