How Facebook Is Using Custom HR Apps to Win the Talent Race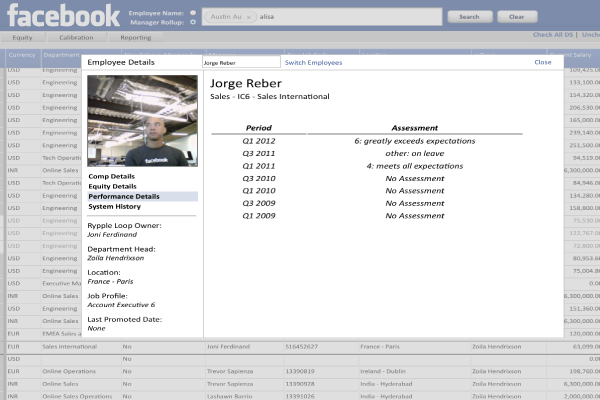 Facebook is in a constant battle for talent. The social media giant competes with both large Silicon Valley companies and small startups for the best and the brightest. Along with successfully managing the hiring process, Facebook's human resources department makes it a priority to attract, retain, and invest in current employees.
The enormity of both endeavors resulted in a critical need for applications that could offer support at scale. Building on their experience as customers of salesforce.com CRM products, Facebook Information Technology saw the Salesforce1 Platform as an opportunity to create a set of key HR apps on a technology stack they trust.
To date, Facebook has built several applications on the Salesforce1 Platform, including: a compensation admin tool, an application that oversees employee equity and vesting, and an app that helps employees guide their careers at the company.
Marc Marasco, Facebook's HR Information Systems Manager shared three strategies for success that have steered their app development:
1. Be flexible
The Salesforce1 Platform gave Facebook the flexibility to build custom applications, while providing most of the required framework. Facebook could also easily augment their current staffing for the project by pulling from the existing marketplace of certified Salesforce1 developers.
2. Move fast
Using the Salesforce1 Platform and its out-of-the-box toolkit, Facebook had the agility they needed to rapidly iterate versions of the apps in days, instead of months. The platform also allows Facebook to make updates and changes quickly.
3. Think ahead
Mobile can be a boon for employee apps that need access on the road. The apps Facebook built on the Salesforce1 Platform have thus far focused on the desktop, but easy development of related mobile apps in the same framework gives the Facebook team a head start for future apps.

Join us for a free live webcast on March 26th at 2 pm EDT / 11 am PST to hear more about how Facebook uses the Salesforce1 Platform to build critical HR apps for their employees. You'll also get the inside track from the salesforce.com HR team as they share how IT has helped them grow and support our talent pool with mobile apps built on the Salesforce1 Platform.
See a demo and learn:
Best practices for building an employee app.

How to use the Salesforce1 Platform for a mobile social intranet.

Ways to leverage the Salesforce1 Platform to automate business processes.
Presenters include:

Marc Marasco, Human Resources Information Systems Manager, Facebook
Jeannene Michel, Sr. Director ES Shared Services, salesforce.com
Peter Gaylord, Director of Product Marketing, salesforce.com

To register, click the button below.