FREE E-BOOK: 3 Ways Small Businesses Can Benefit from CRM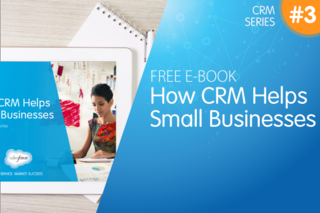 If you want your small business to grow and thrive, it's important to take advantage of the tools and technologies that set you up for success. A CRM (short for customer relationship management) system simply manages most of your critical customer information so you can see it in one place. Features vary among platforms and some systems are completely customizable.
The following are three of many ways a CRM solution can benefit your small business:
1. CRM Helps You Get to Know Your Customers
Whether you and your team are in the office or on the road, the right CRM can save and monitor the full history of your customer interactions through:
Contact Management - CRM lets you do much better than a name, address, and phone number. It allows you to gain insights from conversations on social media like Facebook, LinkedIn, Twitter, and YouTube, giving you the complete picture.
Mobility -The best CRM systems let you connect via mobile devices, so employees can access essential information anytime, even on the road.
Task & Event Monitoring - If a customer makes a request, whether it be for a quote or a phone call, a CRM solution gives you the power to automatically assign the task to another staff member, while leaving specifics on the account.
2. CRM Lets You Manage Email Effectively
A great CRM system helps you tame the bottomless pit of your inbox. Here's how:
Email Integration - Email is one of the most powerful communication tools available today. CRM can integrate directly with email clients like Outlook, so notifications don't interrupt your workflow.
Email Templates - CRM email features allow members of your sales and marketing teams to create email templates on an as needed basis, so you can target customers in a more personalized way.
Mass Emails - When situations arise where you need to send a targeted marketing campaign to many customer contacts in your system, CRM lets you create a templated message that can be sent with one click.
3. CRM Makes the Most of Your Time
With CRM you can take all the data you have on prospects and determine the ones that are most likely to become customers, so you and your team can put the majority of your energies into opportunities with the biggest payoff. Here's how:
Marketing Campaign Management - With CRM, you can manage and analyze marketing campaigns across every channel (online ads, social media networks, etc.) from one central location.
Lead Scoring - This shows you which leads are "hot." By investing more time in these, your sales team will close more deals faster.
Opportunity Tracking - This lets you track deals that are almost ready to close. You can see key info about important accounts fast, including your team's work on an account, plus details like what stage the deal is in.
Learn more of the ways CRM gives your small business all the capabilities the big guys have by reading this free e-book.