The Apple iWatch and Why Brand Loyalty Isn't What It Used To Be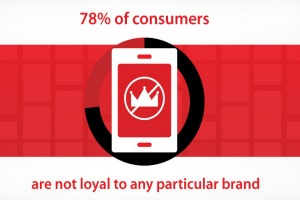 It seems as though the next big thing in the tech world is the imminent release of the new Apple iWatch.
As secretive as they're known to be, it's no surprise that Apple has gone years without any official word on when, or even if the watch itself would find its way into customer hands (or wrists).
Reliable sources have revealed that not only is Apple ready to release the iWatch to the public as early as October 2014, but that the device would also feature a curved OLED screen, operate on the new iOS 8, and be able to monitor personal health data while being worn.
Recent forecasts expects Apple's iWatch to sell over nine million units before the end of 2014. That may sound a bit generous, given that—aside from the new screen and the ability to receive biometrics—the iWatch may very well be nothing more than a wrist-mounted version of already available technology, except with a smaller interface, a higher price tag, and the limitations that come from only being able to access it with one hand.
On top of that, the iWatch won't even be the first modern smartwatch to hit the market; we already have the Samsung Galaxy Gear, Sony SmartWatch 2, and Qualcomm Toq and their arrival on the scene didn't exactly change the world.
On the other hand, Apple is considered the world's most powerful brand and does have a very strong track record with product releases turning a early adopter technology, to a mainstream must-have.
When it comes to brand loyalty, you're not likely going to find a more dedicated customer base Apple. For many, Apple technology, from the iPhone to the Macbook Air to Safari, have become an integral part of their self-identity. So, it would make sense to assume that these same consumers would be willing to shell out a few hundred dollars so that they can adorn their wrists with that deliciously, slick watch with an Apple logo on it?
Brand Loyalty Not As Loyal As You Believe
The iWatch will no doubt cause a stir amongst the media and the most diehard Apple fans, but contrary to the laptop stickers and T-shirts, brand loyalty may not actually matter as much as they would have you believe.
A recent study says that 78% of consumers are not loyal to any particular brand. That means that those who are willing to argue so vehemently about the superiority of Apple, or Virgin, or BMW are in the definite minority.
That's not great news for some of those bigger names who put so much stock in their perceived company identity. However, it is absolutely wonderful news for everyone else, because it means that 78% of consumers are perfectly willing to give a no-name company a chance, no matter how how small your name recognition is.
Once upon a time, having a brand name meant everything, but those were the days when information was hard to come by, and thus customers would stick with familiar, established brands in order to lessen the risk and disappointment.
If you could not access up-to-the-minute customer reviews with a couple clicks, then how are you going to know if that new detergent was going to clean your clothes or destroy them? It was just easier to keep on buying the tried and true brand and not have to worry about it.
After all, the devil you know is better than the devil you don't.
Internet as Equalizer
Thanks to the internet, every devil can be found on Google if you aren't familar. The information is to be had and can be found as quickly as you can type if out on your smartphone.
As such, there's less incentive to stick with a specific brand, unless you're sure—and thanks to the virtual tons of research that you can access with almost no effort on your part, you're always sure—that you're getting the best value for your money.
Thus, the best way to draw in the 78% of customers who couldn't care less about which company gets their business, is to make sure that your product or service covers every base, and is the absolute best around.
The foundation of a powerful brand is a well-made, thoughtful product, so says Kevin Lane Keller, a branding expert and Dartmouth professor at the Tuck School of Business: "The heart of a great brand is a great product."
There you have it. No advertising, no celebrity endorsement, and no slick logo is going to have the impact that a through-and-through quality product will naturally generate. Especially with access to technology.
Word of Mouth with One Click
These days, word of mouth is even more powerful. A review, blog post, or a comment can be read by thousands of potential customers. 
A few months ago I wrote about how the video game Minecraft became a phenomenon, in that it has managed to sell over 14 million copies while having an advertising budget of zero. But you know what? The most interesting thing is that it's not really a phenomenon at all; it's just the new way that things are being done -- especially by lesser known companies.
After all, 92% of people trust recommendations from friends and family more than all other forms of marketing, which means that what you sell is finally more important than how you sell it. Or, to take a famous film quote and use it not-entirely out of context: "If you build it, they will come." Of course, the unspoken truth is that you'll also have to build it unbelievably well.
Now, before I get buried in a flood of negative feedback, let me just point out that advertising is still important.
There are those businesses who are able to reach unheard-of success without ever filming a commercial or paying for an internet banner ad, but considering the near critical-mass crowding of the current market, most of us still need a way to make that initial customer contact. However, we also need to realize that it's no longer really in our power to convince the average consumer through our marketing that we're the best choice.
Most customers who are interested in what what they see or hear are generally going to try to verify product claims through their own research, and it's through that research that the final sale will either be made, or broken.
So, once the iWatch finally lands on store shelves, there will certainly be those who wait in line for hours to be the first people in their towns to own one. But for the 78% of the population that couldn't care less about what Apple is up to, conversion will take a bit longer.
In the interim, any other businesses that can create a better product, or comparable product for cheaper, will have the chance to snatch those customers away, even if no one has ever heard of those companies before.
Technology has the power to move consumers past brand loyalty and level the playing field.
Purchases are no longer as influenced by a large marketing budget or primetime network commercials. With access to information at our fingertips, the quality of a product, even from a relative unknown, can resonate so far and so wide, that it can trump a similar product with global brand recognition -- even that of Apple.
With increasing technology slowing the impact of brand loyalty, you'll need new ways to present and sell your products. Download our free E-Book: 7 Big Breakthroughs for 2014 Sales