What Zack Morris Knows About Mobile Marketing that Mary Meeker Doesn't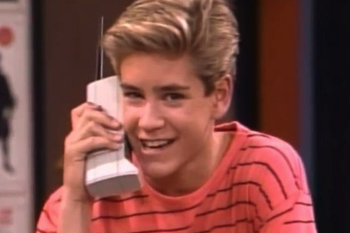 If you grew up in the 80s or 90s, you've noticed it. Take one look at the outfits kids are wearing today, and you get a sudden burst of nostalgia for the gear you wore in junior high (as well as for some classic Saved by the Bell episodes).
But while in the fashion world we see trends that re-emerge every few decades, in technology, we usually don't have this pattern of repetition. Usually.
Current Trends
Mary Meeker's annual Internet Trends Report, released at the end of May, was chock full of insights that highlight the dramatic shift we've made towards a mobile world. Mobile now accounts for 25% of all internet usage, a share that's growing 150% annually. Inevitably, where eyeballs go, marketers follow. Meeker also reports that mobile advertising is growing at 47%, three-times the rate of non-mobile digital spend. 
This trend holds for every digital marketing channel. Today, more emails are opened on mobile devices than on desktops, the entirety of Facebook's revenue growth comes from mobile advertising, and mobile search is slated to overtake desktop search by next year. It's an exciting time to be a marketer.
What's Missing
What's not in Meeker's report, unfortunately, is that all of this spending is essentially irrelevant if, as a company, you can't convert it to real revenue. The mobile customer journey needs to extend from discovery through to purchase and beyond. So what exactly does a great customer purchase experience look like on one of these mobile devices?
It's probably not a form-fill (ever try entering your 16 digit credit card number with your thumbs)? It needs to be personalized to the individual. It's got to be intelligent enough to go deep into just about any topic the consumer has in mind. And it has to be ridiculously easy to execute on the mobile device. Turns out this amazing mobile customer experience is the one thing Zack Morris could do on his mobile device.
What's Back
That's right kids, thanks to the explosion in mobile, the telephone call is back en vogue. According to BIA/Kelsey, mobile search alone will drive 73 billion calls from consumers to businesses by 2018. And technology thought leaders are already adjusting their product strategy accordingly. Amazon has built "call" functionality right into its tablet devices. Apple announced at its WWDC this month the ability to make calls on your iPhone from your iPad or Mac.
The great irony in all of this is that the first thing we did as we moved to the digital age was to banish the phone from the customer journey and now the phone itself has come full circle as the very device on which we consume the majority of our digital content and advertising.
The great news for companies is that customers who do make the jump from online to offline via a phone call are far more likely to convert. Our own data at Invoca shows that our inbound callers convert at more than twice the rate of all other inbound inquiries. The companies that will win as the world becomes more mobile are those that can optimize the experience for consumers as they bounce between online and offline interactions, across all of their digital devices.
About the author:
Kyle Christensen is a SaaS veteran, having spent over 15 years working in enterprise software. Before Invoca, he was a VP of Marketing at Responsys, a leader cloud platform for cross-channel digital marketing, where he launched the company's mobile product line  He has also served in senior strategic product marketing and management roles at Zuora and at Salesforce.com. He holds an MBA from the Haas School of Business at UC Berkeley and a BS in Engineering from the University of Pennsylvania.
In today's technology-driven business environment, successful marketers are the ones who are more connected, more responsive, and more agile than the rest. This free e-book shows you how a mobile CRM solution can help your marketing team.