6 Ways to Get Educated at Dreamforce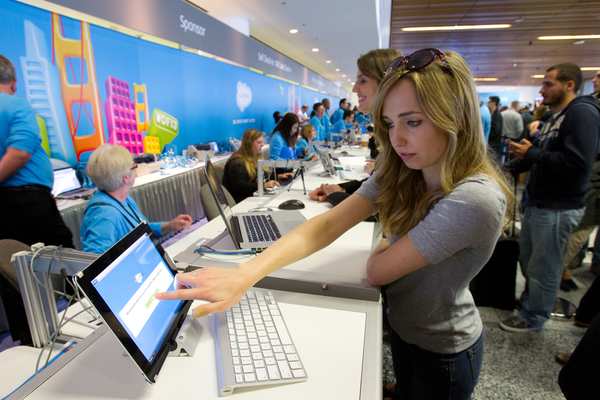 We want you to be prepped and excited about the sessions, innovations, and enhancements at this year's Dreamforce. Get ready for more hands-on training, more sessions, new pre-conference training, and much more.
1. Get your agenda ready!
Breakout sessions are going to be huge this year.
Log in to the Success Community now to discuss options, opinions, and experiences with fellow attendees. Registration doesn't go live until September, but you can get a head start by looking at the 400+ sessions already available on Dreamforce.com. You can filter sessions by role, product, and industry to find the perfect sessions for you.
2. Pre-conference training & Salesforce certification
 You can sign up for Pre-Conference Training and Salesforce Certifications specially offered at the conference to Dreamforce registrants. One- and two-day trainings are available the weekend before the 
conference. And this year, we have three brand new classes in pre-conference training. Get additional information here.
Salesforce Certifications are a great way to take full advantage of your time at Dreamforce. The certification sessions, in one of seven areas, are purchased during registration, then scheduled in Agenda Builder.
3. More sessions
As the conference grows, so does the number of breakout sessions available for attendees. We are adding even more sessions this year, totaling more than 1,450. We'll also be optimizing the attendee experience by repeating more sessions than ever. That means you'll have more opportunities to attend all of the sessions you want. This year, all sessions will be 40 minutes long, allowing attendees more
time to get to their next session.
Along with our ever-popular Product Roadmap sessions, we'll also have Emerging Trend sessions, Salesforce-on-Salesforce sessions (where salesforce.com employees discuss how the company uses Salesforce), and brand new this year, Admins-by-Admins sessions to invigorate the admin community.
4. More HOTS
Hands-on-training sessions are hands down the most popular sessions at Dreamforce. Practicing and learning from professional instructors is extremely valuable. And after the session is over, the Orgs being used will be available for another 30 days, 
allowing you to continue practicing what you learn.
Make sure you're ready to register for these sessions as soon as Agenda Builder goes live, but if you don't, don't fret. Additional HOTS will be released in the Agenda Builder after it goes live, so keep your eyes on the Dreamforce website. To ensure that more attendees will be able to participate in HOTS, the number of sessions will be increasing.
5. Next step: Workshops
After an incredibly successful pilot last year, we've brought Workshops back to Dreamforce. Workshops can be considered the "Part 2" to HOTS. These are complementary sessions tied to specific HOTS that help you apply what you have learned to your own business. Facilitated by
professionals, these sessions utilize workbooks to show you what's possible with Salesforce. 
6. Post-show activities 
As always, the Dreamforce community and conversation do not end once the conference is over. The same is true for the breakout sessions. Almost all sessions will be audio recorded, and will be available online within a week on the Dreamforce website and in the Success Community.
Did you miss The Road to Dreamforce: Content & Training? Get your agendas ready, check out what Director of Strategic Content, Kurt Smith and Sophie Westbrook of Salesforce University had to say about education at Dreamforce, and get a special code to be entered into a lottery to win an iPad mini when you register for pre-conference training or certification:
 And if you haven't done so already, register for Dreamforce!