INFOGRAPHIC: The Beginner's Guide to Social Selling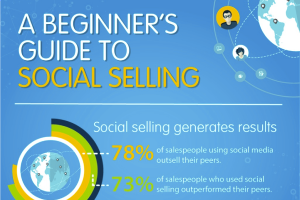 Consider this: according to the Social Media and Sales Quota Survey, 79% of salespeople who use social media as a selling tool outperform those who don't.
For a sales technique still often considered a fad or novelty, those are some staggering results. It's becoming hard to ignore the fact that the modern sales professional needs to be social.
Your customers are more tech-savvy, more educated, and more connected than they were just a few years ago. They aren't as easily swayed by a cold call and a sales pitch, and many prefer to do their own research. To regain your footing in this rapidly changing environment, you need to add social media to your sales arsenal.
To help jumpstart your social selling, we've created the infographic below to walk you through the three-step process of getting your social operation up and running. For even more information, be sure to download the full e-book, "How to Be Your Own Marketer Part 1."
Click here to learn how Salesforce can help you grow your business.