New E-Book: How to Be Your Own Marketer Part 2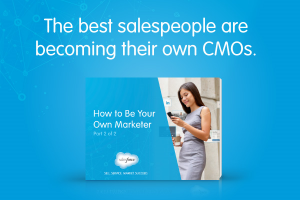 Salespeople have more opportunity than ever before to take control of the way they market to and interact with prospects.
Marketing is no longer taking place exclusively on the macro-level of campaigns and advertisements. New micro-level marketing opportunities are appearing in the form of one-to-one email nurturing, social media engagement, and content marketing distribution.
While marketing departments are still staffed for—and exclusively focused on—the macro-level interactions, sales professionals are in the perfect position to master the one to one marketing modern consumers demand and respond to.
In Part 1 of the two-part series "How to Be Your Own Marketer", we covered how to use email and lead nurturing to market yourself in a way that facilitates a genuine connection with your leads. In Part 2, we will look at taking your game up a notch with social selling and content marketing. Both new to the sales scene, social media and content marketing provide an opportunity to establish yourself as an industry expert, strengthen relationships with prospects, and market yourself like never before.
Download the free e-book below and complete your journey toward micro-marketing expertise.