5 Roadblocks to Mobile Sales Productivity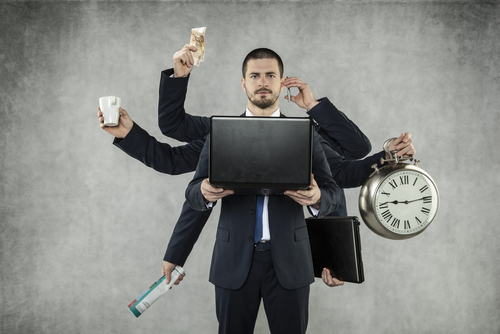 The best in sales have tried and true techniques to closing difficult deals and guiding teams to crushing quarters. The introduction of mobile apps has changed the game in sales for reps, managers, and ops alike. Today's highest-performing teams are agile and have access to the best tools on the market—but are these tools enough to combat the pitfalls that come with teams seeking to work smarter and more efficiently?
There are roadblocks every rep and manager encounters that challenge productivity. In today's increasingly mobile and hyper-competitive landscape, there's no room for fumbling. Luckily, there are apps on the market that enable sales teams to do more work on the go. As you're considering apps to implement, make sure you're aware of these top roadblocks to productivity, and consider how you can overcome them:
1. Adoption Lag
Beautifully designed mobile apps have become the standard in our personal lives—but not in business. This disconnect is more than just an inconvenience. If employees don't like using the data input tool they're given, they probably won't—and this results in wasted time and inaccurate data. Factors like an intuitive interface, ease of use and immediate value-add will be deciding factors for adoption. Apps that eliminate data entry, use data to anticipate customer needs, and drive action will make your Salesforce data even more powerful and will result in better sales.

2. App Overdose
Having the sleekest new tools in your back pocket can feel great. But if you're managing multiple apps that serve the same purpose, you'll lose even more selling time in a vicious cycle of updating. Get a read on what your team is using, and what's been effective. The most helpful apps can curate relevant information from existing data sources (like calendars and email) to nudge you at the right times when action is needed.
3. Lack of Visibility
When managers can't get a read on the status of a deal or reps lack access to the updates they need, it's no surprise that things can quickly start going south. True productivity happens when a team is in lock-step and information is readily available. The anytime, anywhere capability of mobile is most powerful when implemented on top of a strategy that has buy-in from reps, managers, and ops. Productivity-enhancing apps enable the entire sales team to easily access the insights they need as updates are happening. The app you deploy should provide a game-changing experience for all sales constituents.
4. 

Inconsistent Data Entry

Updating CRM takes away from reps' field time. It goes without question that data entry should be as painless as possible so reps can spend less time in front of a screen. With a difficult CRM, you'll get sloppy data that yields unusable analytics and insights. Data must be accurate and on-demand to give sales teams the productive edge they need. To the time-starved rep who wants to avoid CRM frustration, a mobile app must eliminate data entry time. Apps that automatically pull in data from various sources and suggest data entry at the most obvious and intuitive moment will give reps and managers the insight they need to close the most important deals.
5. Information Disconnect
Being on the road is challenging, and it's often easy to lose momentum after meetings without appropriate followups. Missing an important update about the client, the competition, the strategy can easily happen when you rely on an assistant to distill customer or deal information after the fact. A mobile app that automatically synthesizes data eliminates manual analysis time, human error, and empowers reps with real-time insight that allows them to make better decisions on the go, and gives managers the accuracy to forecast and strategize effectively.
Today's sales teams require the right apps to support a mobile-first strategy. Reps need on-demand intelligence to make the right decisions at the right time, and managers and sales ops need usable insights to improve forecasting and reporting. The right mobile strategy knocks down hurdles to productivity and can be synthesized into three distinct tenets (which include the data science and predictive analytics capabilities I referred to above). Stay tuned for a deeper dive into how to build the right mobile strategy—because at the end of the day, you need to give your sales teams what they want most: more time to sell.
Learn more about the Salesforce1 Mobile App by downloading the free e-book below.