"The Salesforce Advantage": A New Salesforce E-Book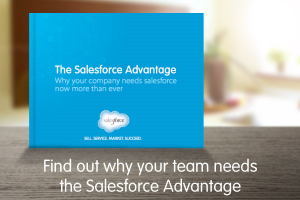 The customer relationship management (CRM) space is a crowded one. There is no shortage of new startups and established players, each pitching their own spin on the advantages of CRM solutions.
With so many competing messages, it can be hard to find the signal through the noise. How do you get all the facts you need to make a purchasing decision?
What The Book Is About
That's why we created our newest e-book, "The Salesforce Advantage," to help you determine exactly how Salesforce sets itself apart from competitors. With real customer examples and a breakdown of the business benefits Salesforce offers its users, this e-book will help you assess Salesforce against the rest of the industry. Available today.
The Structure of the E-Book
The e-book is divided into four parts:
Salesforce Increases Revenue. By increasing win rates, strengthening pipeline, improving the 360-degree view of a customer, and providing agility and technology the modern sales team needs, Salesforce creates a 20% average revenue increase for customers who switch from competitors.
Salesforce Decreases Costs. With its cloud-based product, Salesforce is able to dramatically decrease costs by requiring no hardware, providing better support, making it far easier to scale, and getting customers up and running 70% faster than on-premise competitors.
Salesforce Powers Productivity. Salesforce is designed to enhance the productivity of its users. With industry leading mobile technology, social collaboration at its core, and the flexibility to allow users to work the way they want, Salesforce can turbocharge a salesperson's productivity and push them to be more productive than ever before.
Salesforce Drives Innovation. Salesforce drives innovation by fundamentally redefining the role of IT, breaking down silos to enable cross-department collaboration, and delivering industry-leading products at a pace consistently ahead of competitors.
Get the E-Book
The e-book is already available to download for free. Download the e-book today and feel the Salesforce Advantage for yourself!