The Secrets of Mobile Productivity [SlideShare]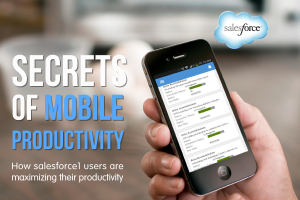 As competition increases, both inside and outside your company, productivity is becoming a significant concern for professionals in every industry.
Enhancing and maintain productivity can mean the difference between closing a deal or losing it—between snagging that promotion or seeing it go to someone else. Tools and technology that can increase productivity are at a premium.
However, nearly every professional is already carrying the most effective productivity tool with them every day: their smartphone.
With the Salesforce1 mobile app, Salesforce users are transforming the way they do business every day and are operating near peak performance in all of their daily responsibilities. Want to dictate meeting notes with Siri? No problem. Need to submit an expense report from the train? Done. Your mobile device is your secret weapon for productivity.
We asked Salesforce users to share how they use the Salesforce1 app to enhance productivity with the hashtag #salesforce1selfie. Take a look at the SlideShare below and see how real customers are maximizing productivity with the Salesforce1 app.
Download the full e-book to see all 100 ways users are running their business from their phone.