Wave: Analytics for the Rest of Us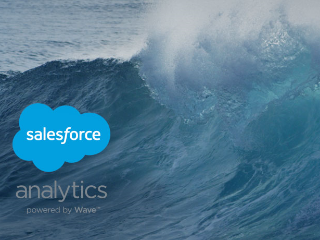 In case you missed it, today marks the beginning of Dreamforce '14 — and, in addition to all the happy hours, breakout sessions, keynote speakers, philanthropy, and concerts, that means product launches.
One of those includes Wave, the Salesforce Analytics Cloud.
It's analytics for the rest of us: a beautiful user interface designed to make interpreting and using business data easier and more intuitive than ever before.
Good day to catch a Wave: Salesforce Analytics Cloud. https://t.co/pSttwbnZdu. pic.twitter.com/MPw2zPQ8ek

— Marc Benioff (@Benioff) October 12, 2014
From the New York Times: 
Wave is intended to create sales, service and marketing analytics, either in packaged or custom forms, which can be read on desktop and mobile devices. It is meant to stress the data within Salesforce products, but it is also possible to import third-party information from companies like Microsoft, SAP and Informatica, as well as machine-generated data.
"We see this as a huge need for our base of customers," said Alex Dayon, the president of products at Salesforce. "They've been going to third-party solutions, which are really designed for data analysts."
We'll leave it at that, since Salesforce CEO Marc Benioff *might* have a little more to say about Wave and Salesforce's entry into the $38 billion analytics market during his keynote tomorrow. 
To learn more about the biggest announcement at Dreamforce—Wave: The Salesforce Analytics Cloud—visit salesforce.com, or download the free e-book.