Just Published: 2015 State of Marketing Report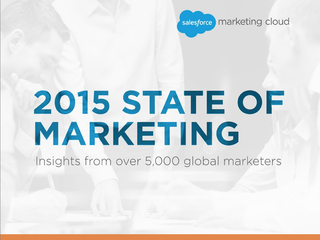 Check out the latest State of Marketing report from 2016!
It's here — the definitive marketing report of 2015. We surveyed more than 5,000 marketers globally to understand top priorities for the year across all digital channels. Inside this second annual report, 2015 State of Marketing, you get an unparalleled look at marketers' most pressing business challenges, top digital marketing success metrics, biggest shifts from 2014 to 2015, and an in-depth look at their approach to email, social, and mobile marketing.
According to 2015 State of Marketing, 38% of marketers plan to shift spend from traditional mass advertising to advertising on digital channels. Eighty-four percent of marketers plan to increase or maintain their overall marketing spend in 2015.
Here's a quick highlight of the stats you'll find inside.
The top five areas for increased marketing spending are:
Social media advertising (70% of marketers)
Social media marketing (70% of marketers)
Social media engagement (67% of marketers)
Location-based mobile tracking (67% of marketers)
Mobile applications (66% of marketers)
The three technologies most critical to creating a cohesive customer journey:
Mobile applications (57%)
Marketing analytics (54%)
CRM tools (54%)
The top three business challenges:
New business development
Quality of leads
Remaining up to date with current marketing technology and trends
This report includes executive summaries for B2B and B2C marketers, as well as summaries for Australia, Brazil, Canada, France, Germany, Japan, the Nordics, United Kingdom, and the US.
Download now and see how your own 2015 marketing plans match up.
P.S. In 2015 State of Marketing, we've included comparisons between 2014 and 2015 data where appropriate, but if you want to take a deeper dive you can download last year's report here.
For our full findings from 2016, download our latest research report, The 2016 State of Marketing.
For more data-driven insights and industry trends, visit salesforce.com/research.