"2015 State of the Connected Patient" Report Shows We're at the Starting Line of Connected Health Technology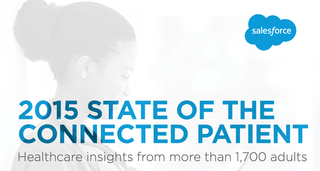 As we approach the Affordable Healthcare Act (ACA) enrollment deadline on Feb. 15, it's clear we've made a lot of progress to get more Americans covered by health insurance. But, as an industry, we have a lot of work to do to achieve the innovation outlined in the ACA that is expected to eliminate inefficiencies and improve patient outcomes.
Today we released Salesforce's first "State of the Connected Patient" report, which surveyed more than 1,700 Americans who have health insurance and a primary care doctor to look at  how patients are currently connecting with their providers, as well as their technology requests for the future. On the positive side, we found Americans on average see their doctor three times a year, have 2.5 doctors overseeing some aspect of their health care and are confident that their doctors are sharing their health records across the caregiver system (76% agree).
However, the tune changes when we narrowed the focus of the survey to millennials (defined as currently aged 18-34), whose opinions are likely to shape the way patients and doctors use technology in the years to come. The report found many millennials have a limited or even non-existent relationship with their primary care doctor, as 40% reported saying their primary care doctor would not recognize them walking down the street. More importantly, millennials prefer to engage with their providers through modern technology, and this will pressure healthcare providers to embed more social, mobile and cloud technologies in their day-to-day interactions with patients.
For example, the report found:
60% of millennials are interested in using telehealth options (e.g., video chat with a doctor) so they don't have to come into the office for an appointment.

71% of millennials would be interested in a doctor/provider giving them a mobile app on their smartphone/tablet to actively manage their well-being for preventative care, review health records, schedule appointments.

63% of millennials would be interested in proactively providing their health data from Wifi/wearable devices to their doctor/provider so they can monitor their well-being.
So, while this is an exciting time for providers, as they have the opportunity to match an eager populace with new technology tools, it should also serve as a wake-up call that they need to strengthen relationships with their patients or risk losing them to more modern, competitive health systems.
Please share your comments on how you connect with your provider today and what you would like to see changed, and to download the full "2015 State of the Connected Patient" report, click here.
We're clearly at the starting line of connected health, and we all have work to do to ensure healthier outcomes for future generations.
Todd Pierce is the Senior Vice President of Healthcare at Salesforce.