Mobile App Installs Grow More Expensive; Install Rate Remain Strong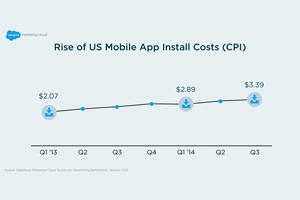 Mobile app install ads on social media have continued to get more expensive at a constant rate, reaching their highest level yet in Q3 2014, at a cost-per-install (CPI) of $3.20 globally, and $3.39 in the United States and €4.98 in Europe.
The decrease in click-through-rate (CTR) is matched by a corresponding increase in global cost-per-click (CPC) from $0.35 in Q4 2013 to $0.63 in Q4 2014. However, CPMs have begun to level off, as CPM for mobile app install ads were either level or slightly down by geography between Q2 and Q3 2014.
The install conversion rate (installs per click) remains strong at 18% in Q3 2014, a historic high over the seven quarters we analyzed and up from 12% in Q4 2013.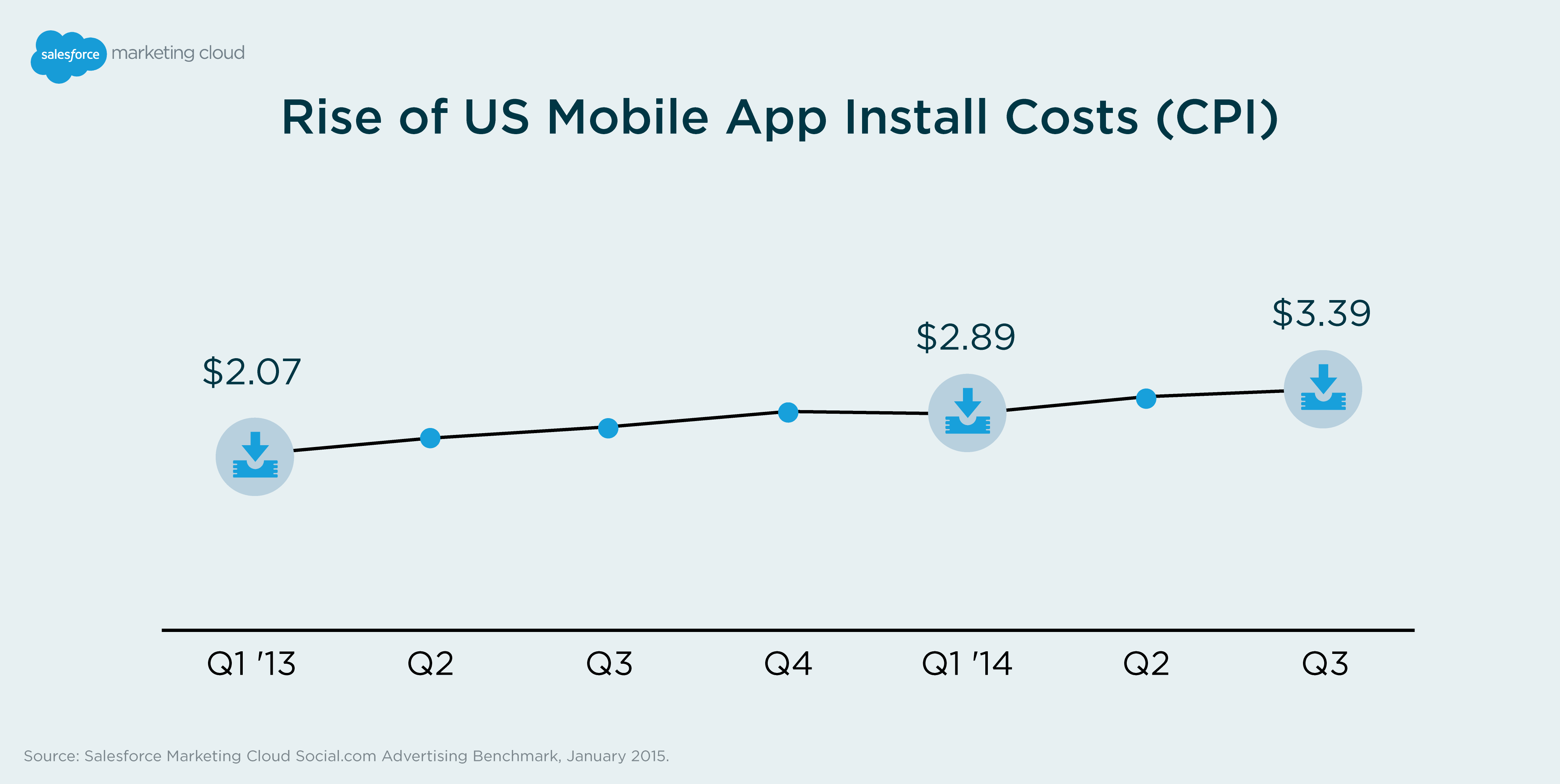 Since Facebook introduced mobile app install ads in October 2012, it has continually improved this advertising unit by growing the connection between the ads and events within an app. This includes continuing to work with 11 mobile measurement partners and growing their own app software development kit (SDK). In December 2014, Facebook improved its SDK to enable better user acquisition and re-marketing to existing users. In the July 2014 earnings call, Sheryl Sandberg discussed how app install ads are one component of a broader set of mobile offerings, saying, "We have large brand advertisers, small SMBs, direct response advertisers, as well as developers using our mobile ads."
These ads remain extremely valuable because people spend more time on Facebook and Instagram combined than the next ten biggest mobile properties in the United States — one in every five minutes spent in a mobile app is spent with Facebook. To drive usage of other apps — ranging from retail or eCommerce apps to mobile games — advertisers have proven success from Facebook mobile app install ads.
We look forward to an exciting year ahead for advertisers in 2015 and look forward to bringing you more insights from the social advertising world throughout the year including a detailed look back at the all-important Q4 in advertising.