The State of the Connected Patient 2015 [INFOGRAPHIC]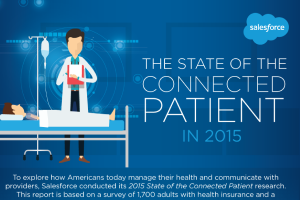 According to preliminary reports from the White House, 11.4 million people registered for healthcare under the Affordable Healthcare Act before the enrollment deadline on Feb. 15. And that number could grow as the administration is offering a grace period for people who started applications, but couldn't finish them.
This means that more Americans are insured than ever before. However, new research from Salesforce indicates that the healthcare industry is still lagging behind patient expectations in terms of technology use and accessibility.
Last week, we released Salesforce's first State of the Connected Patient report, which surveyed more than 1,700 Americans who have health insurance and a primary care doctor to look at how patients are currently connecting with their providers, as well as their technology requests for the future. The report found millennials prefer to engage with their providers through modern technology, and this will pressure healthcare providers to embed more social, mobile, and cloud technologies in their day-to-day interactions with patients.
We've created the infographic below to highlight the main findings of the report. Take a look and download the full report for all the details.
Download the full report today!