Small Business Spotlight: How Stellar Customer Service Triumphs Over An Industry Reputation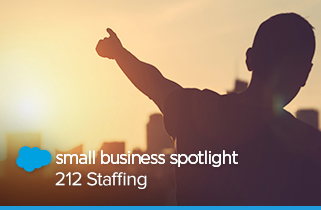 Overcoming an industry reputation is a tall order for any business. 212 Staffing wants to challenge the idea that the good customer service in the recruiting industry is an oxymoron. We spoke with Richard Eib, US Team Lead, about simplifying the recruiting process and using technology to ensure that no one falls through the cracks.
1. Why do you think the recruiting and talent acquisition industry tends to have a reputation for callousness?
I've worked in recruiting for 15 years and have a customer service-oriented background. Recruiting can be made very impersonal. A lot of recruiting companies see candidates as a never-ending resource, and focus on their clients instead. People fall into black holes when they apply for a job. Over time, that kind of treatment creates a stigma.
2. What is 212 Staffing doing differently to change that perception?
Customer service is a priority because we want everyone who comes in contact with us to have a great experience. We want to change that perception of recruiters and ensure that we're serving both ends of our business. There is no excuse for any kind of bad service.
3. What steps did your company take to improve customer service?
Our previous customer service solution is a good product, but we were impressed after seeing the simplicity and ease of use with Desk.com. We would sometimes have issues with tickets getting lost in the shuffle or with tracking tickets across all of our systems. We use several other Salesforce solutions, so we were especially interested in the integration aspect of the product. Combined, we can see complete customer information and track lifecycles to streamline the whole process. It comes down to the concept that Apple had with the iPhone — we have all our technology running on Salesforce, so it was a no-brainer to switch to Desk.
4. Have you seen better results with tighter integration?
Yes, the integration has allowed us to automate so much of the support process. We are better able to track incoming website contacts that email couldn't handle alone. We're also able to route and escalate customer service issues more efficiently. The mobile app is one of the key things I like about Desk.com — it's very easy to handle cases on the go. I also like the Business Insights feature, which helped us to adjust the hours of when we staff our team to accommodate customers. We're now able to respond to customers in less than an hour instead of four days. In fact, we were able to double the number of reqs we're working on due to the automation. We've really been able to scale ourselves more effectively and market better as a result.
To learn more about how 212 Staffing is providing fast, awesome customer service with Desk.com, check out desk.com/customers/212staffing