The Road to Dreamforce '15: The SMB Experience [Webcast Recap]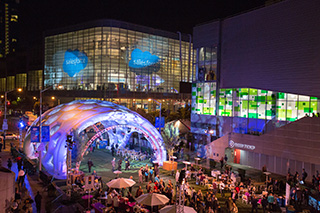 Our CEO, Steve Loughlin recently joined the webcast panel to talk about RelateIQ and what small and medium-sized businesses can expect at Dreamforce this year. With half of the audience attending Dreamforce made up of SMB companies, it's a great opportunity for attendees to get equal access to the experts, hands-on training and networking, regardless of the size of your business. The SMB Zone is specially designed for our SMB company attendees to learn about the latest technologies, strategies and updates relevant for their business, and you'll able to find RelateIQ there to showcase our latest innovations.
Here's are some of the webcast's highlights from Steve and what to expect from Dreamforce for SMBs:
RelateIQ at Dreamforce '15
We're excited to leverage the Dreamforce platform to tell our story and how we're fitting into the Salesforce product portfolio. We'll be present in a lot of different areas, featuring our customer stories and how automation has improved their process, technical breakouts on how we've built RelateIQ, and talk about new trends in technology and its impact on the industry and our customers. We will also showcasing how our products will be working with the other SMB products in the Salesforce family, and have a keynote on how our CRM technology is transforming business for SMBs and how we fit into Salesforce's commitment to SMBs.
Startup Summit
One key event at Dreamforce this year will be the Startup Summit, which is exclusively designed for founders and startups on how to build meaningful companies and create an ecosystem of innovation. It's a 2-day summit, with thought leadership and practical tracks and a great opportunity for networking with other startups and VCs. Summit attendees also get access to the Cloud Expo, Dev Zone and all Dreamforce keynotes. Plus, Steve will be interviewing with Aaron Levie, CEO & co-founder of Box at the Summit!
Small Business, Big Impact
Another exciting event leading up to Dreamforce is the Small Business, Big Impact Contest, where small businesses can share how they're making a big impact in their community. Ten semi-finalists will be selected and win a trip to Dreamforce, and 5 finalists will pitch in front of a panel, where one business will be selected as the grand finalist and awarded up to $50,000 in prizes. Check out the contest page for more information and how to enter.
This year at Dreamforce, our Small & Medium Business Keynote will show you how companies like Dealstruck, Luxe, Room to Read, and Sturtevant are using Salesforce to find, win, and keep customers . We'll also be randomly choosing four attendees to win a $3,000 voucher from Panda Travel, Inc., to hit the islands and kick back.
To attend the SMB Keynote, just register for Dreamforce and then use this link to sign up for the SMB Keynote: http://bitly.com/i-want-to-go-to-Hawaii
Watch the full webcast here:
This post originally appeared on the RelateIQ blog.
Want to see RelateIQ in action at Dreamforce? Click below to register today: