25 Genius Apps that Should Not Be Missing from Your Salesforce Instance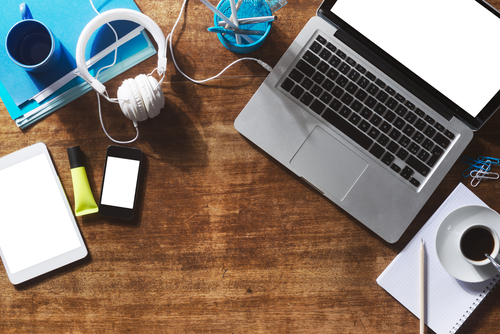 There are over 2,800 apps on the AppExchange, with new apps added every day. That means if there's a business challenge you're facing, there's likely an app for that. However, finding and installing the right apps in your instance might be as tough as saying Chatter Dashboards three times fast. Stop the tongue twisters: Here's a look at 25 apps that will make 2016 the best year yet.
Sales Apps
This app is all about your docs. Send, sign, track, and file contracts quickly and securely.
"Once it's in and running...you'll immediately notice the impact on your business." -Adam Weekes
Apttus CPQ helps you handle your quoting process right in Salesforce from any device. Manage configuration, pricing, quoting, discounts, incentives, and proposals.
"With Apttus we have gone completely paper free; no more filing cabinets! We have cut our contract cycle process in [half] and increased speed and volume of productivity." -Desirae Sutton
Generate documents and reports easily and quickly in Salesforce. Multiple formats are supported, such as Word, PowerPoint, Excel, HTML, email, and PDFs.
"Conga Composer offers a great one-click solution for document generation within Salesforce...I've used CongaMerge for a number of years and find their app only improving." -Michael O'Keefe
Ready for a game of Round Robin? Distribution Engine is a rules-based engine that ensures your leads and opportunities are evenly distributed to team members.
"This is my favorite, most effective app on the AppExchange! With much growth, we have relied on Distribution Engine to help us move our leads, opportunities, cases, and accounts to the right people, FAST!" -Katie Pelly
DocuSign Electronic Signatures
Sign and send documents anytime, anywhere, on any device.
"This program has helped us move forward in our process to streamline. It helps us address all customer requests to move faster, deliver more, and have more flexibility." -John Yard
For lovers of Word, Excel, PowerPoint, and PDF, have no fear: Drawloop is here to help you create documents in Salesforce using Microsoft Office and PDF files.
"Drawloop has been a great asset for us, as it merges our data into a template of many things we use daily." -Jaime Lanskey
Streamline and automate the CPQ experience. Start reducing costly errors, shortening the sales cycle, increasing revenue, and delivering a best-in-class selling experience.
"On top of providing a robust and easy-to-use product configurator, [PROS CPQ] has a true differentiator: it's (a) collaborative product modeling tool." -Christophe Magnan
Help sales reps reduce quote errors, manage proposals, and close more deals, all with CPQ from SteelBrick.
"[SteelBrick CPQ] has helped us streamline and keep track of all our quotes. It's nice that it's all kept within Salesforce." -Chris Klein
Get a dialer with punch: it is a full-featured sales solution that optimizes every stage of the sales cycle - from prospecting to conversion.
"We implemented Velocify about two months ago and immediately saw increases in our call connect and demos set rates thanks to their priority view and local presence features." - Brandon Crawford
Track sales activities in real time, and automatically log the data. Now every email sent, opened, and received; every attachment downloaded; presentation viewed; and meeting scheduled is tracked in Salesforce.
"It's safe to say that I don't remember my life before Yesware." - Sean Bleyl
Marketing Apps
Run your email marketing campaigns on Salesforce with iContact. Create, send, and track emails to the campaign level.
"I could not be happier with this great tool for all of the various campaigns we need to run. We appreciate the design and ease of use, as well as the flexibility in setting parameters to measure our success and follow-ups." -Betsey Padrutt
Plan, budget, analyze, and optimize your marketing activities...all in an easy-to-use app. bring your CRM data and social media statistics into Musqot to see the ROI of your marketing efforts.
"We have a need to increase our marketing efficiency, and this app helps us optimize marketing processes and results." -Fredrik Forssberg
Send swag from Salesforce! Send branded items, client/prospecting gifts, marketing collateral and more with the click of a button.
"After spending months packing mugs into boxes and asking myself, 'I went to college for this?', SwagIQ came along and saved my day." -Nick Ezzo
Customer Service Apps
Create surveys so you can gain customer feedback, then act on it with call scripts and web forms integrated right in Salesforce.
"Using Clicktools has been such a time saver. We are now using the forms for all our contact intake via the website." -Michael Sola
Use HeyWire LiveText for SMS text chat, campaigns, and automated workflows for customer service and sales.
"LiveText has tremendously increased our engagement and response with our clients." -Brad Haeger
With a no-pause dialer, comprehensive call logging, advanced case routing and more, you can maximize your agent efficiency and provide a unified experience across all channels.
"We had a nice quick implementation as they were very helpful and efficient...We have sped up our call process, and improved accuracy on cases and contact databases." -Jill Knudson
ServiceMax Field Service Management
Get a complete field service solution that includes contracts, maintenance, scheduling, workforce optimization, communities, dashboards, and more.
"I created about five template reports that I simply modify — in minutes — which provides me with history of a Service Rep activity, a particular part used, or the history of a customer within minutes." -Jack Mori
Automate your SMS campaigns, including workflows and schedulers. SMS Magic even records responses, tracks feedback and opt-outs automagically.
"Since implementing SMS Magic, our outgoing call charges have dropped by £38/mo and we rarely receive 1-2 calls in the day from customers chasing updates." -Ajaz Elahi
Finance Apps
Accounting Seed Financial Suite
Cease the madness of broken sync tools and duplicate databases. Accounting Seed provides a general ledger and accounting app in Salesforce.
"...Accounting Seed is designed in such a way that I could fully leverage Salesforce's capabilities to manage the data easily and extend the platform with workflows way further than a non-native solution (and without external development resources)." -Chandler Anderson
Gain visibility across sales, services, and finance. Now, your team can use mobile and social to keep projects on time, customers happy, and reports up to date.
"We've been running our company on a combination of FinancialForce PSA and FinancialForce Accounting for 5 years. The amount of real-time information about the health of our company has been invaluable." -Tom Lagarde
Kimble Professional Services Automation
Kimble combines CRM, PSA, resourcing, and financial reporting systems into one solution.
"I have been using Kimble as a consultant and assignment manager for over two years. Love the easy-to-complete timesheet and expense claims - online or on my Android phone. Goodbye paper receipts!" -Antje Strauch
IT & Admin Apps
This is spreadsheet simplicity within Salesforce. Mass update, batch add, batch email, filter, and see and edit everything related to a record from a single Excel-like grid.
"This app will solve problems you don't even know you have. Imagine Excel in your Salesforce instance, plus custom actions, and this is what you get." -Brayden Smith
Streamline the IT assistance process, including faster IT desk support, all through Salesforce.
"Long gone are the paper-based, time-consuming, error-prone forms previously used for new hire provisioning. Remedyforce allowed us to automate the assignment of tasks, dramatically reducing the turnaround time and confusion." -Jeff McDevitt
An AppExchange app for AppExchange apps: Streamline implementation of AppExchange apps and custom development with migration between Production and Sandbox orgs.
"[Moover] saved us countless hours during data deployments and test cycles." -Roman Klinkovich
It's time to get productive. Track to-do lists, tasks, manage projects, track meetings, and take notes in Salesforce.
"With Productivity Fox, it's easy for everyone to track their meeting notes and next steps. The meetings are all connected to the opportunity, so we can quickly review the latest conversation and ensure that everything's been followed up on." -Adam Alonso
Check out these AppExchange apps and more at appexchange.com.