How To Make 2016 The Year of Outstanding Customer Service: 5 Steps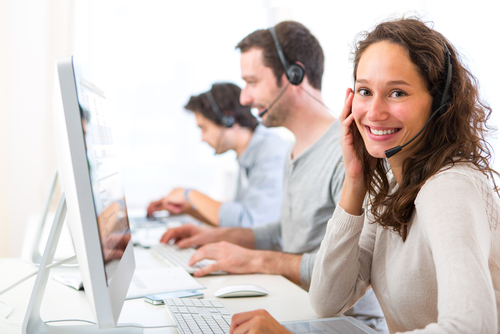 Since consumers now have worlds of information at their fingertips, connecting them to hundreds of goods and services, companies must rely on customer service to rise above the noise. Competition and advancing technologies are raising consumer expectations when it comes to quality of service. Customers expect their companies to recognize them, understand their needs, and provide quick and helpful service whenever, wherever. As a result, companies that are service-oriented, omnichannel, tech-savvy, and empowering their service reps will be the most successful in 2016.
Here's how your company can make customer service a priority and stand out this year, based on Salesforce Research's State of Service report, which surveyed 1,900 service leaders worldwide and found what separates high performers from the rest:
1. Start by Empowering Your Reps
Paramount service starts with your service reps. If your front-line employees don't feel supported with the right tools they need to succeed, they won't be able to connect with your customers with the right amount of precision and empathy. Sixty-five percent of high-performing service teams say their agents are completely empowered to make customers happy, that's 3.4x more than underperformers [click to tweet]. This can include anything from coaching and morale, to technologies and data. Make the development, training and toolkits for your service team a priority – the rest will follow.
2. Adopt Analytics for Smarter Service
A necessary item in your service rep's toolkit is the ability to gather and analyze customer data. Your customers want to be recognized, appreciated and understood by their companies; if he or she has been loyal for the past five years with a robust purchase history, it is important that the rep communicating with them knows that. On the other hand, if he or she is a new customer who is giving your product or service a test run, it's also important to have that information. When service reps are armed with analytics, they can have smarter conversations that allow them to treat each issue uniquely and make personalized recommendations. The best service teams are 3x more likely to be outstanding or very good at using analytics [click to tweet]. Tools like Service Wave Analytics can help your reps visualize and drill into the data before taking immediate action on what they see.
3. Make Everything Mobile
We are living in a mobile world where consumers don't just socialize on their phones, they actively use their devices to browse, shop and discuss products. Since your customer has their phone near them or in hand most of the day, it's important to have the ability to interact with them on this channel. Being able to take action on mobile allows you to respond instantly to your customer wherever, whenever. Service teams reported mobile app development and mobile chat as the top two areas for growth in the next 12-18 months. [click to tweet]
4. Self-Service Should Be Standard
The days of customers reaching out to contact centers are fading. Thirty-four percent of millennials say they'd rather get their teeth cleaned at the dentist than call a customer service line [click to tweet] according to a recent Salesforce Desk.com report. This means in order to succeed in today's day in age when it comes to great service is to make sure your customers can access it themselves, instantly, with as little friction as possible. Top service teams are 4x more likely than underperformers to maintain a self-service portal and nearly 11x more likely to create and manage online communities [click to tweet], State of Service reports. Tools like Service Cloud can help your company establish online communities and offer service in real time with live chat, video, screen sharing and in-app support.
5. Don't Shy Away from Emerging Tech
Imagine being able to know exactly what your customer needs before they even reach out. This is becoming a reality as technology evolves. Emerging tech like prescriptive and predictive tools are on the rise and successful teams are willing to explore these capabilities. According to the State of Service, High performers are 3.6x more likely than underperformers to use smart technologies like predictive analytics in their service organization [click to tweet].
Customers are raising the bar when it comes to service and leading companies are exceeding their expectations. Don't get left behind in 2016, stand out of the crowd and start implementing a few of these practices in order to show your customer that you're truly listening, caring and evolving along with them.