10 Years of AppExchange: 10 Business App Customers Share Their Real Stories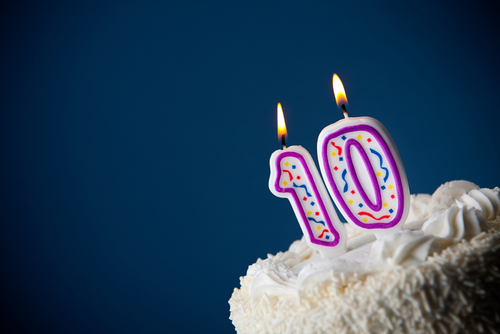 On January 14th, the AppExchange is celebrating 10 years of increased productivity and business transformation. Today, there are thousands of apps listed on the Salesforce AppExchange, and many, many customers working with AppExchange partners to grow their businesses with apps.
As part of the AppExchange team, I get to hear the amazing stories of how Salesforce customers benefit from apps. From data in multiple databases, to collaboration shortcomings, to eliminating fax machines, apps have helped overcome many business challenges. In the spirit of the 10th birthday, below are stories from 10 business app customers and the metrics that helped prove success.
1. Revolution Group Gains Company-Wide Visibility with FinancialForce PSA
Revolution Group, an IT consulting firm from Ohio, needed to gain visibility into its three separate practices. To gain that desired transparency, the company leveraged FinancialForce PSA to increase collaboration and get access to information via a single platform. The result was a 100% mobile platform that saves over 60 hours per month in calculating utilization targets, and ultimately, visibility into Revolution Group's three practices.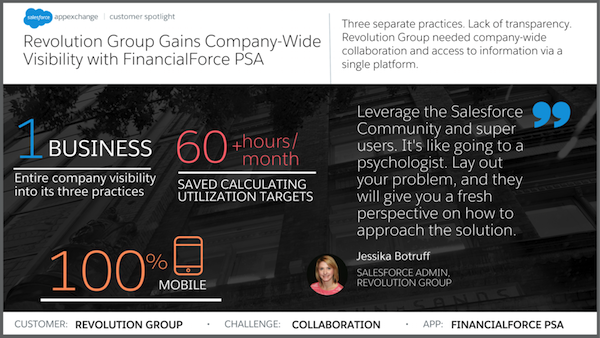 2. Scott Fetzer Electrical Group Transformed Business Processes with Kenandy
Trying to run and track a business from a series of spreadsheets, reports, and emails caused a ton of confusion for Scott Fetzer Electrical Group. The company needed to move their business processes to the cloud, and Kenandy was the app chosen to help. Kenandy's ERP system helps manage everything for the company's manufacturers powered by Salesforce App Cloud. The app saves buyers over four hours per week, and led to 30% cost savings.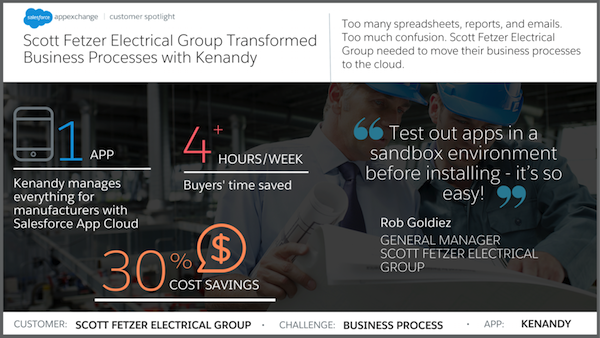 3. World's Leading Chocolate Manufacturer Barry Callebaut Streamlines Customer Experience with CloudCraze
The Barry Callebaut Group has been producing chocolate and cocoa products for more than 150 years. But recently, the company realized it needed help supporting online orders; up until that point, it lacked automated processes for its customers. So Barry Callebaut turned to CloudCraze's ecommerce platform to streamline the customer experience. After implementation, customer orders were successfully processed the first time, resulting in 3X more successful order processing. This ultimately led to an 8% increase in revenue, as cross-selling and up-selling drives revenue and margin uplift.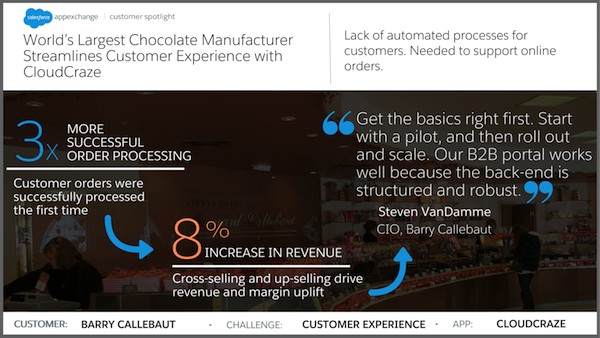 4. Topcon Increased Field Service Efficiency with ServiceMax
New Jersey-based Topcon Medical Systems is a leading developer and supplier of diagnostic equipment for the ophthalmic community. But the company was struggling with a host of issues, ranging from lost equipment to revenue leakage. The company was giving away service and paying for it. Fortunately, field service management company ServiceMax came to the rescue. By installing ServiceMax, Topcon has seen incredible results. ServiceMax gave Topcon a broad framework to gain efficiencies and improve products. And the results are tangible: Topcon experienced a 30% lift in productivity gains, and a 10% increase in service revenues.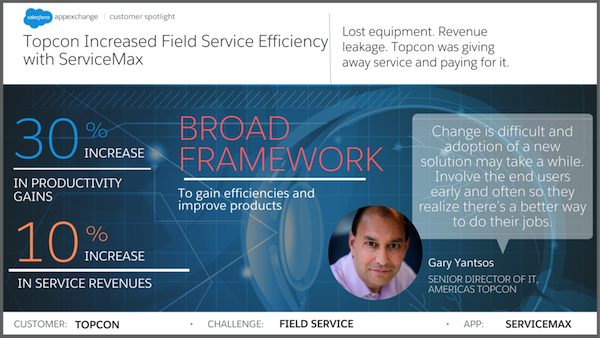 5. Zenefits Scales Sales Efficiency with PowerDialer by InsideSales.com
All-in-one HR platform Zenefits has been a hot tech company for several years, and as a result, experienced tremendous growth across the company. While this is an exciting time for any startup, it also leads to growing pains. The Zenefits sales reps were hungry to sell, but they didn't have set processes to prioritize accounts and manage territories. So Zenefits turned to PowerDialer by InsideSales.com to help them operate more efficiently and smarter. PowerDialer defined a highly repeatable process, making sales reps smarter and more efficient. This led to a 50% increase in sales efficiency in the first month after implementation, and 50% more overall calls for sales reps.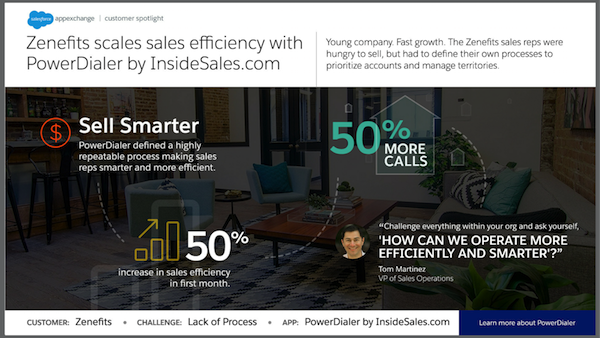 6. Meritage Homes Transformed Contracting Process with Drawloop
Meritage Homes focuses on building beautiful, energy-efficient homes for people across the United States. But each home required legal oversight and saw an endless amount of paperwork. The Meritage Homes sales team spent hours drafting, editing, and customizing documents for each home sale. So when the company started using Drawloop by Nintex, everything changed. Drawloop significantly accelerates Meritage Homes' contract generation process, leading to a 90% time savings in turning around a contract. Instead of an hour to get a contract to a customer, it now only takes 60 seconds.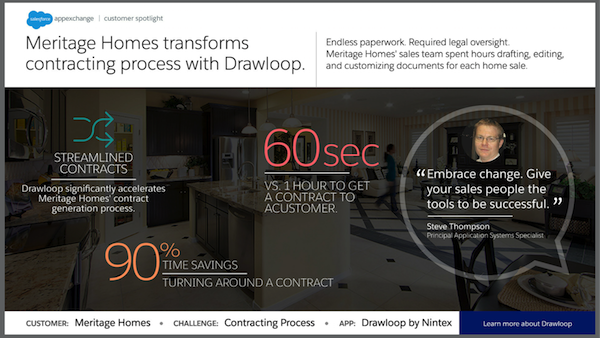 7. Shutterstock Simplifies Contract Management with DocuSign
Stock photography, footage, and music provider Shutterstock has 70,000 contributors, content in 20 languages, and customers in 150 countries. It also had a complex contract process. To help simplify contract management, Shutterstock engaged DocuSign to help. In addition to a 100% revamp of contract management, DocuSign helps Shutterstock automate processes across every department. Shutterstock has seen 40% time savings to turn around a contract, and now easily manages hundreds of documents each week.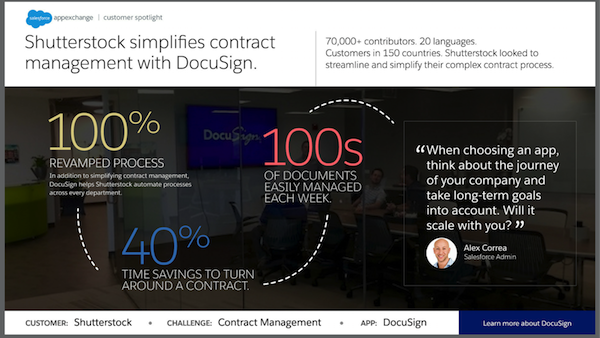 8. Cloudera Accelerates Sales Productivity with SteelBrick CPQ
Cloudera delivers a modern platform for data management and analytics, and the company has performed great. Demand has been high, and the sales team has been rocking. But sales operations review was required for every single quote, which caused constraints that slowed growth and frustrated teammates. It was clear that Cloudera needed a Configure-Price-Quote (CPQ) solution, and SteelBrick CPQ was their choice. Within two weeks of purchase, Cloudera had SteelBrick CPQ up and running, completely redefining the quoting process. Cloudera has seen significant results once the process was defined: 90% of Cloudera's sales quotes can be configured by sales reps without sales ops help. In turn, this allows Cloudera to generate more than 1,000 quotes each quarter.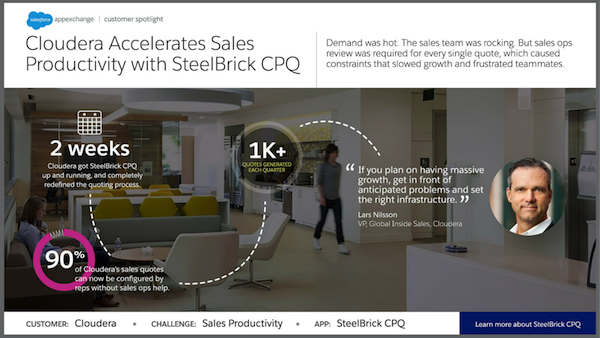 9. Remy Cointreau Gains Visibility into Sales Activities with GreatVines
Remy Cointreau is a French alcoholic beverage company that produces cognac, liqueurs and spirits. But though their product may be sophisticated, their sales processes were not. The company had no real-time data access and still used fax machines. Remy Cointreau faced difficulties linking their sales activities to actual sales volume. So they looked to GreatVines Sales Execution to gain visibility into sales activity. After implementing the app, Remy Cointreau documented processes that gave them the desired visibility. And whereas before GreatVines, it took three weeks to generate a sales report, it now takes just 30 minutes to produce the same data.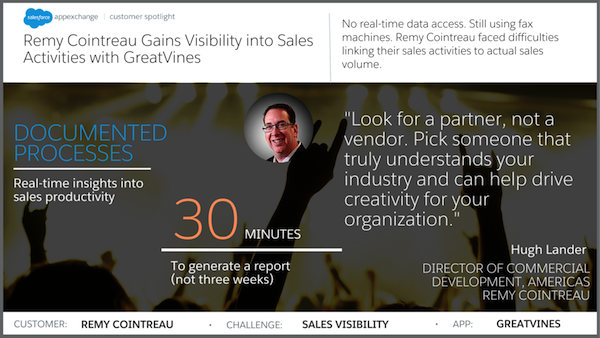 10. Abacus Wealth Partners Streamlines Databases with Orion Advisor Services
Abacus Wealth Partners is a wealth management firm that helps people make the best use of their finances. In this business, having access to data is critical; and yet, Abacus was maintaining four different databases and was missing data. Multiple people needed to manage this data, and the firm couldn't prioritize clients in any way. That's why they brought in Orion Connect from Orion Advisor Services. Since implementing Orion Connect, Abacus Wealth Partners saves 200 hours per week, and no longer needs multiple people to work on the databases. Additionally, Abacus has grown its sales by 2X since the implementation of Orion Connect.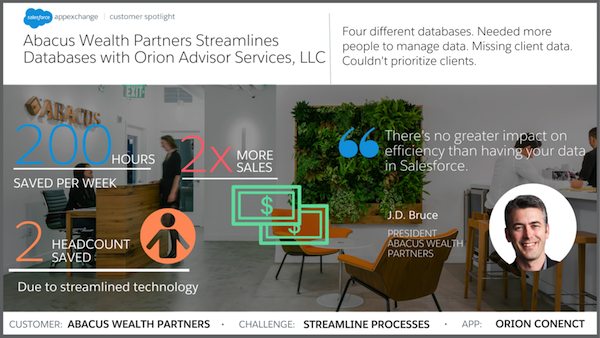 View the entire collection of customer stories on Slideshare:
Celebrate the 10th birthday milestone by promoting your successes on the AppExchange via social channels (use #appexchange10), installing an app ($10 donation for every install on Jan. 14th), or joining our Demo Jam (AppExchange 10th Birthday Edition).
For more great apps that can help drive real results for your business, head to the AppExchange today.