Why B2C Brands Should Pay Attention to LinkedIn Advertising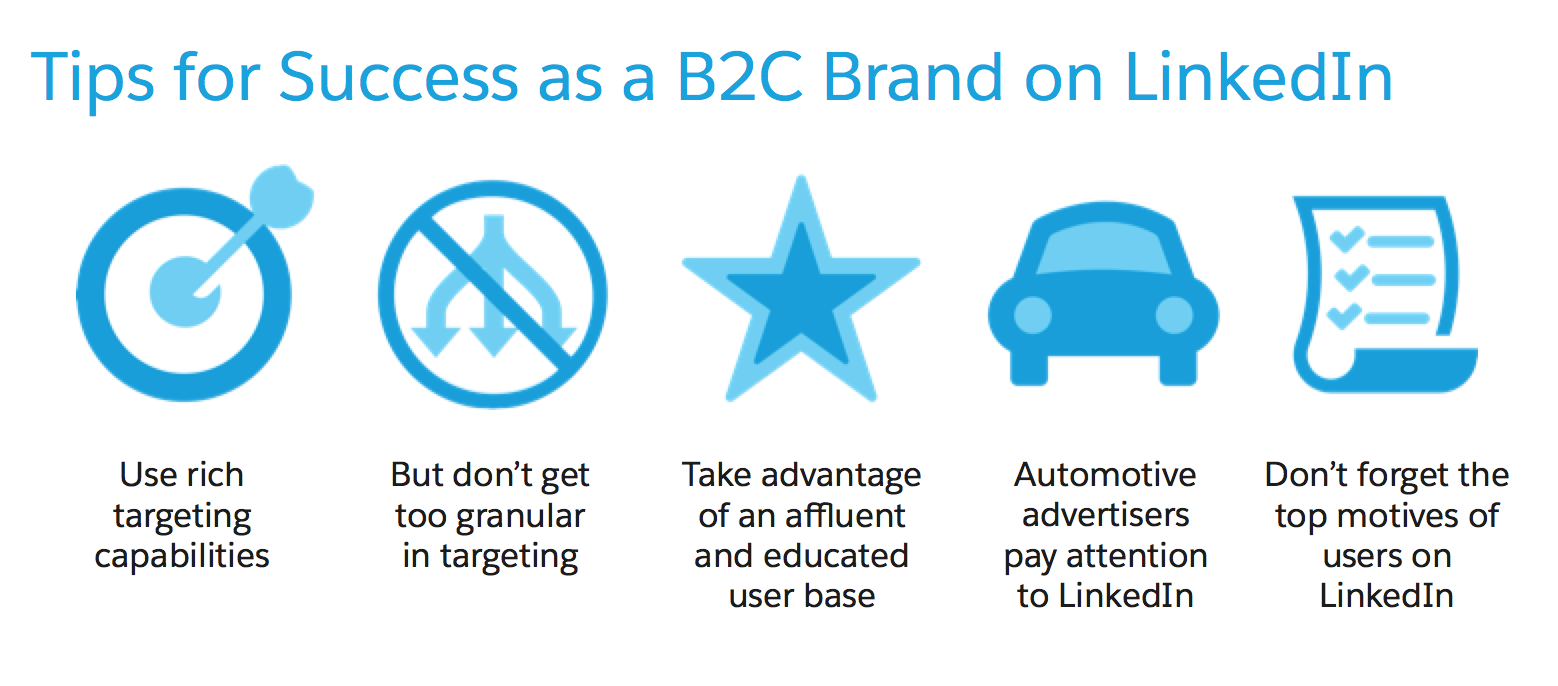 Rethink What You Know About LinkedIn Advertising
Since it introduced Sponsored Updates in 2013, LinkedIn has been considered a premier place for B2B advertisements. However, behind every business is a collection of consumers that have a favorite brand, need a new car, are in search of a new job, or are looking into grad school. LinkedIn's audience includes senior-decision makers at work and people with high levels of education and financial net worth who are already engaging on LinkedIn. For instance, LinkedIn members are 93% more likely to have a college degree than the average online adult. In addition, LinkedIn's audience has 2x the buying power of the average web audience and 4 out of 5 LinkedIn members impact business decisions in their company
Tips for Success as a B2C Brand Advertising on LinkedIn
Use rich targeting capabilities to gain the high quality engagement you're looking for. Sponsored posts offer the opportunity for brands to target based on educational institution, seniority within a company, and various LinkedIn groups a user may belong to get more valuable clicks per post. UQ Business School, an Australian business school known for it's top MBA program, used LinkedIn to deepen engagement with business professionals and reinforce their position as a thought leader and as a research intensive Business School. The school's Dean, Professor Andrew Griffiths, said "LinkedIn was integral to our campaign to target exactly the right audience in an entertaining and engaging way."

But don't get too granular in targeting to the point of missing out on a large population of potential new followers. For example, a global bank and financial services provider recruited the help of Social.com to acquire new highly influential and wealthy LinkedIn followers that would be more likely to engage with the brands in the future. The bank found the most success targeting job title seniority (Senior, Manager, Director, and VP levels), across all a major target country who weren't currently following the bank on LinkedIn. By using seniority as the only targeting filter (other than geography), they were able to fulfill budgets whilst still ensuring the new followers they acquired were relevant.

Take advantage of the highly affluent and educated user base. LinkedIn, above other digital platforms, is known for attracting highly-educated and earning professionals. B2C brands whose target consumer falls in line with those criteria should be especially interested in advertising on LinkedIn. Luxury and lifestyle brands or brands with high-end products have the ability to target the exact customer they're looking for all on one platform. For example, Callaway, a high-end golf brand, launched a LinkedIn advertising campaign prior to the 2013 U.S. Open. Its goal was to re-energize their brand presence among digitally-connected professionals who golf, and to take advantage of the sport's value for networking to build deeper relationships with customers. Callaway developed "Hit the Links," an interactive app that let LinkedIn members create their "ultimate foursome" using their own network connections. In the end, they reached 8,270 foursomes created, 1,500 new followers for Callaway Golf Company Page, and 83% lift in positive sentiment on social networks.
That goes for automotive advertisers too! A recent study found that LinkedIn users are more affluent, with one in two users considering a hybrid vehicle and having a 105% likelihood of earning an annual household income of over $100k. This makes LinkedIn an advantageous platform for automotive brands, looking for customers ready and willing to make a big purchase, like buying car. According to Crowdtap, 80% of buyers are more likely to turn to their network for advice in purchasing a car than a salesperson. In addition, 68% went on to purchase a car they initially discovered on social media. By 2018, auto will rank as the second leading industry in digital ad spend.

Don't forget the top motives driving users to LinkedIn in the first place. The majority of LinkedIn users use the platform for professional development and job searches, so that better be apart of your campaign strategy. For example, Holiday Inn Express knew they needed to set themselves apart from the competition by raising brand awareness and encouraging potential customers to find out more about the business. They launched Sponsored Updates targeting LinkedIn members in sales and business consulting (likely to be traveling for business), highlighting useful content from around the web, like a BuzzFeed article on packing tips.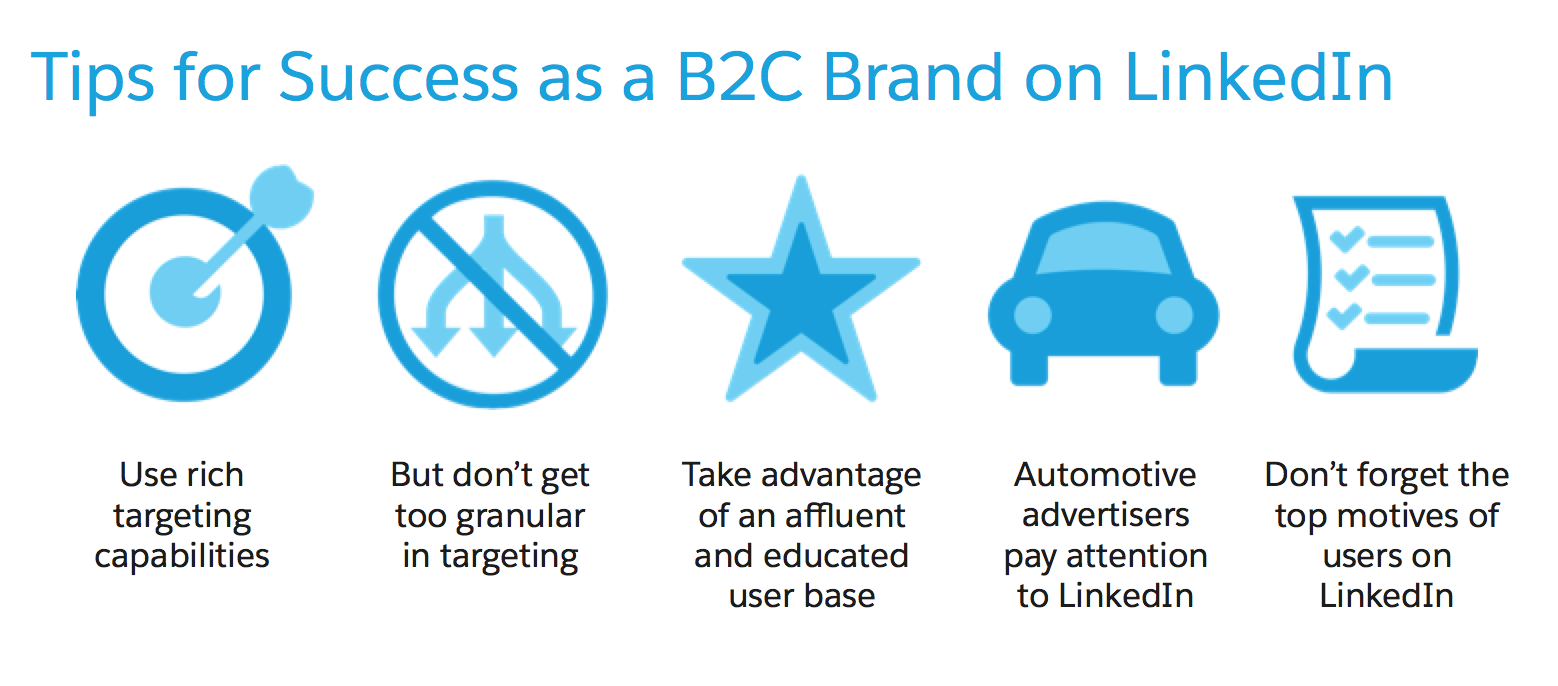 To learn more about the opportunities with LinkedIn advertising, check out our latest Salesforce Advertising Index Report.