New Year, New Insights: Creating a Culture of Analytics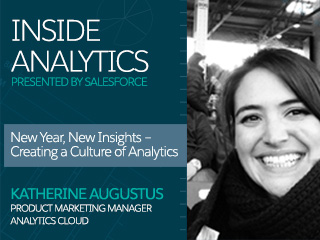 "Essentially this has been a business that's been around for over a hundred years and it really hasn't changed much, so any time someone's doing something differently, it's probably going to create some friction." — Billy Beane
Welcome to 2016! It's a new year and high time for a new level of insight. Let's resolve to create a culture of analytics.
Like going to the gym every day or eating healthy (wait, I can't eat cookies every day?) — creating a data-driven culture doesn't come easily. As Moneyball taught us, baseball's transition from relying on the instincts of wizened scouts to integrating sabermetric models was met with tremendous resistance from the old guard.
But Oakland A's general manager Billy Beane was at the forefront of this revolution, and fought to instill a data-driven culture throughout the A's organization, ultimately creating one of the most successful teams on one of the tightest budgets in MLB. Of course, now nearly every pro sports team embraces analytics to some degree. Similarly, as data-driven companies see greater successes, analytics adoption has rippled across the larger business world.
This means that a culture of analytics is no longer a progressive nice-to-have — it's critical for staying competitive.
Creating a Culture of Analytics
Salesforce recently surveyed more than 2,000 business leaders from around the globe to discover their attitudes and usage around analytics, and find out how the most successful organizations approach analytics.
The results point to some pretty clear benchmarks that show how a culture of analytics can lead to success. These include:
High performers are 8.2x more likely than underperformers to say analytics is absolutely critical to driving the company's overall business strategy
High performers are 5.1x more able than underperformers to gain timely business insights from their current analytics tools
Top teams are 3.5x more likely than underperformers to extensively use mobile reporting tools to analyze data wherever they are
Across a spectrum of measurements, high-performing organizations are much more likely to embrace analytics and create a culture based on data-driven insight rather than gut-level instinct.
That makes sense. The amount of data collected by companies is growing exponentially. And much like Billy Beane's A's, companies that can turn all that information into smarter answers will see distinct competitive advantages over those that resist the change or embrace it in name only.
But gaining business advantages from analytics isn't as simple as buying the tools to get the job done. It requires the entire organization to embrace analytics. This is easier said than done, but as our research shows, it's an essential step for companies looking to boost performance and do more with less.