5 Tips for Creating a Healthy Wellness Program at Your Company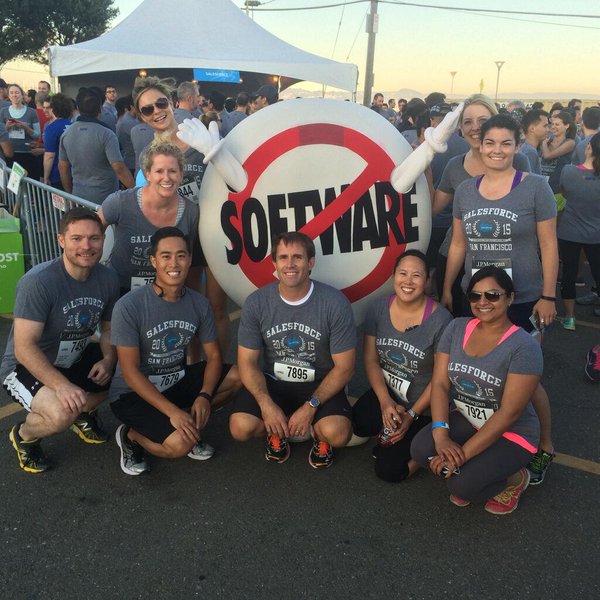 Do you do your best work when you are tired, sluggish, sick, and stressed? Or do you perform better when you are nourished, energized, rested, and refreshed?
It's a surprisingly simple question – and employers are starting to wake up to it in a big way.
In order for employees to be able to move fast, think clearly, and take care of business, they must first take care of themselves. As employers, it's our responsibility to empower our employees to prioritize wellness. After all, employees are the heart of a company. I believe it's in every employer's best interest to make sure it's a healthy heart.
Wellness has always been deeply rooted in the Salesforce culture, and we've been working hard over the years to create a well-organized approach to it. We're thrilled with the direction our program is heading, but just like anyone, we're not perfect and it hasn't always been smooth sailing! Yet we're learning as we go and improving every step of the way … and hopefully we made a few mistakes so that you don't have to.
Here are the top five lessons we've learned for how to build an awesome company wellness program.
Get the Crowd Moving
The fastest way to fire up a wellness revolution is to launch a company-wide fitness challenge (hey, who doesn't like a little friendly competition?). Last year, we threw down the gauntlet to our employees with our Salesforce Moves 1 Million Miles Challenge. We worked with a third party partner to integrate all of our FitBits, Jawbones, and other trackers into the Salesforce1 platform in order to track real metrics and celebrate employees who achieved their goals. We raced past our goal and had such terrific engagement that this year, we're going for two million miles!
Bring In Experts
While there are many programs you can implement on your own, bringing in health and fitness gurus to share life-changing new ideas will truly inspire and delight employees. That's why we are committed to growing our wellness speaker series. We host thought leaders, including mindfulness author Jack Kornfield and the monks of the Thich Nhat Hanh Foundation, at our headquarters office and livestream the experiences to our nearly 20,000 global employees. And our people have been loving it! How do we know? Every time we announce a speaker, we hit our in-person viewing capacity in about an hour, and thousands join us on the livestream.
Empower Employees
Sure, you could set up a company discount at a local gym. But what about your employees who would rather do yoga, or take a dance class, or just get a massage? Salesforce employees love our Wellness Reimbursement Program because they are able to spend $100 each month any way they want – fitness classes, nutrition counseling, acupuncture, you name it! And we make it easy for employees to submit their reimbursements so that the process is positive, not painful.
Market Your Programs
Employees are moving too fast to dig for info on new perks or programs. In order to make wellness work, you've got to shout it from the rooftops! Align your program owners with your communications team to create strategic campaigns that put wellness messages front and center. For a recent holiday campaign, we created a microsite aggregating all the ways employees could find peace for themselves and spread joy to others (think meditation classes and volunteering opportunities), then executed a steady drumbeat of communications pointing to the microsite. Employees flocked to the site, quickly filled up the activities … and, yes, found peace and spread joy throughout the season. Mission accomplished.
Explore New Ideas
There are unlimited ways to bring more wellness into the workplace, and what works for one company might not be right for another. I recommend exploring new ways in which you can use your company or industry's unique strengths to embed wellness into your culture. At Salesforce, we worked with our technology team to create a pilot email program that guides employees along our Aloha Wellness Journey: participants answer daily wellness questions, receive helpful tips, and track their scores over time in order to lead happier, healthier lives. It was so successful that we are now building the journey into an app and will be rolling it out to employees worldwide this year.
We're excited to keep learning, growing, and thinking differently when it comes to our approach to wellness, and encourage you to do the same. Just think: if every employer makes corporate wellness a top priority, imagine all the incredible things we can accomplish … and how good we will feel, inside and out.
Jody Kohner is the Vice President of the Employee Marketing & Engagement team at Salesforce. The span of her work ranges from managing the employer brand reputation and recruitment marketing initiatives through on-boarding new hires and all sorts of awesome programs designed to make employees love their job.