Mobile Steals Consumer Attention, Advertisers Take Action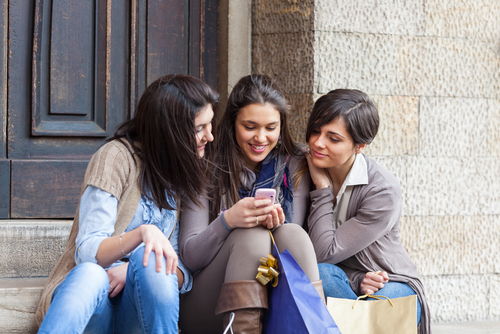 This week, new data in mobile app usage and in-app purchase behavior shows retailers everywhere that mobile advertising is a must-do. In addition the number of people acquiring more than one smart device grows. More and more people are spending time in apps and the mobile browser, and some even both at different times. Finally, one of the most visual mobile platforms, Instagram, proves to be a successful ad platform for telling your brand's story and reaching the user in more engaging ways than ever before.
Today, you can do just about anything with the help of a mobile app. You can reserve parking, run errands, buy furniture for a new home, and book your next vacation. Over 52% of all time spent on digital -- across both desktop and mobile -- are in mobile apps. In addition, 42% of all mobile sales generated by the leading 500 merchants took place in apps. For this reason, retailers need to realize that mobile is no longer an additional advertising opportunity. Instead, mobile advertising should be an integral and crucial part of your overall ad strategy in order to drive engagement with your e-commerce app. In addition, mobile app return on ad spend (ROAS) should be measured for its direct revenue in order to really understand the value your mobile app has on your business. Consumers are spending vast amounts of time in apps, so make sure you're there when and where your customer needs you.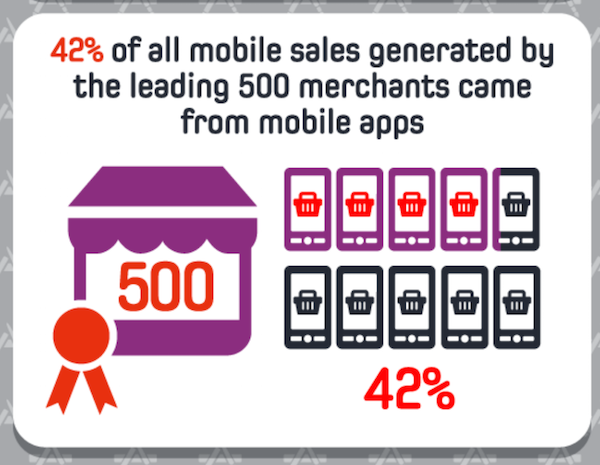 Connectivity has reached an all-time high. We live in a world where one smart device is often not enough for a consumer. As you can see in the chart below showing the penetration of smart devices in Europe, there are many instances there are more than one device per person across an entire country: the U.K., Netherlands, and Sweden to be specific. Not only are so many people connected (so on multiple devices), but 23% are accessing mobile apps, 20% are accessing mobile browsers, and 33% are using both. With all of these touchpoints to interact with your customer, it's crucial to advertise in a way that helps you track where and how they are spending their time. The issue with cookie-based targeting is that when a user is using multiple devices or both a mobile app and a mobile browser on a single device, there is no way to track all of those actions separately with one user. For that reason, digital advertising on Facebook and Twitter offers advertisers a way to track user behavior across every device where they are logged into Facebook or Twitter, and use that data and make decisions on future ad campaigns to continually optimize your ad strategy.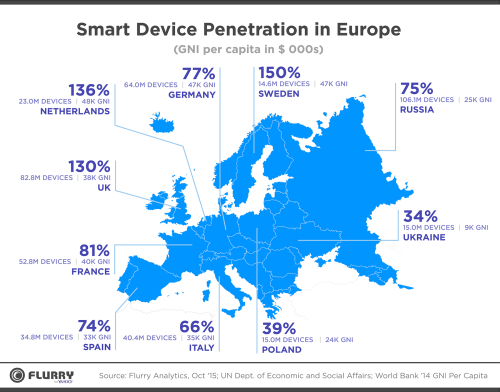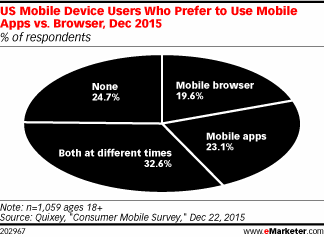 Instagram has quickly shown that it means business rolling out its advertising capabilities just last year. Instagram is known as the top visual storytelling platform, making it the perfect platform for advertisers to tell the story of their brand. In fact, 68% of Instagram users aged 13-24 say they interact with brands regularly on the platform. One of our clients, a global food and beverage brand, used Salesforce Advertising to launch video and image ads on Instagram. The brand designed multiple 15-second videos promoting its partnership with a top retailer, and several images that helped further the vision of its product as a great breakfast food. It found that the secret to success on Instagram was to leverage the visual power of the platform and create content that pops in the feed. As a result, the brand found that Instagram video ads delivered video views at only $0.02 each and were highly engaging as the video fills the entire mobile screen. In addition, the image campaigns delivered engagement at rates unheard of in other channels, and a 2.92% click-through rate (CTR).