New E-book: Our Top 25 Tips for Growing Your Business in 2016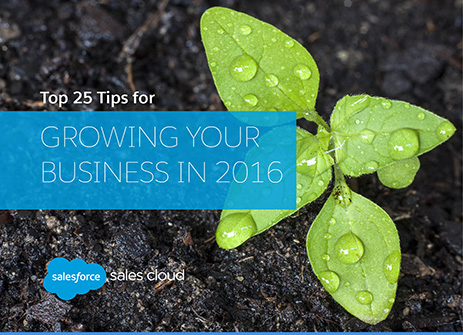 Whether you're expanding internationally or just trying to get a startup off the ground, growth is core to every business strategy. That's why we created this e-book: to give sales, marketing, service, and small-business leaders a one-stop-shop for all the best advice on business growth.
To create this e-book, we spent the past year talking to many smart entrepreneurs and small business leaders about what makes them successful (you can read those stories here and here). Some spoke about how to manage sales pipeline, while others focused on delivering the kind of customer service that inspires enduring loyalty. Still others highlighted the importance of hiring smart, working hard, and — one of our favorites — simply being kind.
Here's a taste of what you'll learn:
Tip #6: Always Be Hiring
In sales, the traditional mantra is ABC — "Always Be Closing" — but for Jason Lemkin, Managing Director at Storm Ventures, it ought to be about hiring.
"If you don't constantly hire reps, you'll never grow the top line as fast as you could," Lemkin explains. "You need to Always Be Hiring sales reps. Once you have an engine going, have faith. Have faith they'll generate and close the leads. And they will — if they're great. If your sales team is understaffed, you'll leave money on the table. A little overstaffed is better. Do that, and you've got a chance to exceed your current plan."
Tip #15: Know the "Why" Behind Your Marketing
In a recent episode of the Marketing Cloudcast, Kyle Lacy, Head of Marketing Strategy at OpenView Venture Partners, highlighted the importance of the "why" in marketing:
"A marketer's job…is not to sit in a room and think of the next creative billboard we should create," Lacy told podcast co-hosts Heike Young and Joel Book. "It's understanding why people are driving by that billboard and creating content around that, using data."
Tip #19: Work Smarter — And Harder
"My VP of Sales at my first college job asked our entire sales team what's more important: working smarter or harder?" recalls Kevin Chiu, Manager of Sales Development at Greenhouse Recruiting, a recruiting optimization platform that helps companies build and scale their recruiting processes. "Most of us said working smarter, and he told us we were all fools. 'It's about working smarter AND harder.' In this day and age, when you surround yourself in a room with people that are all smarter than you, that's the only way to keep up and strive to be the best."
Download the e-book for lots more tips on growing your business in 2016.