The Salesforce Marketing Cloud in 2016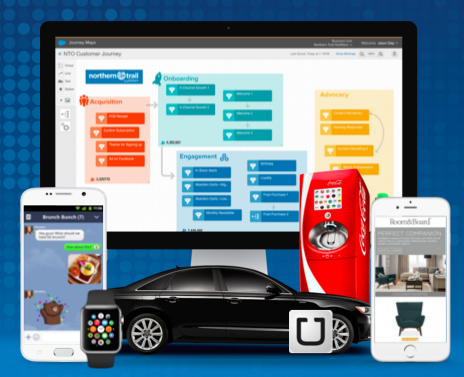 Today I'm in New York where I'll be speaking at AdExchanger's Industry Preview conference. The theme of the conference is "what to expect in the next 12 months for digital marketing technology," so, I thought it would be beneficial to recap some of the accomplishments we achieved together over the last year as well as lay out our focus for 2016 and beyond. In speaking with many of you -- customers, partners and employees -- it's clear that 2015 was our most successful year yet.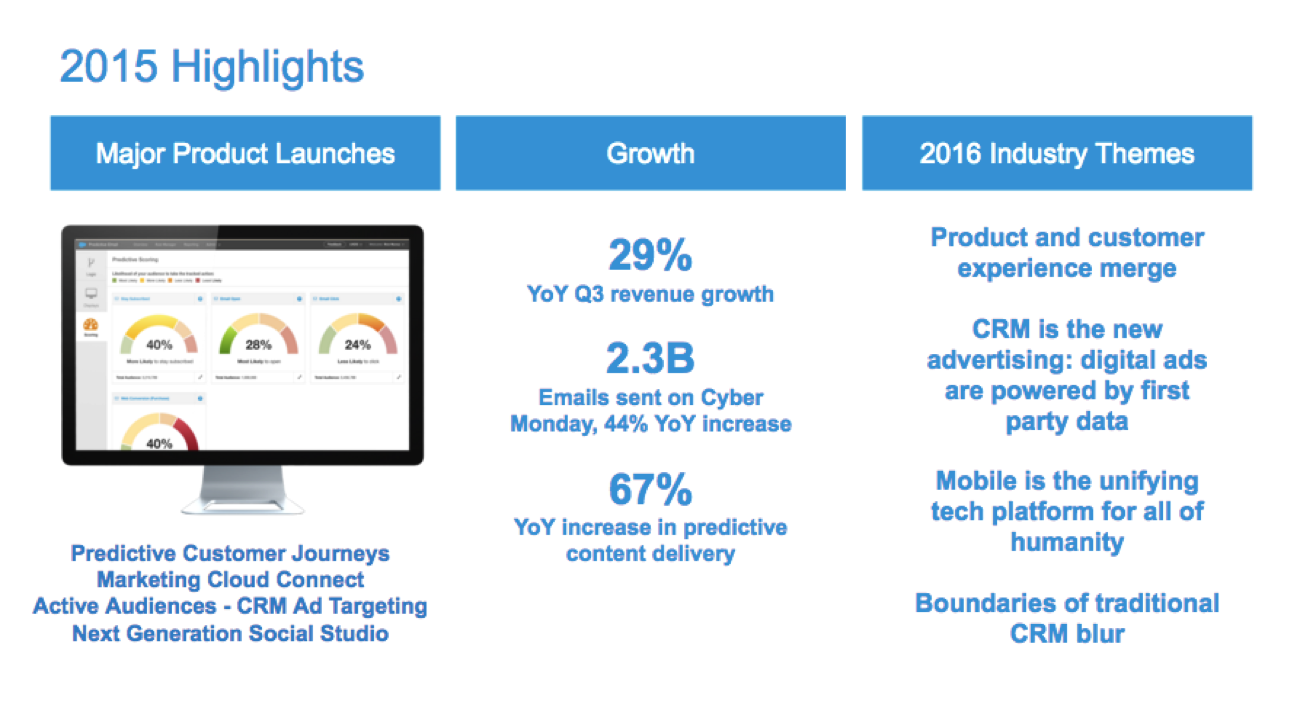 We made significant improvements in how the Marketing Cloud is integrated with other Salesforce clouds, including Sales Cloud and Service Cloud, with the release of Marketing Cloud Connect. Marketing Cloud Connect allows marketers to create 1-to-1 journeys across the entire Salesforce Customer Success Platform -- journeys that span not only digital marketing, but sales and service as well. This simplifies data management, segmentation and campaign management, making it easy to create compelling digital marketing campaigns, boost customer engagement and ultimately drive more leads into Salesforce.
We are leading a revolution in first-party, identity-based advertising. By automatically tying a brand's known customer database to its digital advertising programs, we allow marketers to move from mass, impersonalized ads to personalized digital advertising at scale. Our initial studies show that marketers who coordinate their direct marketing, like email and mobile campaigns, with advertising see 80 percent higher engagement that those who don't.
Our powerful new Predictive Journeys help marketers harness the power of data science to analyze customer engagement and predict the optimal next step in every journey. We continued to innovate in social marketing with the next generation of Social Studio. And we stayed true to our core -- digital marketers rated Marketing Cloud #1 in email marketing. It was a great 2015. Thank you!
Here is what we'll be focused on in 2016.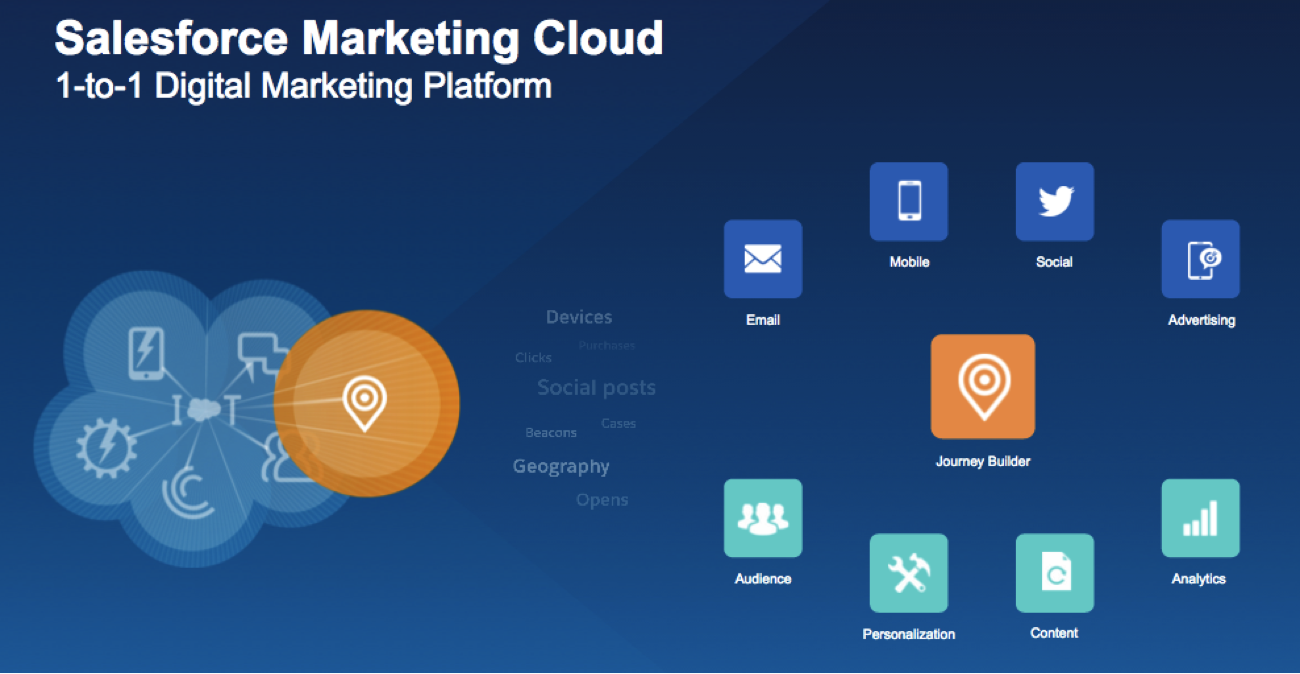 1. Customer Success
Nothing is more important to us than making marketers successful. While all of the areas we're focusing on in 2016 are important, they are all designed with the end goal of making our customers more successful in connecting with their customers in new ways.
2. Connecting Product and Customer Experience for Smarter 1-to-1 Journeys
How many times have we said a brand is the sum of all the experiences customers have with our company? Everyone and everything is becoming more connected and smarter -- there will be 6 billion smartphones, 75 billion connected devices and trillions of customer interactions by 2020. In this new connected world, the lines between product and customer experience disappear. That's what's powerful about companies like Fitbit and Uber -- there is no difference between the product and the experience.
This is a massive CRM opportunity and perhaps the largest opportunity in the software industry. It's not just relationship management (managing contacts, opportunities), it's evolving to relationship engagement (interactions at every touchpoint) and relationship intelligence (advanced data science to analyze relationships and drive actions). The work we are doing with Marketing Cloud Journey Builder and our IoT Cloud to process massive quantities of data, build business rules, and engage proactively with customers in real time is very exciting.
3. The Importance of Email Marketing
Despite the massive changes in our connected world, email is still the most common activity for U.S. adults on their smartphones and it delivers the highest ROI in digital marketing. Email is both the workhorse of digital marketing and the connecting fiber between all digital channels that keeps customers satisfied on every front.
It is simply incredible how much rich and dynamic content we can now include in email marketing. Interactive, personalized content that renders at time of open for each individual is now possible. At Connections, you will experience a completely new way to deliver email marketing from Salesforce. Email is the fuel that powers the customer journey.
4. Distributed Enterprise Marketing
We are speaking with many customers who are asking us for new solutions to support multiple business units and franchises. How can they keep every franchise on message? How can they customize offers for each customer? Marketers continue to select Marketing Cloud because we manage complex, distributed organizations. It's time to take this to the next level in 2016.
5. Predictive Intelligence Everywhere
Predictive intelligence is how we make the customer journey smarter. We deliver dynamic "Waze-like" customer experiences that go beyond answering the question of what content to send to customers to engage them in a smarter way by predicting their likelihood to take a specific action. The Marketing Cloud constantly updates anonymous and known customer profiles so marketers can understand preferences. It also leverages sophisticated algorithms to make predictions about the next best content, product or offer and automates its delivery to increase conversions and engagement. We will invest more in predictive intelligence to make digital marketing even more productive and more predictive.
6. Mobile
There will be more than 6 billion smartphone users globally by 2020. Mobile is now the first global operating system for all of humanity. And mobile as a digital marketing channel is in mass adoption and is being combined with email marketing for a majority of our new customers. 2016 will be a huge year for our mobile products, across mobile messages (SMS and MMS), group messaging, in-app notifications and geolocation technology.
7. CRM-based Ads
Today, many marketers still try to show the right digital ads to the right people primarily with Web cookies, an unreliable approach with extremely low engagement. There is a much better way. Our advertising platform allows marketers to move from mass, impersonalized media to personalized media at scale. It does this by automatically tying a brand's known customer database to its digital advertising programs. It allows marketers to coordinate their direct marketing like email and mobile campaigns with powerful digital advertising. CRM is the new advertising. Our advertising products have advanced dramatically and are leading a market migration to identity-based advertising.
Our entire Marketing Cloud team is excited about 2016 and how we can help marketers connect to their customers in entirely new ways. See you at Connections in May!