2016: The Year of Lightning [NEW E-BOOK]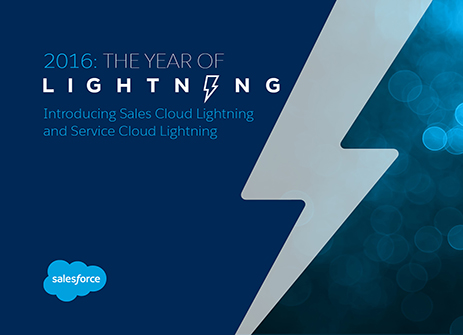 For five years running, Salesforce has been named one of Forbes' most innovative companies in the world. What's behind this honor? It's our commitment to our customers.
Every year, we roll out three major feature releases, each designed to keep our customers growing, innovating, and connecting with their customers in new ways. In 2016, we'll celebrate our 50th release — a major milestone in our commitment to innovation.
There's a lot in the pipeline for this year. To make it easy to keep track of all the exciting developments, we've created 2016: The Year of Lightning, an e-book outlining some key highlights for 2016, the Year of Lightning.
Salesforce Chairman and CEO Marc Benioff's vision for this year
Sales Cloud Lightning: the #1 sales app, reimagined to help you sell smarter, sell faster, and sell the way you want
Service Cloud Lightning: the #1 customer service platform, designed to help you connect to customers in new ways
Our product roadmap for 2016, including our Spring '16 and Summer '16 releases
And that's just the beginning. In
this e-book
, you'll learn how Lightning connects all Salesforce products with one powerful platform, creating a single, connected experience for every user. It's a truly connected platform, built for a connected world.
Are you ready for the Year of Lightning?