4 Tips for More Efficient Ad Campaign Management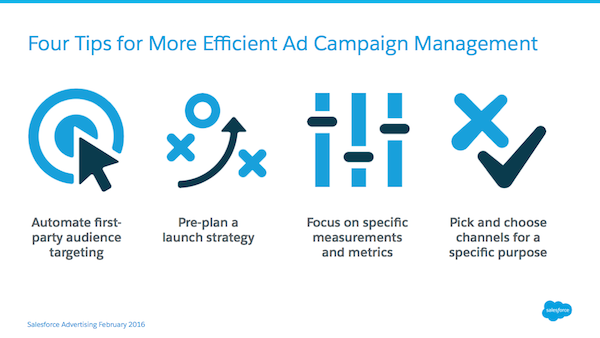 As platforms like Facebook, Twitter, and Instagram have continued to build upon their advertising offerings, digital campaign management has become increasingly complex and time-intensive. Advertisers now have to think not only about their social strategy as a whole, but also how their campaigns should be optimized and messaged across each platform. Along with the increase in platform and ad complexity comes additional ways to target and measure the impact of campaigns. This advancement places a heavy time demand on advertisers who want to create more carefully targeted, personalized campaigns and customer journeys.
While there is no replacement for excellent, hands-on campaign management and optimization, there are a few tips that can be used to streamline the process and lift some of the manual campaign management burden off of advertisers.
1. Automate first-party audience targeting
First party data targeting has become necessary to achieve the best engagement and returns on ad campaigns. Customers expect to be shown ads that are targeted to them as individuals. As this need to reach individuals rather than target demographics has grown, so has the time investment needed for audience management. Advertisers regularly manage hundreds of individual audiences to make a campaign successful, but this comes with a cost of hours of employee time to manage these audiences and keep them updated.
For example, if an advertiser is running user acquisition for an app and wants to target high ROI users in a lookalike audience, that advertiser would have to manually pull data and refresh their custom audience on a daily or weekly level in order to ensure the user audience is up to date. The time investment of audience refresh and maintenance adds up quickly, especially when multiple audience segments are being tracked. Advertisers should look to products such as Facebook's website custom audience tools or to a partner product such as Salesforce's Active Audiences to help them manage their CRM audience updates and campaigns and ensure their customers are being reached and tracked as individuals, in 1-1 customer interactions and journeys.
2. Pre-plan a launch strategy
When you carefully build a plan ahead before a launch you can save time and chaos over the course of your campaign. For campaigns that target many countries or have many creative optimization needs, plan a focused optimization strategy before launch to avoid becoming overwhelmed. Start with targeted launches in segments that are expected to monetize quickly and provide high ROI and expand to other segments as test results yield top performing creative iterations. Additionally, plan to invest extra time up front for ad-level optimization to learn what works and to save time later in the campaign.
3. Focus on specific measurement techniques and success metrics
As more and more advertisers shift to mobile and revenue models that require multiple levels of tracking, attribution, and complex LTV (lifetime value) models, it becomes increasingly important to ensure that your success metrics are measured and tracked appropriately. Without proper measurement, it is impossible to accurately determine the value and success of a campaign.
For example, if the objective is to drive purchases of items in an online store, make sure that pixels are placed on all pages and those pixels are firing not only to indicate that a purchase has happened, but also indicate the purchase amount. If the objective is acquiring users for a mobile game, be sure to know what campaign naming tags are needed and check that events are being tracked in the mobile measurement partner (MMP)'s dashboard, and that revenue values are being passed back accurately. Be sure to know in advance of a launch how success will be evaluated and what needs to be implemented to track revenue and key metrics right from the start so budget is not wasted. If using a measurement partner, run a small test to confirm data integrity before a wider campaign launch. Thirty minutes of time investment on KPI tracking can save hours of data cleaning and troubleshooting throughout the campaign's lifetime.
4. Pick and choose channels for a specific purpose
With so many possible channels available, advertisers often feel pressure to run every single campaign across every single channel. This is neither necessary nor the best practice for efficient and effective messaging. When planning campaigns, think of what types of content will be promoted, what mediums of creative will be used, and what are the end objectives of the campaigns.
If your objective is lead generation, consider products like Facebook's lead generation ad unit to drive users to your website. If your campaign is centered around high quality images and video, consider Instagram. Should your campaign be made for TV and the metrics of success are based around customer conversation and engagement with the content, look to combine TV and Twitter to get the best results. Save time and resources by evaluating advertising channels based on campaign goals and focusing budget and time on the most valuable options.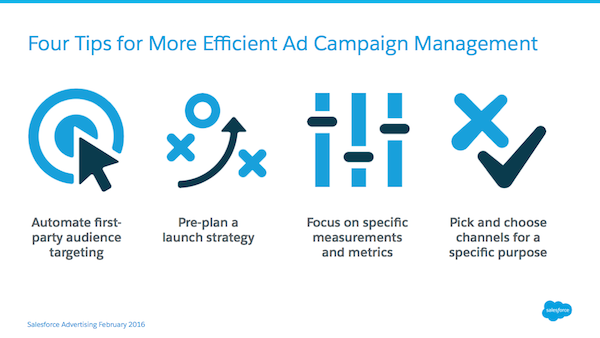 By following the guidelines above, advertisers can take advantage of what the social and digital space has to offer, while managing campaigns effectively and efficiently. For an example of how a Salesforce customer ran efficient campaigns, Download the free case study to learn how SGN optimizes its creative strategy.