New Research: What Millennials Expect from Retail Banks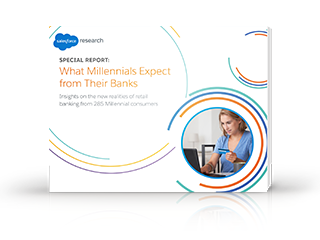 It's no great surprise that Millennials see things a little bit differently. This generational mindset impacts their behavior as consumers — including the brands they choose and the ways they interact with those companies — and retail banks are no exception to this new wave of expectations. Change isn't easy, especially for large organizations with a long history of operating a certain way, but the stakes are high as more and more Millennials come of age as consumers.
Salesforce Research surveyed more than 900 U.S. consumers to discover how expectations of today's retail banks are changing, especially among the Millennial generation. Here are a few key findings from nearly 300 Millennials who are current retail bank customers:
More than half (52%) of Millennials are completely or mostly reliant on a mobile banking app (compared to only 22% of Baby Boomers) [TWEET THIS]

43% of Millennials have signed up for SMS alerts from their bank; another 7% say they would like to receive SMS alerts, but their bank does not offer this service

66% of Millennials prefer email for receiving promotional offers from their bank [TWEET THIS]
For a closer look at the research, get your free copy of the study now: Special Report: What Millennials Expect from Their Banks.