How to Use Predictive Intelligence to Bridge the Digital and Physical Divide in Retail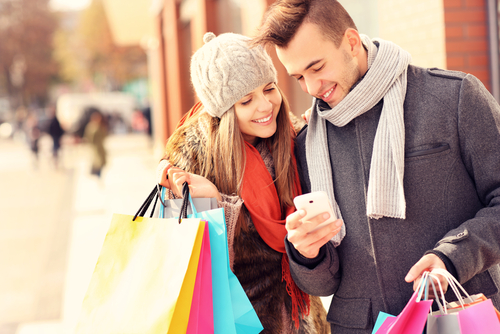 Retail today is in a constant state of flux. Customers continue to embrace the growth of a digital marketplace, evidenced by the continued surge in e-commerce sales (7.3% growth) compared to sluggish in-store sales (1.4% growth) in last year.
At the same time, in-store transactions still consume the lion's share of total revenues (approximately 90%) and although major brands announced deep cuts across banners and store formats, retail stores still constitute a critical component of the shopper journey.
Given this data, how should retailers prioritize their sales channels? Unfortunately, the answer isn't as simple as this channel or that channel. Today, the answer is less about picking a channel to prioritize and more about understanding the overall path-to-purchase.
In its inaugural Connected Shoppers Report, Salesforce surveyed more than 2,000 consumers to identify digital influence on the typical shopper journey and the convergence of online and offline channels. While the report findings are manifold, one particular stat stands apart from the rest: more than 80% of shoppers research products online before visiting stores.
The one-hit-wonder days of retail are over. Shoppers are embarking on a journey that traverses multiple touchpoints and multiple channels. And in most cases, this connected shopper is engaging with both digital and physical channels. Faced with this reality, we've summarized two key areas of opportunity that are critical to retail success in the era of the connected shopper.
Help the shopper do their digital homework
Before the digitization of the shopper, consumers visited stores and relied on the counsel of store associates to provide product information or recommendations. The rise of digital storefronts has fundamentally changed this process, creating the phenomenon known as "webrooming" - the practice of browsing for products online prior to an in-store visit or purchase.
This represents a tremendous opportunity for retailers operating both brick-and-mortar and web storefronts as their online properties have become the defacto "digital advisor" in the shopper's consideration process.
Consumers not only want, but expect to find all of the information about a retailer's products - inventory, price, ratings, reviews, related items and more - that they need to make an informed decision, just as they would in a store. But, in lieu of a human interaction, how do retailers build that trust with the shopper during that critical consideration stage?
The reality is, it's no different. First, a retailer must listen to the signals the consumer is sending. Then provide the right information by responding to shopper signals.
Marketing hubs like the Salesforce Marketing Cloud enable retailers to do this digitally. First, by listening for all of the digital signals during webrooming and at other points in the customer journey, a shopper profile of preferences is created for each individual, giving context to each click or purchase. More than simply recording what they viewed or bought, retailers can understand why they did so - their preferences and affinities.Then, using sophisticated algorithms paired with this profile, recommend personalized products, offers and content that make sense for each individual shopper and what they are likely to want or need next. At Salesforce, we call this Predictive Intelligence.
Extend the interaction beyond the showroom floor for a cohesive experience
In an increasingly omnichannel world, the handoff between online and offline channels must be seamless. An experience in-store that ignores a shopper's previous visits and digital activity will be seen as a poor one in the eyes of the consumer.
As shoppers move from their computers to the store, technologies like geofencing and iBeacons help bridge the gap between the digital and the physical environment and add immense value with timely and personalized messages relevant to that shopper and their store experience.
Likewise, following an in-store purchase or visit, the next digital interaction must support the customer's expectations - from providing a digital receipt to tailored cross-sell recommendations or helpful content.
Successful retailers, like Room & Board, have engineered that seamless experience across digital and physical channels with amazing results. Double digit lifts in AOV and over 2800% ROI speak for themselves, but orchestrating a complete shopper experience is the ultimate payoff. Shoppers feel understood when in-store design associates are enabled to engage the conversation where it left off online. And by bridging the divide between channels and extending the dialogue beyond the showroom with Predictive Recommendations from Salesforce, customers receive relevant follow up with the next-best-offer, content or merchandise to complement the in-store purchase and complete their room.
Meeting the demands of today's sophisticated shopper
Everyday, the shopper is getting smarter and more connected. Take the first step to understanding the today's shopper by downloading Salesforce's Connected Shoppers Report now.