4 Tips to Become a Productivity Pro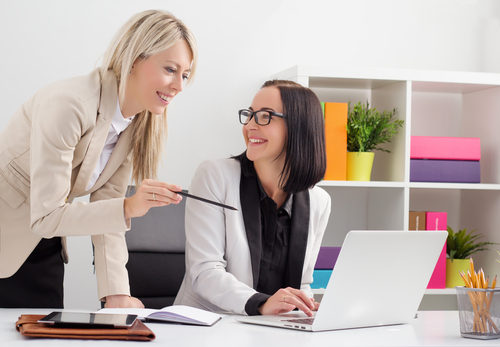 "The best way to save money is to increase productivity," says Laura Stack, award-winning productivity speaker and bestselling author, in a recent SalesforceLIVE webcast. However, this is easier said than done, as the quest to become more effective and more efficient is a challenging one. Any number of reasons can derail efforts toward self-improvement, from Facebook distractions, to office "fire drills," to procrastination.
In a recent Series Pass webcast, in partnership with Apttus, our own Tim Clarke spoke about ways to manage the intersection of two critical values: effectiveness and efficiency. Below are tips that look at how we spend our time, and how to best prioritize in order to become a productivity pro.
1. Focus on effectiveness
Stack views productivity as a combination of efficiency and effectiveness. When it comes to effectiveness, Stack defines it as, "You're achieving your goals, making your quota, and hitting your numbers." Effectiveness is the profitability side of productivity, and is therefore, a crucial piece. Effectiveness requires implementing the right activities that lead to a successful accomplishment.
Technology plays a big role in increasing effectiveness. Organizations using DocuSign complete over 80% of documents in a day, resulting in a 95% faster turnaround time. DocuSign is a fast, secure way to transform every decision, approval or agreement process into a simple and easy digital action on any mobile device, from anywhere in the world. DocuSign is simple to use and even easier to implement, so salespeople and customers can be up and running in minutes.
2. Get motivated as a team
According to Stack, one of the core areas of productivity is a focus on team. "How do you spend time coaching, training, motivating, and managing the people with whom you work?" asks Stack. Productivity can be coached, trained and integrated into an organization, but it can also be tracked and measured to motivate employees to be even better at what they do.
Gamification is a great way to motivate and engage teams. Platforms like Hoopla motivate sales teams using friendly competition and gamification. Leaderboards showing performance with real-time updates can transform the office into a culture of recognition and reward. Track your metrics on your phone, or on the big screen TV in the office break room.
3. Prioritize and automate
Let's say you have 25 tasks to do on your to-do list, and you worked so fast that you completed 24 of those tasks. What's that one task leftover? "That's typically the hardest task," shares Stack, "It's the most important one." According to Stack, we put off that hard, time-consuming task because we focus on what's happening in the moment, or who's screaming the loudest.
Stack recommends becoming aware of patterns like these, and breaking them. Attack that tough task first, and bask in the glory of that big accomplishment.
Solutions like Drawloop Document Generation help you automate processes so you can focus on those meaty projects. Drawloop Document Generation quickly and easily creates documents in Salesforce by merging data with Word, Excel, PowerPoint or PDF document templates. It automates the creation of these documents, ensuring consistency and accuracy in all business documents.
4. Spend more time thinking strategically
"I had a client that had a strategic initiative that should have taken them four months. Instead, it took them 14 months," shares Stack. Why does this happen? An executive is anyone who executes strategy: a CEO, a front-line supervisor, a sales manager or even an untitled contributor from elsewhere in the organization. Therefore, we all have the ability to be strategic and work on strategic projects.
Sage Live, a complete business and accounting app, allows you to connect CRM, accounting, and financial data to have one office. This frees you up to focus on strategic initiatives instead of manual, administrative tasks. Remove the need to spend hours pulling data, and doing research. With all of your information in one place, you spend more time focusing on the decisions that matter.
If development or coding is holding you back, look for a code-free solution such as Skuid. With Skuid, you can easily create custom apps and portals quickly, without code. Enterprise software often requires resource-intensive custom code to create made-to-order apps, but this process can be painless with Skuid.
Watch the Series Pass webcast for more productivity tips, and check out the AppExchange to get these productivity-boosting apps.