Chicago: Spring Forward with Salesforce World Tour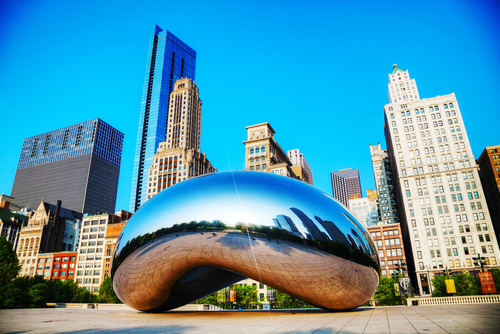 Spring is here, we've kicked off FY17, and celebrated our 17th birthday too! Now it's time to hit the road. We're bringing the very best of Dreamforce to you in Chicago with the Salesforce World Tour. Catch all the action, excitement, education, and big announcements, for FREE! Register for free now and come experience the all-new Salesforce World Tour at McCormick Place in Chicago on Thursday, March 24. Learn firsthand how to sell, service, market, build apps and connect with customers in whole new ways.
Keynotes
From 10:00am-11:30am CT experience an inspirational keynote from Mike Rosenbaum, EVP CRM Applications with special guest speakers from GM, Accenture, and more, as well as a surprise opening act!
There will also be a deep dive into product keynotes focusing on Sales Cloud, Service Cloud, App Cloud, and the Marketing Cloud.
Sessions
Learn how to go faster with the all-new Salesforce Customer Success Platform. We'll have over 34 new power breakout sessions for every role and industry. All sessions will be first come first serve. Don't miss these top sessions:
Sales Cloud 101: Getting to Know the World's #1 CRM
Want to see what makes Sales Cloud the worldwide leader in CRM? Come experience Sales Cloud up close and personal and see how it transforms the way companies sell--helping them be more productive, make more insightful decisions, and close more deals. You'll also get an up-close look at the all-new Lightning Experience. This session is geared towards beginners and people who are unfamiliar with Salesforce.
Meet the New Financial Services Cloud
A perfect storm of industry, cultural and technology change is dramatically shifting the global financial services landscape. Now, everything and everyone is connected. Across wealth management, banking, and insurance higher client expectations are resulting in lower satisfaction scores and higher attrition rates. Join us in this session to witness how the Salesforce Customer Success Platform is helping our financial services customers meet the needs of this new market landscape. Also, learn more about the newly released Financial Services Cloud, a growth platform to accelerate relationship manager productivity, and help them build deeper, 1-to-1 client relationships anywhere and on any device.
Grow Faster with Connected Sales & Service
Your customer has changed. They don't buy based on what you tell them, how great your product is, or how low a price you give -- they buy on customer experience. What's more, they expect a quality, coherent experience whether interacting with your sales people, your customer support team, or your marketing. Join Salesforce and guests to learn how a connected experience for your customer across sales, service, and marketing keeps them coming back and drives your business growth.
The Customer Success Platform for Manufacturing
Manufacturers are shifting from a product-centric model to a customer-centric one. They must drive new revenue through service and analytics without creating new products. Hear how Salesforce empowers manufacturers to go beyond the product, enhancing and accelerating their ability to innovate. With Salesforce, manufacturers connect people, products, and data to deliver 1 to 1, real-time engagement and be available anytime and anywhere with the right skill set, the right service, and the right product.
Marketing Cloud: The Dawn of the Digital Marketer
The sun is rising on the future of marketing. Customers are engaging with brands they love on digital channels like never before, and new technology is further enabling ways for companies to impress customers every day. The dawn of the digital marketer is upon us. Join us and learn how the world's most innovative brands are cultivating 1-to-1 customer experiences across marketing, sales, and service.
Also, stop by the Sales Hero Lounge where the full Sales Cloud family will be hosting helpful mini-sessions, thought leaders, product experts, professional headshots and food/drink.
Customer Success Expo
Come explore the world's largest ecosystem of leading cloud solutions. Check out live demos, over 50 cloud partners, and unlimited ways to transform your business. Visit the Customer Success Expo to interact with Salesforce products firsthand and hear how customers are succeeding with Salesforce. We'll have 28+ Salesforce demo stations with brand new live demos.
Product Showcase
Stop by the Product Showcase to check out interactive demos of easy-to-integrate solutions from Salesforce product teams and our innovative partners. The Salesforce Product Showcase is the place to get your hands on all products and solutions. Learn more about all of our products, including the products recently announced: Lightning Experience, SalesforceIQ, SteelBrick, and IOT Cloud powered by Thunder.
Industry Showcase
The Salesforce Platform speaks your industry's language. There is a massive shift towards deeper customer engagement in every industry. Visit the Industry Showcase in the Cloud Expo to see how leaders in your industry are using cloud, social, mobile and data science to connect with customers in a whole new way. Complementing our core Cloud products, see how Industries at Salesforce are addressing the needs of Healthcare & Life Sciences, Financial Services, Retail, Manufacturing, and Consumer Goods.
Trailhead Base Camp
We're bringing the Dreamforce magic and experience of Trailhead, along with the learning, community, and networking to the Salesforce World Tour in Chicago! Grab your very own Astro doll to take home!
As always, there will be a ton of content for admins, by admins, with plenty of opportunities to connect with fellow Salesforce customer admins. Stumped on the best way to Set up Salesforce for your company? There is an Ask-the-Expert booth for that, as well as five other booths staffed by community members. Trailhead Base Camp for Admins will also have a full day of killer customer presentations in the Admin Theater, the chance to deep dive with a one-on-one Career or Community Consultation, and a photo booth that will send you right over the edge!
Cloud Services
Join Cloud Services at the World Tour for some great tips and expert consultation around maximizing your Salesforce investment. We'll being bringing back our popular interactive Circles of Success discussions as well as adding in a special breakout session panel on how thought leaders from some of the world's most innovative companies are using Cloud Services to compete and win in a customer-led, digital and global market. Click here for a full schedule of activities and descriptions.
Salesforce.Org Activities: Little Kids Rock
Ready to rock? We are! National non-profit Little Kids Rock will be joining us as a Salesforce.Org Partner. Little Kids Rock brings music education to schools around the country. Support the power of music education by snapping a photo of you rocking out in the Little Kids Rock Photobooth on site! Join Salesforce.Org and Little Kids Rock in the Customer Success Expo after the main Keynote and snap a photo!
Mobile App
Salesforce has an all-new events app for iOS and Android at the Chicago Salesforce World Tour. We've used the Salesforce1 Platform to build an app that will help attendees navigate the event without taking away from what really counts, the education and fun. The app includes a handy conference schedule and map to help you find the right sessions and activities for you. Be sure to opt-in to SMS messaging during registration to get major announcements and updates throughout the event.
Android: http://bit.ly/1PrPs8u
Social
Stay connected with the conversation by using #SalesforceTour. Be sure you're following @Dreamforce on Facebook, Twitter, Instagram, and Snapchat for all things Salesforce Events! We're excited to announce our first ever Snapchat Geofilter in Chicago. Send us your Snapchats to @Dreamforce!
Join thousands of your friends and colleagues at the Salesforce World Tour for power breakout sessions for every role, special onsite surprises, and a Customer Success Expo with hundreds of demos and product experts. The keys to customer success await you in Chicago!
Full Chicago Salesforce World Tour Schedule
8:00am — 6:00pm Registration & Customer Success Expo * Customer Success Expo will be closed during the keynote
8:45am — 9:45am Breakout Sessions
9:45am — 10:00am Pre-Show with Peter Coffee, VP of Strategic Research, Salesforce
10:00am — 11:30am Keynote with Mike Rosenbaum, EVP CRM Applications, and special guest speakers
11:30am — 1:00pm Lunch in the Customer Success Expo
1:00pm — 4:40pm Breakout Sessions
4:40pm — 6:00pm Networking Reception in the Customer Success Expo