Why the Shift to Digital Improves Ad Targeting
All generations have adopted digital methods to connect with their family and friends, accomplish routine tasks, and shop for their favorite products, among many other activities. With so much digital activity occurring, there is a lot of data being created by each user which advertisers can use to target ads to the most relevant audience. Let's dive into generational attitudes of ad targeting, data insights of online banking, and the active use of Facebook.
As consumer behavior shifts towards digital and customers adopt new ways of connecting with their favorite brands, there is opportunity to move beyond cookies and use richer data to personalize advertising for each individual person, no matter what device or app they use. Your customers want to see ads that are personalized to their interests and interactions with your brand, but also that are relevant to their generation. Yahoo conducted a study of consumers in Gen X and found they are open and receptive to advertising, with 30% responding they are more likely to click on an ad aimed at their generation. We recommend that you segment your ads by age group, because the same study says that Gen X and Millennials are both more likely to click on ads aimed specifically at them. Use the data available to you to optimize your creative strategy towards the images and messages that are driving your desired results.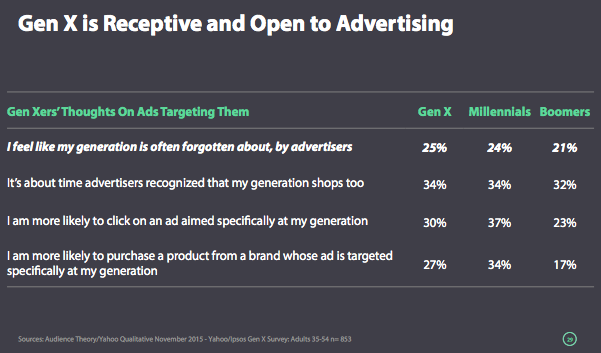 Depositing a check used to require a trip to the bank or an ATM, but now you can do so online from anywhere. The chart below from GlobalWebIndex shows three of every four digital consumers are now doing their banking activities online. Of those consumers who do online banking, 46% do so on a mobile device. When comparing age groups, the latter half of the Millennial generation (25 to 34 year olds) and the younger half of Gen X (35 to 44 year olds) have the highest adoption of online banking, but overall each age range has over 70% of digital consumers banking online, and unusually equal distribution for digital behaviors. Understand how your consumer base behaves to prioritize your advertising efforts into the right channels and use advertising platforms that give you a 360 degree view of your customer across devices.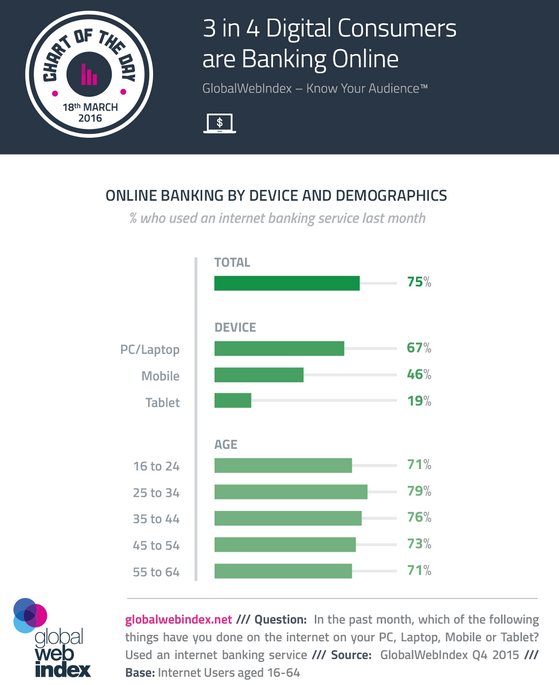 Facebook is a great advertising platform for segmenting ads by age group and device, especially for industries that are making the move to digital like financial services. This popular network has a huge (1.4 billion users huge), active consumer base that delivers incredible unique reach. GlobalWebIndex shows that 80% of users on Facebook visit the platform on a daily basis, most of whom visit multiple times each day. This could be on their smartphone while in line for coffee, on their desktop while at work, or on their tablet while they watch their favorite TV show. Targeting Custom Audiences on these platforms allows you to target the same person, no matter where, how, or when they are access Facebook.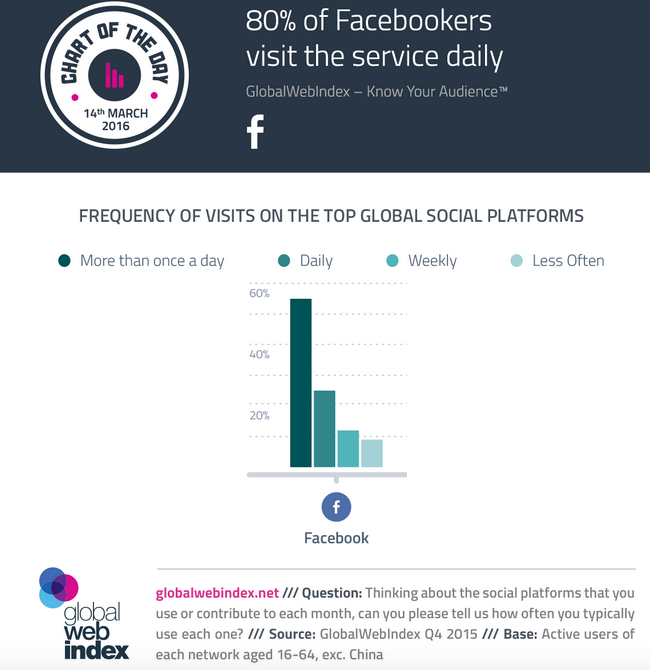 Join our upcoming advertising webinar: 10 Tips to a Killer Financial Services Ad Strategy. Register today!