5 Ways to Get Real Value Out of a Sales Conference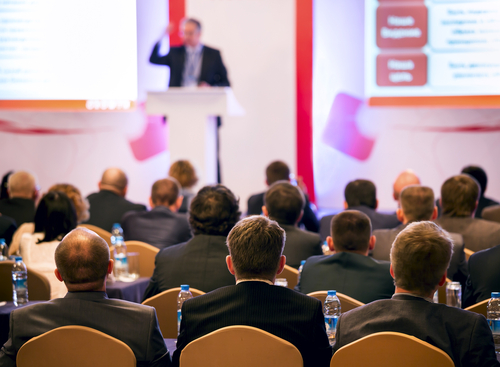 I spent eight years in sales and it's a constant balance between reaching new prospects, generating new opportunities and closing deals while ensuring you stay up to speed on the latest developments in buying, selling and technology.
I've been exposed to many great sales conferences around the world. Each one has its own goals and style, with content ranging from research-based findings to inspirational keynotes, to the largest events such as Dreamforce that offer something for everyone. Yet as a sales professional, you want to ensure that if you are taking time out to attend, you are taking away real value.
I've been spending the last several months working on the first-ever 'Sales Machine' conference (learn more about it here). Whether you're attending this sales conference or another exciting event here are five areas to ensure you get the most value from your next sales conference.
1. INSPIRATIONAL KEYNOTES
The day-to-day grind as a sales professional is hard! You can find yourself repeating the same activities each day and sometimes all you need is a little inspiration.
When it comes to attending a conference that offers value, it's not about the budget - it's about the most relevant people in that industry, with disruptive views, personalities and styles.
Sales Machine NYC 16 has inspirational speakers from the sales world offering insights around sales leadership, emotional intelligence, and being a self-starter. Keynote speakers include Arianna Huffington, Fredrik Eklund, Seth Godin, Gary Vaynerchuk.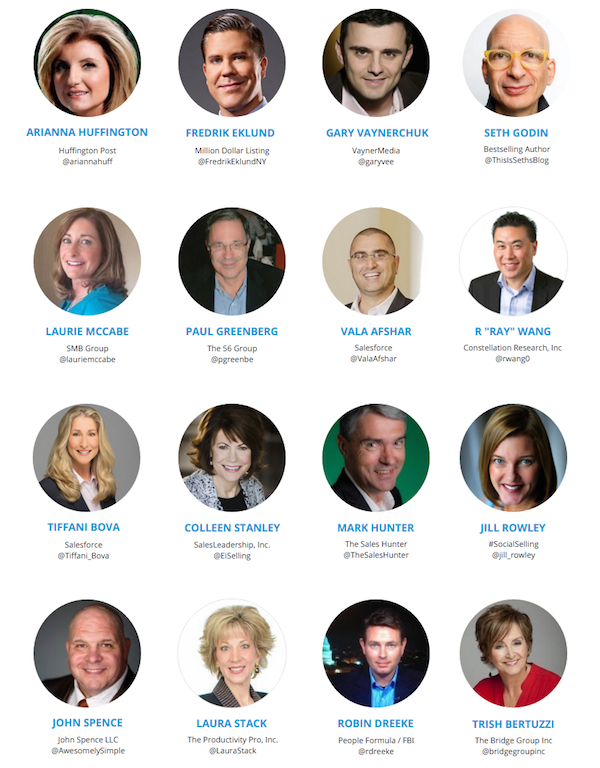 2. THE REAL DEAL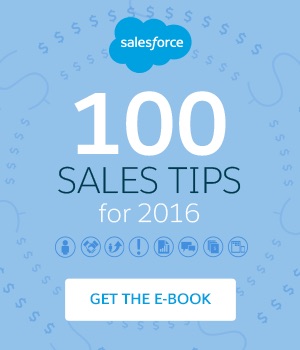 To get real value, the best conferences balance thought leadership talks with practical sessions — where you can take immediate action back in your business.
The best value comes from the speakers that live in the sales roles everyday. Listening to some of these sales practitioners at large and small companies (both offering equally valuable perspectives) gives clear and actionable insights.
Looking for some actionable sales tips and tricks? Check out the '100 Sales Tips for 2016' e-book.
3. GREAT NETWORKING OPPORTUNITIES
A great conference is going to draw great people. That's the perfect opportunity to network,meet and reconnect with others.
Network with:
Prospects

Customers

Technology vendors

Investors

Employers

Potential employees
Utilize the breaks between sessions for networking opportunities. Build new relationships both offline and online. The best conferences I've attended have specific areas for meeting up with key people.
4. ANALYST CREDIBILITY
Sales conferences are a great place to engage with analysts who know exactly what leading organizations need to prepare for in the years to come, and what it takes to craft new buying experiences. They are at the forefront when it comes to identifying and tracking trends in buying, selling, and technology.
Sales Machine NYC 16 has four of the leading analysts in sales to share their insights including:
Laurie McCabe, Co-founder and Partner at SMB Group

Paul Greenberg, President at The 56 Group

Ray Wang, Principal Analyst and CEO at Constellation Research, Inc

Vala Afshar, Chief Digital Evangelist at Salesforce
5. FIND THE RIGHT TECHNOLOGY VENDORS
Some of the best sales teams are utilizing technology to help them sell smarter and faster. The world of CRM can complex, and with so many technology vendors offering value for different parts of the sales journey, it can be hard to decipher which ones are right for your business and at which stage. Great conferences carefully select the right technology vendors that align to the target attendee.
It can also be hard to get around an expo area at a sales conference or get a demo depending on how many people are there.
At Sales Machine NYC 16, we are running multiple Demo Jams - Selected technology vendors have 3 minutes each to pitch their solution on the main stage before the audience votes for the winner - A great way to interact and truly get an elevator value pitch.
Myself and Max Altschuler, Founder & CEO at Sales Hacker, saw an opportunity to create the next generation of conference for sales professionals that would truly create massive value — Sales Machine NYC 2016. The conference brings some of the most innovative and practical best practices to executives and sales professionals in B2B industries worldwide. Join me on June 15 and 16.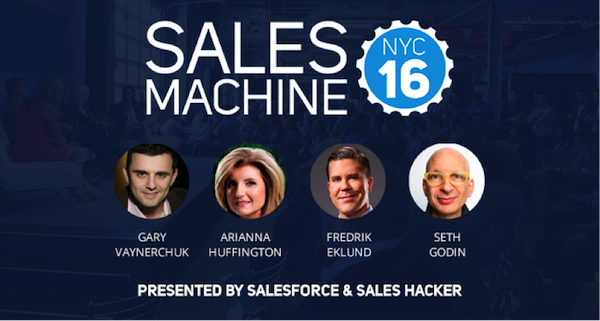 These are five of our top focus areas five areas. What are your thoughts on what makes a killer sales conference?