How Two Salesforce Leaders Run Their Business with Salesforce1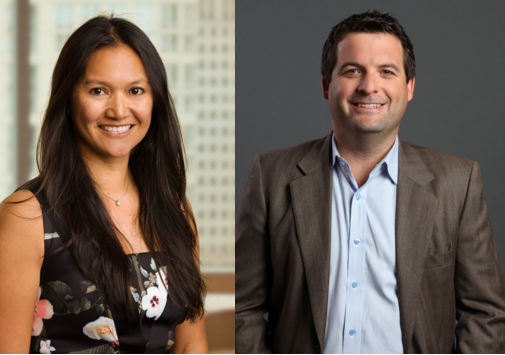 I have been at Salesforce for more than a decade. When I started, they gave me a Blackberry that I carried around along with my iPod. Soon after, Salesforce launched our first mobile app, AppExchange Mobile (now Salesforce Classic) for the Blackberry. Early in my sales career this app opened my eyes to what was possible with mobile. You mean I don't need to open up my laptop and connect to a hotspot to log my meeting notes? Oh, how the times have changed.
I recently had the privilege to speak to two long time Salesforce sales leaders about their experiences and tips for mobile. Patrick Reid has been with the company for years and is AVP of financial services sales for the Midwest. Cristina Weir joined Salesforce five years ago and is VP of Solution Engineers for verticals. Both are managing big teams with big goals and travel several times a month.
In my conversations, I noticed a few themes start to emerge. First, collaboration is key. We are a very collaborative company and the Salesforce1 Mobile App fuels collaboration from anywhere. Second, always be prepared. I know that is what I learned in the Boy Scouts, but preparation for every customer interaction is critical to building stronger relationships. Third, the best way to grow sales is by focusing on numbers and operation rigor. Measure everything and build processes to support your teams. Let's hear a bit more from our sales leaders about each of these themes.
1. Collaboration Is Key
"I used Salesforce before Chatter was released," says Reid. "I can't imagine going back to emailing presentations and one-off questions". Chatter is the collaboration tool built right into Salesforce and Salesforce1. "Finding information is as easy as a Google search, " says Weir. "I manage my team from my phone with Chatter. We have groups for strategic accounts plus I get notifications whenever something important needs my attention."
Even beyond collaborating with your team, collaborating across the company is a huge benefit of Salesforce1. "Salesforce is a big organization, its 19,000 employees now and it was about 1,000 when I started. I end up running into people at the office that I have never met in person but have interacted with when I was on the road. Maybe they answered a question or helped support one of my deals. We have this great org chart tool inside of Salesforce1 that quickly lets me identify experts, put a face to the name and accelerate the relationship I have with them faster".

2. Always be Prepared
"I don't know how you can be a sales exec that understands the needs for your customers without being able to access your data any time from any place" says Reid. Salesforce generates a tremendous amount of data; usage data about our customers, records of past deals, customer support cases and industry research are just a few sources.
"I only sell vertical solutions, so I need to go deep and understand my customer's specific industries. Speaking with a Commercial Lending VP wouldn't be the same as how I would a speak with a Chief Medical Officer. Using Salesforce1 to quickly pull up research and playbooks helps me understand and serve my customers better" says Weir. She adds, "I review a customer's profile every time I walk into a meeting. Imagine trying to sell them a new product when they have an open customer support issue? I've done that once before early in my career and it didn't end well".
Salesforce1 enables executives like Reid and Weir understand their customers in more meaningful ways and helps to drive customer success. "The success of my customers drives my future success as a sales executive. Without customer success, we cannot grow the business. Technology and trust must work together."
3. Focus on Numbers and Operational Rigor
90% of the world's data was created in the last 12 months. Making sense of this data is critical to understand your customers. Salesforce1 gives sales executives and reps access to real time updates. "The decisions we are making are more intelligent," says Reid. "Sales execs can keep a pulse on the business during those micro moments with reports," Weir adds.
Both Reid and Weir live and die by the numbers and tracking metrics. "At the end of every month and quarter, I am glued to my phone." Weir quipped. "Salesforce1 helps me understand what's happening in my business as well as what's actually taking place with my customers whether I'm in the office or on the road. It allows me to stay connected and on top of my business."
We Want to Hear from You
One thing I noticed talking to these sales professionals is their willingness to teach and enthusiasm for sharing and helping our customer succeed. Each also had a keen ability to listen and learn from customers.
We want to hear your smart moves. How are you seeing success with the Salesforce1 Mobile App? Share your best use case by taking a screenshot of your custom action, integrated partner app, business use case, employee activation, or other smart move in Salesforce1.
To enter, simply:
1. Screenshot how you use Salesforce1
2. Write a Tweet describing your screenshot
3. Post to Twitter with #salesforce1smartmove
4. Brace yourself for likes