Don't Just Chat, Connect! Making Collaboration a Competitive Advantage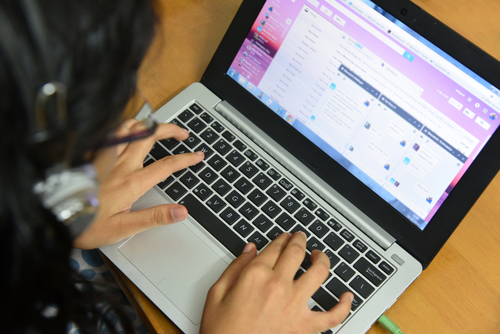 Collaboration is vital to how we work today. The best type of collaboration fits into business processes without forcing an extra step. It's a part of daily routines — forming a connection with colleagues or partners without us even realizing it.
In fact, a 2013 study on employee productivity from CEB found that 60 percent of workers engage with at least 10 colleagues a day just to get their jobs done, and half of that group connects with upwards of 20 people each day. We can only assume that with the rise of mobile apps and an increasingly global workforce, these touch points have skyrocketed over the past few years. That means that a company of just a few hundred people could have thousands of internal interactions a day, not even counting interactions with external stakeholders and customers!
While collaboration tools have made it simple to communicate across the world at a moment's notice, it's also easier for information to get lost in the shuffle -- especially when this information is shared in a silo. To truly accelerate workplace productivity and collaboration, systems, records, data and files that employees need to get their jobs done must be embedded into our everyday workflow.
Collaboration that Drives Action
We've all had moments where we finish a productive meeting or a conversation with a colleague, only to spend the next half hour digging around for the information we were just discussing.
How does this happen? Whether we're collaborating on the phone, over email or through an app, when the tools we use to communicate aren't connected to the business, technology becomes a barrier. We end up removed from our work, causing confusion and a slowing of productivity.
At Salesforce, we designed Community Cloud with productivity in mind. By connecting the platform back to business data, it becomes an essential piece of the collaboration process. Employees are given a platform where they can share ideas or prompt discussions, but also work on projects or share important documents easily across the organization.
Today, with all of the information people need -- and are expected to have -- right at their fingertips, they're able to work more effectively in real time with colleagues, partners and even customers. Employees are empowered to not just discuss a problem, but also take action. They spend less time searching through countless documents and more time working together to solve problems. And, because employees able to receive feedback in real time, they can quickly shift strategies as priorities change.
Connecting the Dots of the Customer Journey
From a business perspective, collaborating also goes hand in hand with improving the customer journey. IDC's 2016 Workforce Transformation Survey: Online Communities Results found that employees believe customer satisfaction is the corporate initiative that benefits the most from these solutions. For example, when a customer service representative receives feedback from a customer, they're able to share that feedback in real-time with the product team. The product team can then take this feedback and turn it into an action for improvement, ensuring the customer's voice is heard and shapes the future of the product.
Today, we see many organizations adopting tools that make communication easy, but collaboration hard. While good communication is important for any company, businesses need to consider not just why they want to connect their employees and third party stakeholders, but what they want to accomplish from those connections. Does the form of communication being used map back to the overall business objectives?
When communication happens in a silo, disconnected from the business, it causes a break down, oftentimes resulting in extra work. By providing employees with a platform not just for communication, but for forming real connections, companies empower their employees to find the best resources within their network to solve a problem, build new or stronger relationships with partners, or work jointly with others to accomplish more than they ever could individually.
Want to learn more about how your business can transform with communities? Download the free Salesforce e-book.