The March 2016 Release is Now Live in the Marketing Cloud!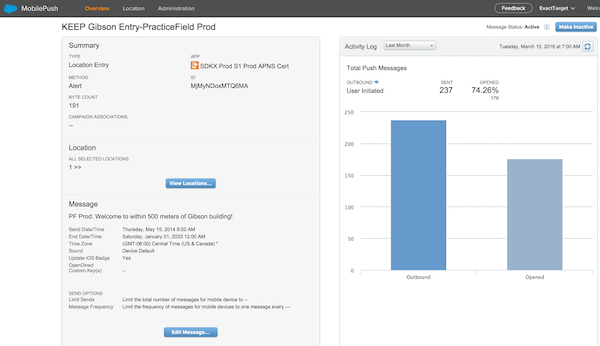 We are very excited to share with you not only our awesome new features, but also some new naming and navigation changes!

With this release, we are rolling out our new navigation, Studio and Builder naming structure, and organizing our applications to map to our product portfolio strategy.

With the exciting new features in this release, you can now expect a new UI experience, more streamlined approvals for Email, increased customization in Mobile messaging, improved triggered sends, and much more!

Below are the highlights of this release:
1. Studio and Builder Navigation Changes: You may notice that we've moved some applications around in our navigation. But don't worry; emails, automations, audiences and everything else are still there! Read this knowledge article for details on the changes.

2. Streamlined Approvals in Email Studio: We have designed a simpler sign–on process for customers who just use our system for approvals, which cuts down time and effort needed for email sends, and approvers no longer need multiple log-ins. Learn more!

3. Improved Web-Based SMS Opt–Ins for MobileConnect: The QueueMO API, commonly used to initiate SMS web-based opt-ins, will be updated to allow for setting a custom value for Contact/Subscriber Key, which improves cross-channel alignment and allows for more flexibility in collecting data. Customers are now in control of what form of information is collected and set as the Contact/Subscriber key. Learn more!

4. Improved Triggered Sends for Marketing Cloud Connect: Customers can now preview emails used in triggered sends as well as automatically segment subscribers into data extensions for easy post-send engagements. These improvements provide more reliability and consistency when sending triggered emails as well as increased segmentation options for audiences. Learn more!

5. Open/Send Location Message Analytics for MobilePush: Customers can now track 'Open' and 'Sent' metrics for their Location-based messaging, which results in more accurate insight into specific location message analytics as well as increased personalization. Learn more!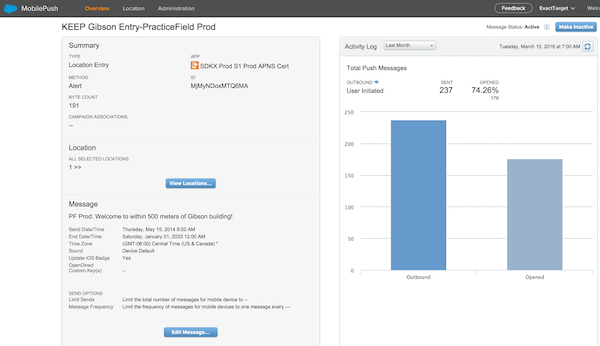 6. Event Data in Journey Builder Interactions: Event Data is point-in-time data captured at the time of an event. This allows customers to customize a message based on event data. This data can be used within the interaction for personalization and decision-making. Learn more!

7. Journey Builder Entry Mode Enhancements: Journey Entry Mode options have been expanded to include an option for a once-per-lifetime (No re-entry - A contact cannot re-enter a Journey at any point once they have been injected). In addition, the existing two Entry Mode options have been renamed to more closely align with the concept of when/if re-entry is allowed. Learn more!

8. Increased Number of Response Messages Available for GroupConnect: Customers now have an increased number of response messages that they can use in GroupConnect templates. Customers can now create up to 50 response messages versus only 10 messages in the past. Learn more!

9. GroupConnect Outbound Summary Report: Customers can now have a holistic view of their group messages with the GroupConnect Outbound Message Summary Report, including visibility into date ranges and time-zones for scheduled sends. Learn more!

Want to be more 'in the know?' Opt-in to our post-release customer communication here for all upcoming release information and updates!
You don't want to miss this! Join us for our March 2016 Release Webinar and get an exclusive look at the new features now available in the Marketing Cloud! Register here! Here is our awesome agenda:

Welcome, Marketecture and Agenda: Eric Stahl, Senior Vice President, Product Marketing: 5 minutes

Marketing Cloud New Naming: Jason Day, Vice President, UX and Product Design: 10 minutes

Email Studio: Ben Pippenger, Senior Director, Product Management, Email: 15 minutes

Mobile Studio: Mihir Panchal, Director, Product Management, Mobile Applications: 10 minutes

Marketing Cloud Connect: Joanna Milliken, Senior Director of Product Management, Integrations: 10 minutes

Journey Builder: Alicia Greer, Marketing Cloud Product Manager, Journey Builder: 10 minutes