Introducing Quotable: Content for Salespeople, Created by Salesforce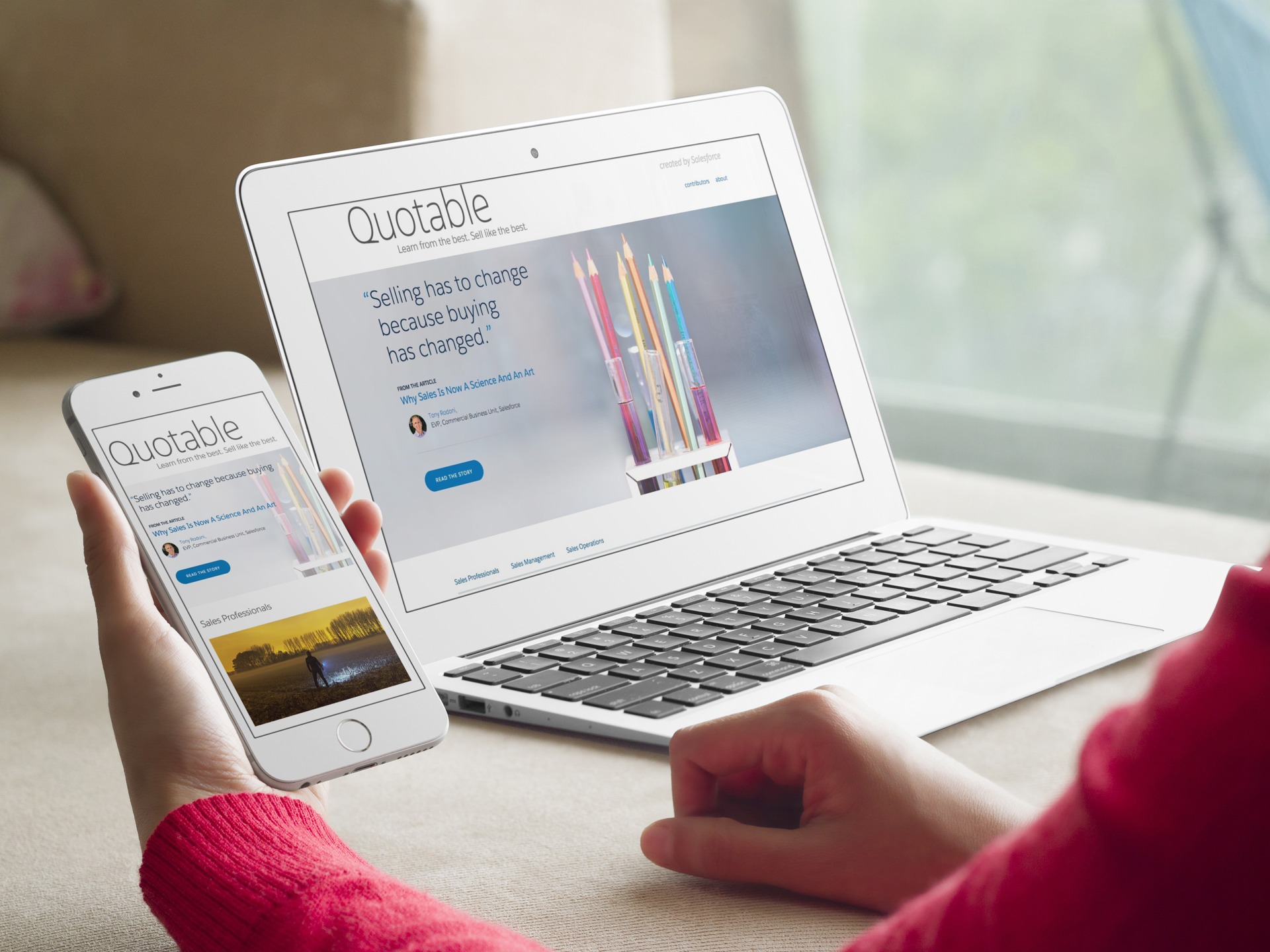 Let's say you're a vice president of sales at a startup or a company that's just getting off the ground. You're tasked with building a sales team from scratch and are thinking about all of the processes that involves. You could really use some practical hands-on information about how to get up and running.

Or say you're a sales account executive who has had a lot of success where you are in your career. You're looking for advice on how to make the jump to the next level. What does it take to become a sales manager? Would you even make a good sales manager, or should you stay where you are and keep crushing your quota?

You are why Salesforce decided to create Quotable, a brand-new destination for helpful, thought-provoking, and entertaining articles that benefit sales leaders, managers, and reps. Our aim is to offer valuable content that will speak to all types of sales roles across industries.

We recognized we know a thing or two about sales and salespeople, given what we deliver by way of sales force automation (SFA) and the lessons we've learned growing up as a sales organization. Not only are we tapping our own sales leaders to share their personal experiences and lessons, we are also drawing on key insights from some of the best thought leaders in the world and our sales-focused customers.

I want readers to know Quotable has content for every type of sales rep at every stage in their career. And I would also want them to know that what they're going to see is coming from people just like them. This is meant to be helpful advice from salespeople who've lived it.

Sales can be a lonely role — because of its competitive nature — and it's easy to feel like you don't have a lot of people to talk to and get those best practices. I think that's why the response to Quotable has been so positive thus far. Sales professionals are super excited to see a content destination that's really built for them.

After all, buyers of today are more savvy than ever before. They're armed with tons of information before they even talk to the salesperson. And so it's critical that a salesperson in turn is armed with all the content they need once they get in touch with that customer, so they can be very consultative and personalized in their selling.
Salespeople can no longer get by running down their latest product list and figuring out what they can sell next. They really have to be adding value and showing that they understand their customers and prospects. Quotable is a tool salespeople can use as a differentiator to have that more engaging conversation.

Visit Quotable for tips and wisdom from proven sales experts. Follow on Twitter @Quotable.