SDRs: The Superheroes of Your Sales Team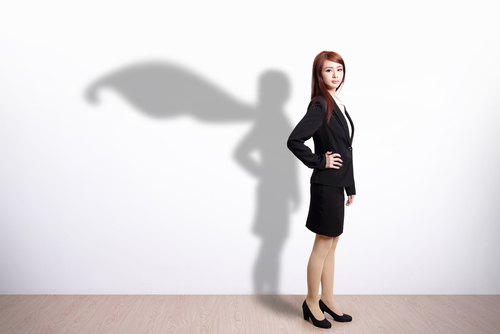 For decades, the sales industry stagnated. Sure, sales tools came and went, products changed, and fashion flip-flopped. At its heart, however, sales remained the same: Salespeople called leads, pestered them in hopes of a sale, and made the sale or didn't — rinse and repeat. It takes an average of 60-90 phone calls just to get an appointment with a prospect, making sales a dismally difficult job.
Enter the sales development representative (SDR). Much like a 911 dispatcher routes calls to the appropriate emergency personnel for fast, efficient action in a crisis, the SDR acts as a baton passer to deliver inbound leads to the company's sales professional best equipped for the given challenge.
The Rise of the SDR
The incredibly fast network of triage and backup is paying big dividends for today's innovative companies, particularly in the B2B sphere. Marketo, for example, employs SDRs who function as gatekeepers, passing just 7 percent of leads on to sales representatives. But what this method loses at the beginning of the pipeline it more than makes up for on the back end, converting more than 80 percent of those high-quality leads.
It's a remarkable improvement from sales dogmas of yesteryear — by vetting leads before attempting to convert them, conversions jump to 5.6 percent. Compare that to the approximately 1 percent of phone calls that merely lead to an appointment, not even a conversion. Maybe that's why David Cummings, CEO of Atlanta Ventures, called SDRs "the most important sales process innovation in the last 10 years."

The success of SDRs hasn't gone unnoticed within the sales industry. Although the SDR concept is less than a decade old, a Bridge Group survey of 342 B2B SaaS businesses found nearly six in 10 companies utilize an SDR team. Among surveyed companies generating at least $5 million in revenue, that number jumps to 67 percent.
Superheroes for Your Sales Team
If your company's sales team isn't converting leads at the pace you want, it's time to look toward the superheroes of the sales world: SDRs. The best SDRs leverage these three sales-boosting superpowers:

Time Manipulation: Successful SDRs find ways to scale lead prospecting and perform as though they can manipulate time. According to Marketo, SDRs can complete about 40-60 tasks per day, about three-quarters of which should consist of inbound lead nurturing. By responding to and connecting with leads as fast as possible, SDRs prime themselves for success: According to Datanyze, when a salesperson responds to a lead within a minute, he or she increases conversion rates by 156 percent.
The other quarter of SDRs' time should be spent prospecting leads and performing data entry. This is where SDRs can really save time — tools like Growbots help SDRs automate email; SalesLoft quickly compiles lead lists; and LeadGenius can help SDRs prospect for and qualify leads more effectively. InsideSales uses learning algorithms to intelligently process leads and recommends when to call them, and RingDNA helps SDRs organize and view lead data with ease.

X-Ray Vision: High-performing SDRs seem to have X-ray vision that enables them to sift through mounds of prospects. Whereas time manipulation helps SDRs increase prospect volume, X-ray vision helps SDRs zero in on the most lucrative leads.
Insightpool, for example, helps salespeople identify and engage with existing and potential key influencers based on their social media behaviors. Insightpool claims its platform can increase conversion rates by up to 400 percent and decrease cost per conversion by as much as 300 percent. Another popular time manipulation tool, Datanyze, is a sales intelligence platform that helps sales teams uncover critical information about prospects. Using the platform, SDRs can search for companies that have recently started or stopped using a competing technology, as well as for companies that have a contract with a specific technology provider up for renewal.
Precognition: The best SDRs appear to have an uncanny awareness of future events. This is because they have adopted a contextual selling mentality: Rather than focus on product, they focus on the value to the customer.

The sales team at Zenefits, an HR software company, sells its software by hedging a bet. SDRs at Zenefits nurture leads by predicting that companies' existing HR team members and insurance broker cost more than Zenefits' own offerings. The software itself is free, but the company receives a substantial payment from insurance companies when a client decides to purchase employee insurance through the platform. Thanks to the innovative business model, it hits home when an SDR asks a Zenefits prospect, "Do you feel you're getting $100,000 worth of value from your relationship with your existing broker?" Zenefits' strategy has propelled the innovative HR firm to a $4.5 billion valuation.

Tools like Crystal help SDRs perpetuate the perception that they have precognition. Crystal scrapes online data from social media, analyzes a prospect's personality profile, and gives SDRs targeted advice on how to do in-person and email-based pitches.
Face it — your sales team needs a hero. To properly nurture leads, increase efficiency, and boost sales, tap into the power that SDRs can bring to your company's sales department.
Falon Fatemi is founder and CEO of Node, a stealth startup of ex-Googlers backed by NEA, Mark Cuban, Avalon Ventures, Canaan Partners, and more. Falon has spent the past five years as a business development executive doing strategy consulting for startups and VCs and advising a variety of companies on everything from infrastructure to drones. Previously, Falon spent six years at Google, starting at age 19. As one of the youngest employees in the company, Falon worked on sales strategy and operations focusing on global expansion, Google.org, and business development for YouTube.
Rebecca Hinds has spent the past six years working in business development roles as part of several startups, including becoming one of the first employees at BloomBoard and Node. She also has co-founded two companies: Melt, a startup backed by Highland Capital Partners, and Stratio, a semiconductor company that received U.S. National Science Foundation Small Business Innovation Research grants in 2014 and 2015 and was selected by the Kairos Society as one of the 50 most innovative student-run businesses in the world in 2013.