The Perfect Recipe For Your Next Sales Challenge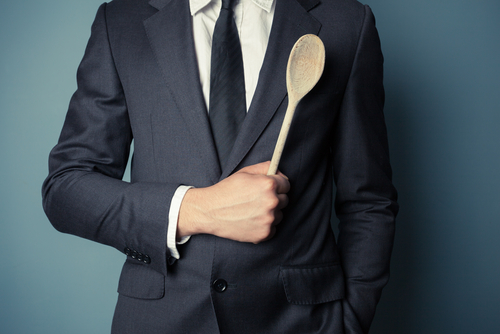 As business is increasingly conducted at the niche, companies or business units are highly specialized so as to be competitive. It takes a network of solution providers to make a customer happy. Cooking up the right deal is often more than looking at your standard menu of products and services.
To craft the winning value proposition, the account executive needs to act as master chef, combining products, processes, people, or partners to devise a highly relevant menu that delights the prospect. Some recipes will be borrowed, but to create distinction, most sales-chefs must create truly original concoctions.
A chef first and foremost is aware of and has access to the right ingredients. For you, those ingredients are solution components that go into the recipes that you combine to conceive the menu (the deal). Your search starts by looking through the lens of your prospect. Review your notes from conversations and if necessary, conduct additional research to figure out their pain points. When you made contact, what was the prospect's stated need? What is the implied need? What are the pain points in their business today? What threats exist to their value chain? What trends impact their ability to stay profitable or scalable? These answers will inform the right ingredient mix when trying to conceive the winning deal.
Download our free e-book to get 100 sales tips from Salesforce's expert network.
As you organize your dealstorming team to collaborate on your proposed solution, invite people who know something about the prospect, its industry, and its market. The deal brief should reflect your thoughts on the above questions, and invite additional information. The key is to clearly identify the need, which is a function of their hunger (stated need) and what nourishment they need (found need).
Next, check the pantry for relevant ingredients (products and services) that can be brought to the table. Review the current slate that you sell, digging deeper into their capabilities, case studies, and even their history. You may have a handful of go-to ingredients to serve up, but to satisfy certain needs, you'll likely have to reach further. This requires an intense curiosity on your part, driven far beyond what sells the most or is easiest to deliver.
At leasing company Regus, dealstorming sessions led agents to combine products in order to satisfy the total needs of their customers, locking out competitors from chipping away at their "value gaps." One of their most popular products is a mailing-address stop and reception service, perfect for a virtual office. Many prospects also need occasional office space to meet with clients, but cannot afford to lease a dedicated space. Today, Regus sales reps combine their low-cost Office Anywhere membership with their address-stop service to give their prospect both solutions within budget, just one example of ingredient combining that sated a prospect's needs.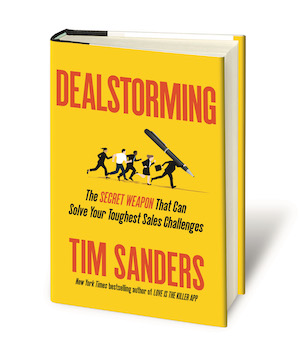 Advertising sales veteran Vince Thompson found a way to introduce an exciting ingredient into his larger marketing solutions. He brings in a third party research group to conduct post-campaign analysis and deliver a case study white paper to the client. This component adds only $30,000 to a multi-million dollar campaign, "but has the effect of adding a pinch of truffles to the final product," he says. "For the marketer, they not only receive an ad campaign, he now has a deliverable he can share internally or from the podium at a trade conference."
If you work at a large enterprise with multiple strategic business units, you may need to expand your concept of the cupboard to include offerings that may not be part of your compensation plan or quota. This may involve including other players who have not historically played nice with you in dealing with a common customer. But if you are stuck in a must-win deal, and you really want to solve the problem, you'll have to transcend your personal needs and fears.
This is what Glen Rosen and his team did at SunGard, a software company focused on the financial services industry. He's one of the company's most successful account executives because of his flexibility when it comes to solving the entire customer's problem. "He's commercially creative in finding the win-win," said his manager, Anthony. "He knows that sometimes you've got to go against the grain." When Glen pursued a strategic relationship with a leading global banking organization, few thought he could win. When SunGard received the RFP, it was clear that the prospect was looking for a highly customized solution and had likely done a lot of their own research already, talking themselves into looking for a partner that would create a one-of-a-kind package. SunGard, however, seeks to avoid customization, as it is not scalable and doesn't provide the same predictable level of service that their standard products do.
Like an innovative chef, Glen first sought to guide their taste buds in a different direction. By studying his competitor's approach in building a custom solution, he saw a steep learning curve ahead for this banking prospect. He helped his contacts understand that what they needed was a whole solution made of the right set of tried-and-true standard products.
But to deliver the whole package, he needed to reach across SunGard, bringing in the consulting group to round out his recipe with software integration services. When doing this type of cross- departmental problem solving, it's easy to find yourself with too many cooks in the kitchen, actually making the experience more complicated for the buyer. "So he brought integration solutions in at the end of the process, where it could stand alone," explained his manager, Anthony. "It made the deal in the end." It was the cherry on top of the cake.
Reprinted from Dealstorming: The Secret Weapon That Can Solve Your Toughest Sales Challenges by Tim Sanders with permission of Portfolio, an imprint of Penguin Publishing Group, a division of Penguin Random House LLC. Copyright © Tim Sanders, 2016.