Introducing Lightning Bolt: Create Next-Gen Communities and Portals Lightning Fast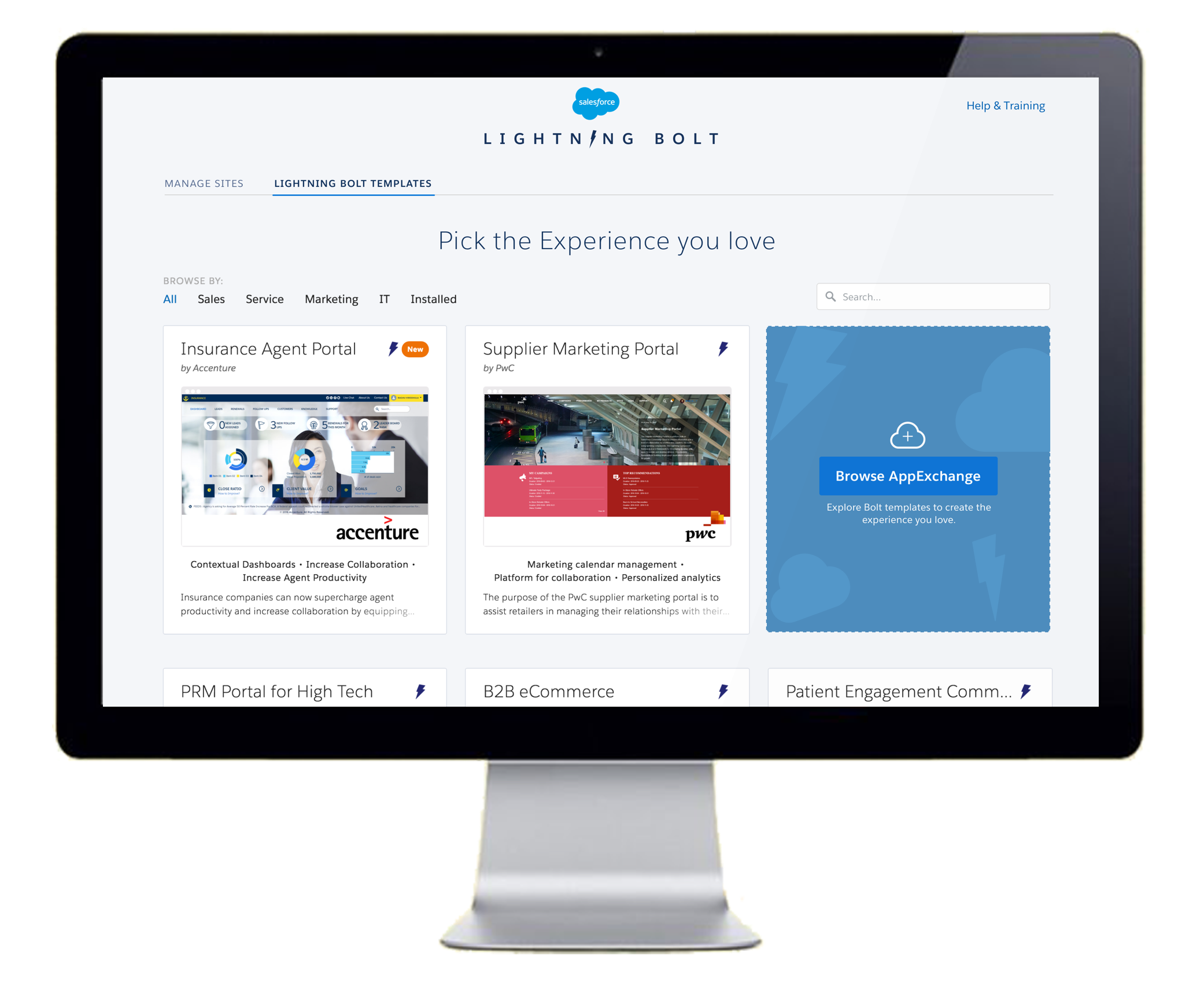 Since we launched Community Cloud in 2013 we have been astonished at how our customers have completely transformed their businesses with amazing communities, portals and mobile websites. To date, our customers have launched over 9,000 solutions to address a variety of business needs such as helping their customers get quicker answers to support questions, selling more through channel partners, or giving employees a place to collaborate on projects.
Our customers have had tremendous success with Community Cloud, so much, in fact, that over 25% have launched multiple communities. But they want to go faster. By far the single most requested capability from our customers has been speed. Not speed in the sense of page load times, but speed in the sense that they want to be able to build and adapt their communities faster.
Introducing Lightning Bolt, A New Way to Accelerate the Creation of Customer Experiences
That's why we're excited to announce Lightning Bolt - our new framework for deploying next generation communities and portals faster. With Lightning Bolt, companies can jumpstart the creation of a new community, next-generation portal or customer-facing website that seamlessly integrates with Salesforce CRM in a fraction of the time and with far less investment than was required before. And we're not the only ones who are excited about this announcement. Many of Salesforce's leading partners, including Accenture, Deloitte and PwC, have already developed Lightning Bolt solutions that will be available on the AppExchange.
Built on Salesforce, Powered by Lightning
Last year, Salesforce introduced Lightning Templates for Community Cloud, enabling companies to quickly create customized communities for their customers, partners and employees. Since then, companies have used these templates to create nearly 1,000 Lightning Communities to connect and collaborate in new ways.

Today Salesforce is taking the template concept to the next level with the Lightning Bolt framework. Now, developers in the Salesforce ecosystem can leverage Lightning Components to build Bolt solutions that have deep business logic and workflow built-in, including e-commerce, recommendation engines, case management and more, all with drag and drop ease. And because Bolt solutions are built on the Salesforce platform, companies can be confident that every customer interaction is automatically captured in Salesforce CRM.
In other words, customers get to select from an array of out of the box solutions that are built with the experience and expertise of Salesforce's top partners. And many of these solutions will be available early next year with the click of a button in a new Lightning Bolt section of the AppExchange. If you're interested in learning more about Lightning Bolt make sure to attend our Community Cloud Keynote at 10am on Wednesday 10/5 and Thursday 10/6 at Dreamforce!
New Bolt solutions being introduced today include:
Community for Insurance Agents by Accenture—Insurance companies can now supercharge agent and advisor productivity and deepen channel engagement by equipping agents with new self-service capabilities, data-rich dashboard features like Agent360, and sales productivity tools in a modern, easy to use, and mobile-friendly portal.
Store Operations by Accenture – Retail store personnel can now collaborate with team members in their store and other stores around the world to access knowledge about products, staffing, and other store operations in real time, using any device. This solution allows retailers to operate each store more efficiently and with greater customer satisfaction.
Retail Store Collaboration by Appirio—Retailers can now collaborate better with their stores, getting real-time information about consumers, improving worker engagement and accelerating the feedback process necessary to scale their business.

Lightning Commerce by CloudCraze—Sales reps, service employees and customers in the field that are leveraging CloudCraze's native commerce application can now rapidly configure and deploy multiple purchasing scenarios that provide all users a streamlined customer experience, such as ordering spare parts or collaborating on a complex set of services in just a few clicks on their mobile devices.
Mortgage Broker by Cognizant—Financial service organizations like Barclays can now create personalized experiences for their brokers, tailoring solutions based on deal value and the type of products they work with and centralizing the information just one-click away from the homepage.
Customer Service for Manufacturing by Deloitte—Manufacturing companies can now facilitate more meaningful communications between customers and sales reps, empowering them to have real-time conversations with customers, offer timely service and get feedback through satisfaction surveys to continuously improve performance.
Patient Community by Huron and Cancer Treatment Centers of America - Patients of healthcare facilities can now connect through a community platform that empowers them to seek and offer support from those who have gone through similar experiences while gaining access to educational resources, group collaboration, local support group events, and tools to document their journey.
Retail Audience Engagement by Magnet 360—Retailers can now connect with customers, partners, and employees at scale with a rules based chatbot, creating a more personalized and efficient experience.
Supplier Marketing Community by PwC—Working with a top 10 retailer, PwC developed a Bolt solution- Supplier Marketing Community - to link their marketing, CRM, merchandising and analytics efforts on one centralized platform, giving them better insight into ROI, buyer trends and increasing overall cost efficiency.
Patient Scheduling by Silverline—Clinical organizations, whether hospitals, practices, clinics or specialty services like MYnd Analytics, are now able to offer their patients real-time scheduling, so patients can easily get in to see their doctor when they need to.
Retail Clienteling from Traction on Demand — Retail store managers and associates are able to quickly access customer information, preferences and purchase history from all channels that the brand and customers interact through. This community will help retailers provide a seamless customer experience both online and in-store.
Retail Store Operations by Cadalys—Store employees, field leadership and headquarters personnel can now work together more efficiently and effectively with capabilities such as communications management, task management, holds and recalls, space and fixture management, "Leader on Duty" performance, petty cash management, real estate operations and expense reporting.
PartnerFirst by 7Summits – Technology companies are now able to connect and engage with their partners in a whole new way with personalized dashboards that surface actionable insights, streamline onboarding, and allow for deal room collaboration, as well as deal registration – all from a single consolidated solution.