IoT Cloud Einstein: A Farewell to the Internet of (Dumb) Things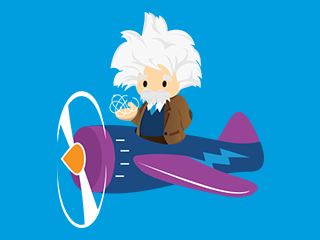 In the last two decades, more than six billion devices have come online, connecting everything from phones and cars to our homes and even our bodies. All those connected "things" (taken together, The Internet of Things) generate more than 2.5 quintillion bytes of data daily. That's enough to fill 57.5 billion 32 GB iPads per day — well beyond the capacity of mere mortals to translate into business impact.
When Salesforce announced IoT Cloud last year, we did so to empower businesses with the ability to ingest biblical amounts of data and turn them into customer actions — all in real time. And for the past year, we've refined our product — including Thunder, the world's most elastic, scalable data processing engine — to help pilot customers including Emerson Climate Technologies and Kuka Robotics convert billions of data points into singular, engaging experiences for customers, partners and employees.
Today, I'm happy to introduce the next generation of Salesforce IoT Cloud: IoT Cloud Einstein.
With IoT Cloud Einstein, our customers will be able to unlock a whole new wave of innovation for the Internet of Things by pairing their IoT data with services powered by Salesforce's new artificial intelligence platform:
PredictionIO in IoT Cloud
Both PredictionIO and the Salesforce IoT Cloud run on open — source Apache frameworks like, Kafka, Spark and Storm. Bringing these two services together will allow developers to build custom intelligent applications that can be seamlessly connected with your IoT data and logic.
Predictive scoring on IoT Event Data
Bringing together services like PredictionIO and IoT Cloud means that customers will be able to stream data to AI algorithms that can be trained to provide scoring data that might indicate the propensity for a connected device to require service or benefit from an upgrade.
Recommend Next Best Action
Because IoT Cloud is connected directly to our core CRM products, it's designed not only to ingest IoT data, but also to identify scenarios where connected device data indicate required actions for employees or customers. With Einstein, IoT Cloud will be able to recommend the next best action, whether it's launching a marketing journey specific to the usage pattern it has identified, or intelligently routing a case to a service representative who has resolved similar cases in short order and received high scores on customer satisfaction.
Automatically Optimize IoT Device Journeys
Suggesting corrective action is a powerful step for intelligent IoT, but in the future we also plan to use Einstein technology to help customers optimize the journeys they are building for their devices. By feeding data about a device journey into IoT Cloud Einstein, we'll eventually be able to automate the process of updating the rules that govern IoT device interactions based on the desired states. This will help customers iterate on IoT use cases and get to business value faster.
To learn more about the future of IoT Cloud Einstein and hear directly from our early customers, please join us at Dreamforce in San Francisco on October 4-7 or live stream our major announcements by visiting Dreamforce.com.
Read next: Introducing Salesforce Einstein—Make Smarter, More Productive Connections with Community Cloud
Rights of ALBERT EINSTEIN are used with permission of The Hebrew University of Jerusalem. Represented exclusively by Greenlight.