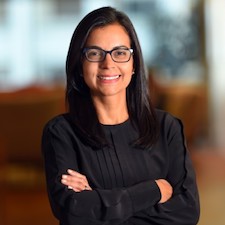 Lidiane is the SVP of Product Management for Salesforce Commerce Cloud, where she leads a growing team responsible for delivering innovative commerce solutions. With a focus on the end-to-end shopper experience, Lidiane and her team empower customers to deliver highly personalized experiences to their users, driving up lasting loyalty and suitable business growth.
Lidiane has 17+ years of experience leading teams and bringing a variety of products related to machine learning, enterprise scalability, and consumer productivity to market. Prior to joining Salesforce, Lidiane led Sonos' product for all software experiences for nearly 4 years. She also spent 13 years at Microsoft as a product leader for various products including in Microsoft Office Shared Experiences, Enterprise Management, and Azure Machine Learning.
Lidiane holds a Computer Science degree from the University of Michigan, Ann Arbor. She is an avid reader and a lifelong learner of everything tech, economics, leadership, and policymaking.