Behind the Scenes: The Making of our Ohana Workplace Design
At Dreamforce 2015, our CEO Marc Benioff and our leadership team stood in the middle of the Dreamforce Plaza and felt incredibly inspired by the energy culminating from the crowd and the entire experience that felt authentically Salesforce. Marc observed, "This is what our real estate should feel
At Dreamforce 2015, our CEO Marc Benioff and our leadership team stood in the middle of the Dreamforce Plaza and felt incredibly inspired by the energy culminating from the crowd and the entire experience that felt authentically Salesforce. Marc observed, "This is what our real estate should feel like, this is what we need to create in our buildings." And so our real estate journey began right there, at Dreamforce, the world's largest software event.
I want to bring you behind the scenes to share how our new real estate design came to life and how it has become a powerful expression of who we are and what we care about. It's been an exciting opportunity to help share our culture, align our employees around the world, and create a memorable, inviting environment for everyone who enters our doors.
With all the incredible growth over the last 18 years, our workspaces reflected moments in time instead of a cohesive design and strategy. We looked like very different companies depending on what door you opened. Sometimes even within the same building we looked like different companies on different floors. We were missing a huge opportunity to align everyone with a consistent brand experience and environment anytime you entered a Salesforce office, anywhere in the world. A new design that would be a celebration of the culture we know and love and unite our Ohana, which means 'family' in Hawaiian.
So we went back and looked at our workspaces with fresh eyes from our HQ in San Francisco to our offices in top markets such as NYC and London, and around the world, to pinpoint what our employees value most in the workplace. To deliver the best possible design, we partnered with Mark Cavagnero Associates, a world-class architecture firm, and The Wiseman Group, award-winning residential interior designers, to help transform our offices and manifest the best of Salesforce in a physical space, globally.
With our new team in tow, we defined the look we were aiming for. More startup than traditional enterprise company, a design standard that promoted collaboration, fun, sustainability, and employee wellness. To bring this to life, we honed in on core principles that felt warm and collaborative. This included clear sightlines, open flow on each floor to allow employees access to the best sunlight and views, inspiration from nature, sustainable materials, dedicated social lounges for collaboration and events, mindfulness areas on every floor for recharging, and residential-inspired finishes. The perfect equation for the Ohana design standard.
The next question was, where do we draw our inspiration? We connected with Burberry's creative team to dive into their design philosophy and how their stores are brought to life. Their recommendation was to build a physical mock-up or "mock floor" to see our design elements in life-size versions. We built conference rooms, laid down the carpet options, tested lighting, tables, desks, chairs, fabrics and every nuance of the evolving design. The carpet choice evoked grass weaving through gravel paths, and ultimately the feeling of nature that became essential to the design. The grass cloth on the walls of the conference rooms evoke a tea house feeling, looking back out across the desks set on the "grass." Throughout the entire conceptualization process, Marc visited the mock floor numerous times and focused his feedback on how to make the space feel warmer and residential. More differentiated. More Salesforce.
What started as a test floor, turned into a test building. In our world of fast growth, pausing isn't an option. With the pedal to the metal, we took the leap, hand in hand with our design partners and built out Salesforce East with the new Ohana design standards for 2,000 employees.
Salesforce East officially opened in March 2016 and along the way we've learned a ton! We've iterated, evolved and moved forward. We held true to our core principles and documented the entire process — 2,000+ pages online to keep our worldwide real estate team accurate in delivering the same experience globally.
But for us, our real estate is much more than architecture and design. It's about creating a place that has a lasting positive impact on our Ohana, inclusive of our employees, partners, customers, communities and the environment around us. Because the environment is a key stakeholder in our success, we are committed to integrating green building practices into our real estate. We recently announced that Salesforce East and Salesforce West located in our global HQ in San Francisco are now sourcing 100% renewable energy, getting us one step closer to our goal of reaching 100% renewable energy for all global operations. And our Salesforce Tower is on track to be highest rated LEED v4 Platinum building in the US and Salesforce's greenest project yet!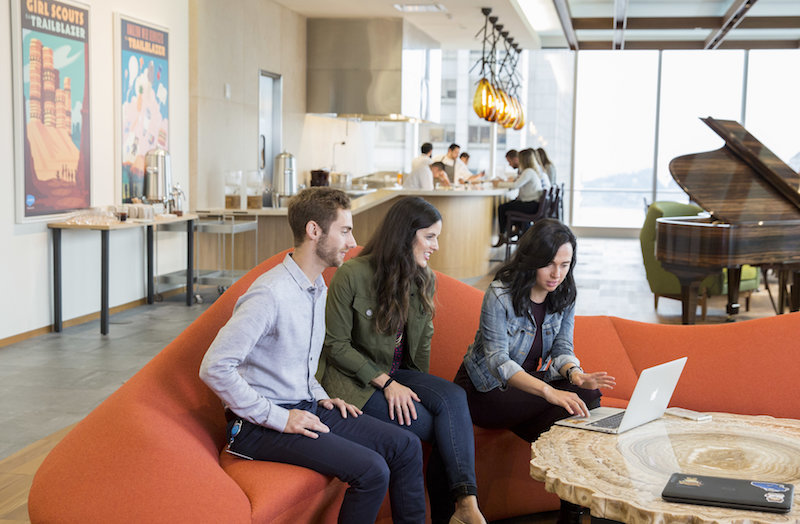 Core to the philanthropic backbone of Salesforce, is giving back to the communities around us. To live up to this promise, we have exciting plans for the top floor of our named towers globally. Rather than have the top floor set aside for executive offices, we will open up these "Ohana Floors" with stunning 360-degree views for nonprofit events, volunteer activities and more. We're excited to debut our first Ohana Floor in Salesforce East here in San Francisco and will soon open Ohana Floors in Salesforce Tower San Francisco, New York, Indianapolis and London. But it's not just the top floors, we also have learned about the magic of our front doors — the large ground floor lobbies in our buildings where we welcome in the community for volunteer events, networking, coffee and snacks, even fun DJ's and live bands.
Fast forward two years and the Ohana design has rolled out to thousands of seats worldwide and over 30% of our portfolio. You can experience it when you visit our offices in San Francisco, New York, London, Indianapolis, Hyderabad, Amsterdam, Bellevue, Singapore, Munich, Sydney and more. It's been a spectacular journey full of learnings and we're incredibly excited to see the continued impact our real estate has on our Ohana. Come visit us soon!