17 Ways the Sustainable Development Goals Are Showing up at Dreamforce
Find out what Sustainable Development Goals (SDGs) are and how individuals can engage at Dreamforce to accelerate the decade of delivery.
If you've been following along on the Road to Dreamforce, you probably got the hint that we're putting the Sustainable Development Goals (SDGs) front and center this year. Salesforce is supercharging the SDGs at Dreamforce because we believe that business is a powerful platform for change.
Adopted by 193 countries at the United Nations in 2015, the 17 SDGs measure our collective progress against the world's most pressing challenges, providing a to-do list for people and the planet by 2030.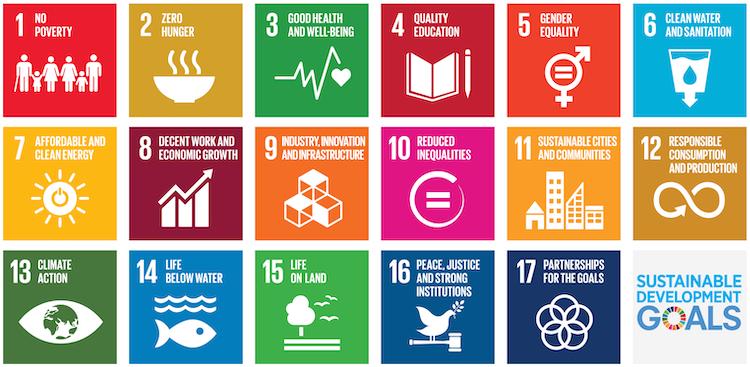 This year at Dreamforce, we're kicking off a year of action to accelerate the SDGs. We aim to donate $17M and 1M volunteer hours to support the SDGs by Dreamforce 2020. To jumpstart our efforts, we are donating an additional $1 million to organizations focused on advancing the SDGs: UN Women, the United Nations Foundation, and World's Largest Lesson in partnership with UNICEF.
Each of us can play a role in achieving this 2030 deadline. That's why we're challenging Dreamforce attendees to get involved.
Here are 17 ways you can learn, give back, and act in support of these goals at Dreamforce:
1. Quest: We're calling on attendees to help unlock $1 million to accelerate progress on these goals by completing the Quest, a scavenger hunt in the Salesforce Events App. For every Quest completed, Salesforce will donate to an organization focused on advancing the SDGs.
2. Dreamforest: Visit the Dreamforest for a deep dive on the SDGs and ways you can support them. Take a quiz to determine which goal most closely aligns your passions, and share your commitment by taking a photo and posting it on social media with #SDGforce.
3. Future Executive Summit: To promote workforce development and build on our commitment to SDG 8, we will host 400 young adults for two days of career exposure and network-building, Salesforce knowledge and skills, and civic and social engagement. Join in by signing up for Speed Networking.
4. Women's Networking Reception: Kick off Dreamforce with an evening dedicated to SDG 5, women's equality and empowerment. Hear from trailblazing women leaders and their allies and network with Salesforce customers, partners, employees, and other inspirational leaders.
5. Future Trailblazer Challenge Pitchfest: Hear Bay Area students pitch their ideas for using cutting-edge technologies like 3D printing and AI to create solutions to the world's most pressing challenges. Stop by to vote for your favorite.
6. SDGs at Dreamforce Lodges: Play a digital game in any of the three industry lodges (Financial Services, Healthcare & Life Sciences, and Manufacturing) to learn more about the SDGs and to unlock a donation to an aligned nonprofit. In the Salesforce.org lodge, help the National Forest Foundation plant up to 5,000 trees, advancing SDGs 13 and 15.
7. Impact Labs Design Sprint: Join Salesforce.org Impact Labs to brainstorm solutions to challenges facing nonprofits and educators today – all aligned to the SDGs. Contribute ideas for solving these challenges, while leaving with best practices for innovating within your own organization.
8. Innovation Workshop: Future of AI in Education: Take part in a hands-on design sprint to use Artificial Intelligence (AI) to solve challenges in higher education. Explore how various AI technologies can promote quality education and advance SDG 4.
9. Equality Summit: Hear advocates for SDGs 5 and 10 share how they're championing equality and prosperity for everyone. Megan Rapinoe, World Cup and Olympic Champion, will discuss using her platform to stand up for equal pay. CEOs will discuss the importance of advocating for equality and why representation matters.
10. Climate Summit: Join Climate Summit panelists for a conversation on how food systems can be more sustainable. Hear from youth activists who are on the front lines of the global climate strikes and demanding action from us all on SDG 13.
11. Meet & Greets: Stop by the Trailblazer Community Cove for Meet & Greets focused on building inclusive communities and reducing inequalities. Meet fellow Black/Latinx/Indigenous leaders and allies on Tuesday afternoon, or stop by to network with fellow women in tech leaders and allies on Wednesday.
12. Hear from leading voices for peace and equality: Curious about the role trust plays in achieving the SDGs? Cellist Yo-Yo Ma, South African TV & radio broadcaster Tumelo Mothotoane, UN Secretary-General's Advocate for the Sustainable Development Goals Eddie Ndopu, and World YMCA Secretary General Carlos Madjri Sanvee will dive into our collective pathway for restoring trust and building a better world.
13. Learn about doing well by doing good: Actress and Co-Owner of Pour Les Femmes Robin Wright, film writer and director Richard Curtis, UN Women Under-Secretary-General and Executive Director Phumzile Mlambo-Ngcuka, and Project Everyone Co-Founder Gail Gallie will dive into the $12 trillion opportunity behind the SDGs.
14. Sustainable consumption: To further our commitment to SDG 12 and to be mindful of sustainable consumption, lunches will be 100% beefless with 100% compostable packaging. Attendees will also receive a Dreamforce water bottle to reduce single-use plastic. Every time attendees fill their bottles, they'll be supporting a clean water project in Tanzania, contributing to SDG 6.
15. Offsetting our carbon footprint: We're offsetting 100% of Dreamforce's onsite carbon emissions. Attendees can also contribute to SDG 13 by offsetting travel emissions to Dreamforce through Cool Effect.
16. Fifty Salesforce Military Trailblazers from around the world were awarded full scholarships to attend Dreamforce; they'll share stories of how they're applying their previous experiences to thrive in the future of work, promoting SDG 8.
17. Tune in for keynotes on the innovations driving progress on the SDGs: Learn more about the technology solutions driving social impact, and hear from Trailblazers making an impact in the nonprofit, education, and corporate social responsibility spaces.
The SDG fun doesn't have to end when you recycle your badge on the way out. Check out our new SDG Trailhead module for everything you need to know to become a Trailblazer for the SDGs!