How to Use Others' Content to Benefit Your Sales Funnel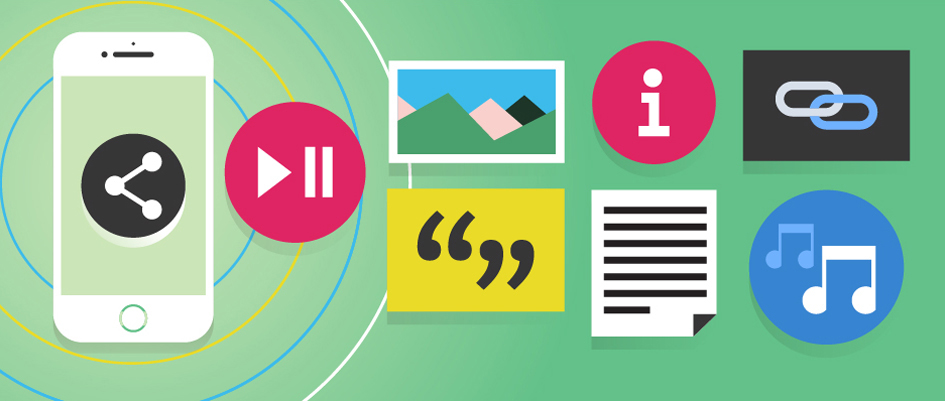 No one likes reading social media feeds where businesses only talk about themselves day after day. Sharing others' content on your social media profiles is crucial to having a well-rounded social media presence. Mixing external content with your brand's custom-made content is a great way to grow industry thought leadership and gain higher visibility through engagement with third parties.
The following steps can help you research, schedule, and interact with the posts you're sharing.


Use Discovery Tools
If you don't have a list of industry keywords that you want to share content about, create one using an SEO tool like Searchmetrics or SEMRush. Brainstorming with colleagues can also easily give you a list of terms or topics you could share content on.
After you have your list of ideal topics, use discovery tools to find content that covers these areas. For example, BuzzSumo shows you what the most popular content is based on social media shares. You can also use the hashtag search on Twitter. This will allow you to see what content is being shared and enjoyed by your target audience. In Twitter, you can sort results by several metrics, including "top" or "live." The Top sort usually shows the most popular content for that hashtag.
The results also include top tweets from people you're following, which is a good way to foster relationships. When you share content from people or brands you want to engage with more online, be sure to tag their username. Many will retweet the content you shared, leading to their audience seeing your profile and tweet. For hashtags, be sure to include two-word phrases as one word combined and capitalize the different words so it's easier to read, like #ContentMarketing.
Another easy discovery tool is a robust list of RSS feeds from industry blogs. Use an RSS reader like Feedy, BlogLovin', or The Old Reader and search for industry terms to find blogs that are sharing great content you can then share with your own network. Be sure to see if the blog has been updated recently and check whether it has a good mix of knowledgeable content your audience will find interesting.
Use The Right Sharing Tools
Once you find great content to add to your funnel, it's time to share it. There are scheduling tools out there, but make sure to choose one that includes analytics so you can track the popularity of the content you're sharing and know what topics to keep finding content about.
Keep a "queue" of content. This way you can add new content to the queue, which will send out the latest one at the times you specify. You can also attach images to Twitter posts, which is great for getting more retweets, clicks, and shares. Add your own insight to posts before scheduling them, which is a great way to add your company's own thoughts to or ask questions about what is being shared to build engagement.
When it comes to scheduling your content, many tools offer the option to add a Google Chrome extension that allows you to add to your scheduling queue right from any post that you want to share. This makes it extremely easy to add content to your sharing funnel while searching for it on the discovery tools mentioned above, and saves time by allowing you to schedule shares right from the external content screen without having to open up your scheduling tool and manually enter the content title and URL.
To queue on the go, download your tool's mobile app and create sharing shortcuts so you can add posts in the app directly from the content URL you're reading in your mobile browser
Team members assigned the task of finding content to share on social media should take 30 minutes a day to search and schedule content. Make it a part of the daily routine so it's painless and ensures your queue will always be filled.
Take 15 Minutes a Day For Engaging on Social
Another addition to your daily social media management routine should be 15 minutes a day spent engaging with your audience and the users you follow. This can include retweeting, reposting, or "liking" something funny, replying to a tweet about your product, or answering questions on your Facebook page.
For bigger brands, full teams often spend their entire day answering support or help requests on social media. If that's the case, leave the customer service questions to them. But anything that relates to sharing informative posts or answering quick questions is good way to find external content to share. Also, once you get to know users, you have a better idea not only of what they are sharing and creating, but what they enjoy retweeting and sharing an opinion on. Another benefit of your daily "engagement time" is finding more users to follow, which can help grow your own follower numbers.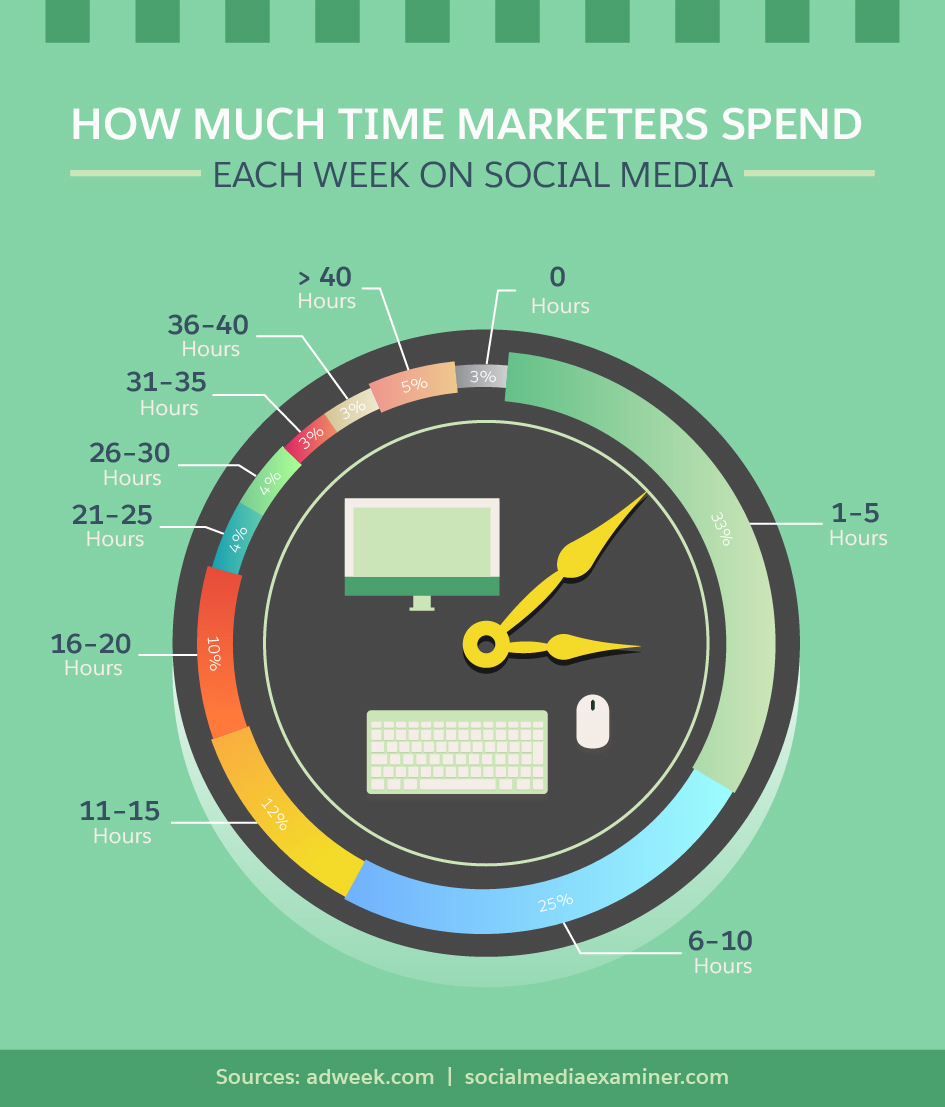 Use Others' Insight With Quote Images
In addition to all the external posts you share, retweets, and your own content, you can use others' expertise and knowledge to create visually appealing "quote images." Depending on the industry, sharing inspirational or educational quotations about industry topics can help break up the text posts and give users something else to share on Twitter, Facebook, Pinterest, and more. One of the easiest ways to create these images is by using Canva.
Once you create your image (with whichever tool you decide to use), attach it to a post in your scheduling tool. Paste the text version of the quote in the update text field, along with applicable hashtags (up to three on Twitter, according to research).
Images grab your audience's attention and lead to higher overall engagement with your social media accounts, especially on Twitter and Facebook, according to Social Media Examiner and eMarketer.
Tie in a CTA
Finally, any external content you share still gives you the opportunity to occasionally tie in a CTA back to your own content or offerings. For instance, if someone makes the news for their success, and they were a guest on your company podcast or blog, create a Facebook post that mentions your own blog post while sharing the external content.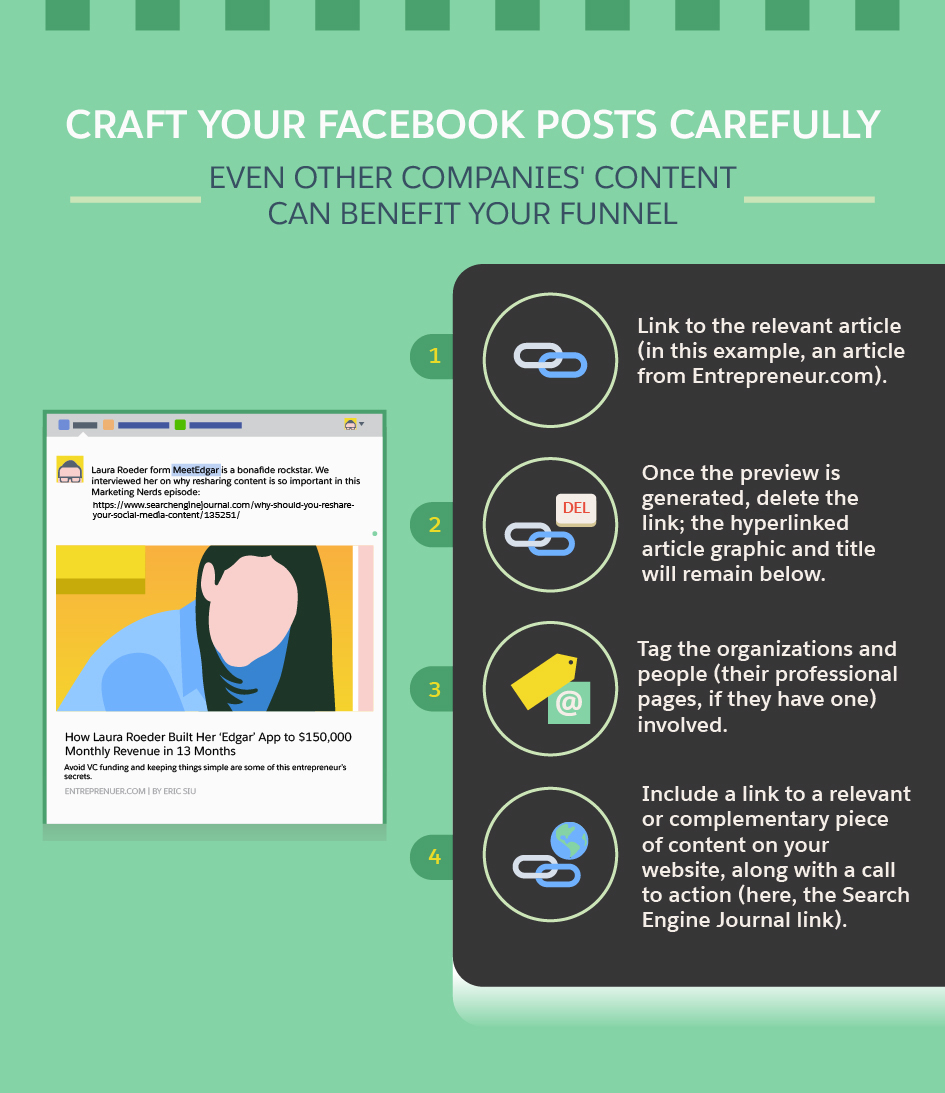 Tip: Once the preview box for the external content populates in Facebook, delete the URL to make it look cleaner.
Additionally, you can also populate your funnel with external posts talking about your own business, products, and services. Many e-commerce companies will share product reviews from bloggers on social media, which is a good source of testimonials. You can also retweet any positive tweets about your products or reshare user-generated photos (with permission) on platforms like Facebook, Instagram, and Pinterest.
Tieks, a leather ballet flat shoe company, does a great job of this. They not only pin user reviews, but also often promote them so they are more visible on Pinterest users' feeds.
Finding other content to share on your social media channels really comes down to regularly scheduled time researching content to share, scheduling it, and engaging with it and other content users find interesting. This is just part of an overall social media strategy that includes customer service and sharing your own content.
Combining all three will help your brand flourish online, as users often look to social media when researching what brands to buy from (40 per cent of all Facebook users do this, according to GlobalWebIndex) and who to trust, according to the American Press Institute. Make it count by dedicating your efforts to providing the best content for your target audience, no matter who wrote it.

Share "How to Use Others' Content to Benefit Your Sales Funnel" On Your Site